Caterpillar (NYSE:CAT) reported 2012 third quarter earnings today. I found the press release, financial statements and analyst conference call matter-of-fact and rational. They were trying to set a tone. This was to be expected from a senior management team that is competent and experienced.
As part of my analysis, I also calculated some margins to look behind the headline numbers.
We'll conclude this article by evaluating whether or not Caterpillar stock offers reasonable go-forward investor value.
Caterpillar Price and Volume (Weekly/Three-Years)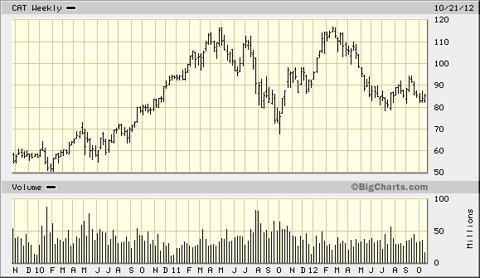 courtesy of bigcharts.com
Summary of Management Discussion
To sum up the conference call, Caterpillar execs attempted to paint a picture. Here are the salient points:
The outlook for the remainder of 2012 is sober (not somber)
The outlook for 2013 is expected to look a lot like 2012
The expected go-forward scenario includes neither global recession nor a strong economic rebound
North America is mending slowly, Europe is going nowhere, Asia/Pacific will show net minimal improvement, while Latin America and Middle East/Africa offer middle single-digit growth
Caterpillar can survive in such a business climate; yet the company is well-prepared to weather a downdraft or react to an upside surprise
My take:
The presentation reflected a move to set the stage for lowered expectations. Management did not exhibit undue cautiousness, nor did they expect significant 2013 business climate improvement versus the current state. In recent quarters, CAT execs have been cheerleaders for the business. Now they were trying to lower the bar for the remainder of this year and next.
Within North America, the company sees gradual improvement. When coupled with the analyst conference call from Wells Fargo (NYSE:WFC), I believe both sets of executives see the U.S. Residential housing market becoming a prime mover for future growth. The green shoots are undeniable. The banking sector is beginning to write new mortgages. New single-family housing permits are trending up. My view is that post-election, the housing industry could get an additional boost if the "fiscal cliff" is handled. A measure of tax policy certainty would likewise be helpful.
Europe is mired in a recession. Caterpillar management acknowledged this fact and concedes the problems will not fix themselves quickly. They expect no sales improvement here.
Asia/Pacific is forecast to show de minimus gains. CEO Doug Oberhelman offered that China's economy is weak, but has appears to have bottomed. Japan is flatlining. However, the remainder of Asia is growing and this will help offset the sluggishness in China and Japan. Low global interest rates should also help Australia.
Moderate economic growth are expected in Latin America and Middle East/Africa. Low-to-mid single digit growth should translate to a sales boost for these regions. However, LA/MEA areas represent something less than 20 percent of CAT total Machinery & Power System revenues.
It should also be noted over the next couple of quarters dealers will reduce inventory. This will require Caterpillar to curtail manufacturing. However, running lower inventories is not a long-term phenomenon. As the worldwide economy stabilizes, inventories will grow in anticipation of the event. Such movement will transition from a current headwind into a tailwind for Caterpillar.
Margin Analysis
When evaluating quarterly earnings, I like to concentrate upon several metrics. One of the foremost is margin analysis. In particular, it can be instructive to view margin trends over several quarters and / or periods. An insight to the underlying business fundamentals may be detected.
First let's look at Gross Margin.
| | | | | | | |
| --- | --- | --- | --- | --- | --- | --- |
| | 2012 3Q | 2012 2Q | 2012 1Q | 2012 9mo | 2011 9mo | 2011 (FY) |
| Gross Margin Pct. | 29.2 | 29.3 | 28.4 | 29.4 | 28.1 | 27.5 |
Gross margins have remained high even through the latest earnings report. Please note that CAT management has targeted 25 percent gross margin as a norm. Caterpillar is sporting a margin some 400 basis points higher than that. Indeed, low commodity prices have helped keep gross margins up. To be sure, in the current anemic global economy, one could reasonably suggest that commodities (like steel) will remain depressed.
Indeed, if commodity costs do trend up, this typically signals a corresponding improvement in construction spending, playing to Caterpillar's wheelhouse.
Next, here's a table of Operating and Net Margins.
| | | | | | | |
| --- | --- | --- | --- | --- | --- | --- |
| | 2012 3Q | 2012 2Q | 2012 1Q | 2012 9mo) | 2011 9mo | 2011 (FY) |
| Op Margin Pct. | 15.8 | 15.1 | 14.5 | 15.1 | 12.1 | 11.8 |
| Net Margin Pct. | 10.3 | 9.8 | 14.3 | 10.0 | 7.9 | 8.2 |
To begin, CAT third quarter operating and net margins actually increased sequentially. A deeper indicator is that these margins also improved over the first nine months of 2012 versus the corresponding period of last year.
These operating margins are instructive given Caterpillar management's 2013 forward expectations.
Assuming a flat/weak global growth economy, Caterpillar should expect similar revenue next year. These margin figures indicate that similar margins should follow along in 2013.
Why?
In a slow-growth economy, there is little reason to assume a significant increase in raw materials and commodities. Therefore, I submit that 2013 gross margins should remain robust.
Operating margins also include SG&A (salaries, general and administrative). These are controllable figures and have held steady over the past few quarters as a percentage of sales. Caterpillar management has done a credible job of holding down expenses and recognized the necessity of continuing to squeeze overheads in soft markets. There is little reason to conclude that they cannot continue to do so.
Lastly, net margins have moved up in the 2011-12 period. I do not believe they will crater in a 2013 flatline revenue world. Indeed, I think they can remain strong.
Here's why:
Interest expense has leveled out post-Bucyrus acquisition. Given a low-interest rate environment, there is no reason to conclude that CAT interest rate expenses will spike. The balance sheet is acceptably sound. Cash flow is good.
Of particular note, the 2012 tax rate has been about 31 percent. This is higher than CAT historic norms. Management noted this fact during the conference call. Therefore, there one may conclude that the 2013 income tax rate should not go up, and could very well decline, for a variety of reasons. In any event, this factor will further contribute to the maintenance of good net margins.
Valuation
Barring global recession, my view is Caterpillar valuations are tempting. The company does not require anything more than 2013 flat revenues for the stock to make hay for investors.
Here's a F.A.S.T. Graph (courtesy and with permission of fastgraphs.com) outlining Caterpillar historic valuation on a P/E basis. I have estimated 2012 EPS at $9.20 and kept earnings the same for 2013.
A picture tells a thousand words: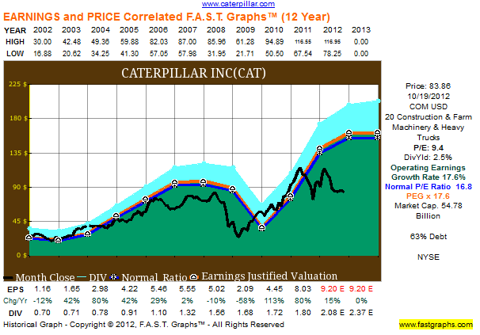 Over the past 12 years, Caterpillar's normalized P/E ratio has been about 16.8X (the blue line). The current ttm multiple is 9.4X. Such a low multiple might be warranted if the economy was about to enter a severe contraction. Indeed, sans the 2008 stock market crash, the 15-year low Price / Earnings multiple has been 9X. We are near that figure today. It appears Mr. Market is assuming a significant global recession is in the offing.
If an investor assumes CAT will earn no more next year than the downward revised 2012 EPS, then apply a 12X multiple, this offers a target price of $110. This represents an approximate 30 percent increase versus the share price now.
Many investors will note a 12X multiple is quite reasonable for a company with a 12% long-term earnings growth rate. This would equate to a 1.0 PEG ratio.
CAT management recently projected 2015 earnings between $12 and $18. Assuming Caterpillar can make only $14 a share in 2015, this implies a 3-year projected growth rate of 15 percent. Therefore a 12X multiple is not only beneath the historic mean, it is also a conservative view if one accepts Caterpillar's three-year expected earnings.
Caterpillar investors will also note CAT management has beat analyst earnings estimates in 13 of the past 15 quarters. That is a decisive track record.
Good luck with all your investments.
Disclosure: I am long CAT. I wrote this article myself, and it expresses my own opinions. I am not receiving compensation for it (other than from Seeking Alpha). I have no business relationship with any company whose stock is mentioned in this article.