Google Inc's (NASDAQ:GOOG) stock tanked 12% after the company released its earnings on Thursday. The earnings miss has scared investors into selling a stock that has a huge potential for growth. The company is currently trading at a forward P/E of 13x, which is lower than the NASDAQ's forward P/E of 15x. We explain below why the current earnings miss is an aberration. We recommend a long position on GOOG to profit from the current dip and long-term growth from Google Market Place and Google Play.
3Q2012
The market was expecting EPS of $10.65 for the third quarter. The company reported EPS of $9.03, missing the earnings target by approximately 15%. The stock has fallen approximately 12% since earnings came out. The primary concern behind this decline is investor reservations about mobile monetization and its impact on the bottom line. We believe there were three primary reasons behind Google's missing EPS estimates, which we discuss below.
FX fluctuations:
FX fluctuations have been a headache for most multinationals reporting this quarter e.g. IBM (NYSE:IBM) faced revenue loss due to FX fluctuations as reported by its most recent earnings release. According to Google disclosures, it has lost $130 million in revenues this quarter due to fluctuations in FX. Assessing revenues on constant currency from 3rd quarter of 2011 to 3rd quarter of 2012 gives a $557 million higher revenue figure for the quarter under discussion.
Motorola Mobility:
Operating income for the current quarter is $2.74 billion (19% of revenues). In the same period last year operating income was $3.06 billion (31% of revenues). At first glance this seems like a huge decline in margins of approximately 12%. However this is a misleading figure as MM was not a part of Google in 3Q2011, and is incorporated in consolidated figures for the current quarter. Motorola reported a loss of $527 million in the current quarter, which is one of the major culprits behind the earnings miss. If we analyze core Google revenues, they come down to $11.5 billion (18% increase YoY) with an operating income of $3.26 billion (28% of revenues). This shows that core Google revenues and earnings have increased YoY, but due to net losses from Motorola Mobility, the bottom line has suffered.
CPC:
The reduction in CPC (Cost per Click) and increase in TAC (Traffic Acquisition Costs) had a negative impact on the bottom line. CPC declined 15% YoY and 3% as compared to 2Q2012. There was a 25% increase in TAC for the current quarter, which were $2.77 billion ($2.21 billion 3Q2011). TAC basically refers to the revenue that Google shares with its network members. This increase in TAC and CPC is one of the reasons behind Google missing earnings targets.
The growth from mobile monetization has been healthy with mobile revenues reaching a run rate of $8 billion with a mobile advertising run rate of $6.5 billion (Barclays Research). This is a 160% increase over 3Q2011's run rate of $2.5 billion. Google Nexus sales were also impressive during the quarter, as is shown by the increase in Licensing and Other Revenue figures. However, this growth might be coming at the expense of the bottom line, as the product is sold at cost or below.
Analyst Opinion:
The graph below shows the bullish perspective of analysts on Google. Assessing the opinions of 42 analysts shows that approximately 35 have a buy or strong buy rating for the company. 7 analysts have a hold rating for the current month.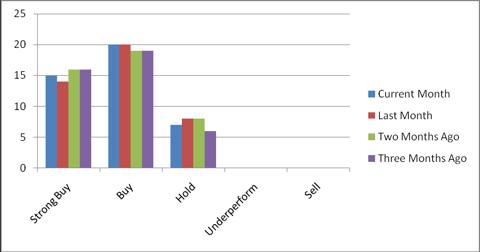 Conclusion:
We believe the current dip is a golden opportunity for investors to buy into GOOG. The stock has depreciated approximately 12% since the earnings came out, and we believe there is a significant upside to GOOG. The stock is trading at a forward P/E of 13x, which is lower than NASDAQ's P/E of 15x. The company has shown growth of 18% YoY in revenues, and a big portion of that is driven by improved mobile monetization. The company has embarked on ventures such as Google Market Place, which makes growth prospects going forward even brighter. Therefore, we believe GOOG is a strong buy at the current price and is a profit opportunity for investors.
Disclosure: I have no positions in any stocks mentioned, and no plans to initiate any positions within the next 72 hours.
Business relationship disclosure: The article has been written by Qineqt's Technology Analyst. Qineqt is not receiving compensation for it (other than from Seeking Alpha). Qineqt has no business relationship with any company whose stock is mentioned in this article.