No need for any introduction to Starbucks (NASDAQ:SBUX). Its brand and coffee is well-known throughout the world, but how does it rank as an investment? I will go through the fundamentals and detail three reasons why I think Starbucks has more long-term growth ahead.
All the images you see here are included in the complete PDF report based on the OSV Stock Valuation and Analysis Spreadsheet. You can download the companion 12-page PDF report here.
Upside Reason No. 1: Exceptional Management
Howard Schultz is an amazing CEO and his track record and company numbers back it up. By comparing efficiency and performance metrics over the past five years and 10 years, a big difference can be seen. I like to take the median over multiple different time frames to get a clearer picture of how the business has performed.
First, take a look at the table below.
Click to enlarge images.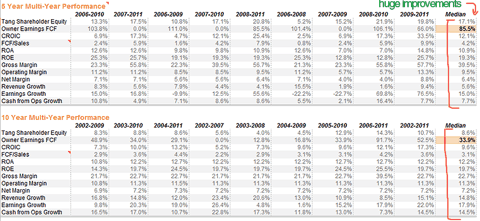 If you look at the final median values on the right side, the past five years have seen exceptional growth, returns, and performance.
Other companies would be jealous to even have the 10-year numbers Starbucks has experienced, but the growth has been consistent and adding real value to the business as evidenced by the 8.6% tangible equity growth to the 17.1% growth over the last five years.
Keep in mind that I'm talking about median numbers for now to show how the business has improved.
CROIC stands for cash return on invested capital and a value of 12% means that Starbucks is generating $0.12 cash for every $1 invested.
For every $1 of sales, 4.2 cents turns in FCF. Any company that is in the 5% range is considered to be an excellent cash flow generator.
The 2009-11 numbers are much higher, indicating that Starbucks can outperform the five-year medians and continue its way of enhancing its value.
Here's a sequential look the performance metrics.

The numbers speak for themselves. These numbers are only possible if the company has a clear moat, something that management has created. With VIA increasing its market share and Verismo being pushed out, I expect these high returns to continue.
Upside Reason No. 2: Best of Breed
There's no need to go through the numbers above again, but when compared to its competitors, Starbucks stands out. The important point to remember when performing any relative analysis or comparisons is to look at the whole picture and not just a single metric, such as growth, and then conclude that the higher-growth company is better.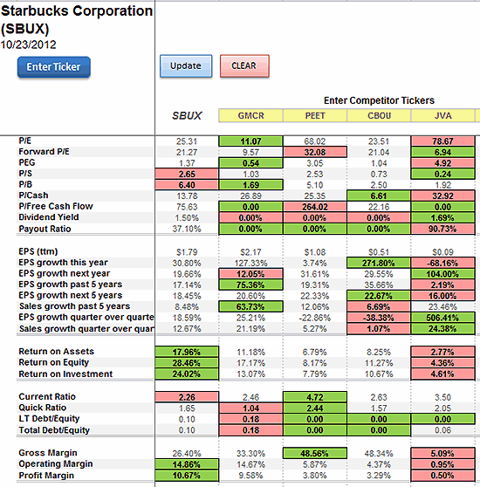 Looking at simple valuation ratios, such as P/E and P/B, Starbucks is in the middle of the pack. But what these simple ratios hide is the real earnings power that Starbucks has shown and is capable of achieving.
In the middle section comparing EPS, growth, and trends, Starbucks is again in the middle of the pack. But when you look at the whole picture, it has the best all-around numbers.
A company like Green Mountain Coffee Roasters (NASDAQ:GMCR) where the past five-year EPS growth was 75%, yet next year's expected growth is 12%, shows a company that is in trouble. This is the same for Peet's Coffee and Tea (NASDAQ:PEET), as having 49% gross margins with a 3.8% net margin is not impressive.
Starbucks numbers won't wow you, but they are rock solid.
Upside Reason No. 3: Quality and Clean Accounting
How does having clean accounting fit into a company's upside? If you ensure that the accounting is clean, it eliminates the off chance that the business has been overstating or fudging numbers.
Green Mountain Coffee Roasters had to restate its financials because of problematic accounting practices from 2006 to 2010. The restatement showed that earnings were overstated during this period. Same goes for Diamond Foods (NASDAQ:DMND).
Quality of earnings is important and there are ways to check for this. By checking the accruals, you can determine whether the company is offsetting any its assets to either suppress its earnings for the future or bringing in future earnings to the present to make it look better than it is.

Yellow indicates the warning range, but over the past 10 years Starbucks has gone back and forth between yellow and green. Seeing as how these aren't huge increases, there are no clear red flags at the moment.

Starbucks scores a 6 out of 9 for the Piotroski F score. Click here for a detailed discussion on the Piotroski score as well as a free Piotroski screener.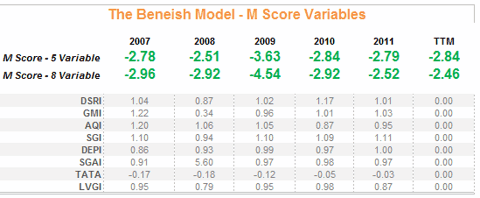 The final check I like to perform for potential earnings manipulation is called the Beneish M score, where a number below -2.22 is considered safe. If the number is above -2.2, the company is in danger of manipulating its financial statements.
Rather than go through the model in detail here, you can read more about the Beneish M score as well as download a free spreadsheet.
Summing Up
I've outlined three reasons why Starbucks has more long-term upside ahead:
Starbucks has exceptional management.
It is best of breed.
It has great quality of earnings.
But every company also has a flip side. I'll go through three reasons why Starbucks may have trouble going forward next time.
Disclosure: I have no positions in any stocks mentioned, and no plans to initiate any positions within the next 72 hours. I wrote this article myself, and it expresses my own opinions. I am not receiving compensation for it (other than from Seeking Alpha). I have no business relationship with any company whose stock is mentioned in this article.