Two weeks ago, I talked about reducing risk by leaning toward revenue beaters. Today, with a meager 37% of corporations surpassing expected sales targets, investors appear nervous about the possibility that companies will lose their footing on "Revenue Mountain."
Disappointing earnings reports, year-over-year revenue declines and uninspiring growth projections are not the only reasons for the selling pressure, however. Obama appeared to be a lock in September. Now, many wonder about the prospect of county-by-county recounts in Ohio during the first few weeks of November.
And that's not all.
Spain's borrowing costs jumped back into fretful territory as ratings agencies once again discussed downgrades. Speculation about Bernanke exiting the Federal Reserve regardless of who wins the presidency made the rounds. And most importantly, there has been precious little evidence that fiscal cliff fears will be resolved in a bipartisan, "cool heads will prevail" manner.
Interestingly enough, though, the three ETF categories that I recently highlighted for standing tall in the face of fiscal cliff concerns demonstrated relative safety on the 240-point Dow Industrials sell-off (10/23/12). Those categories included: (a) Assets with historically wide spreads with comparable treasuries, (b) Assets that offer positive real returns after inflation, and (c) Asia-Pacific ETFs that tap into a stabilizing economic situation in and around the region.
Safer ETF Investments… At Least In A Relative Sense
10/23 % Decline
Vanguard Intermediate Corporate (NASDAQ:VCIT)
0.2%
Market Vectors Latin America Bond (BONO)
0.1%
iShares S&P Preferred (NYSEARCA:PFF)
-0.1%
SPDR Barclay High Yield Bond (NYSEARCA:JNK)
-0.2%
PowerShares Emerging Market Sovereign (NYSE:PCY)
-0.3%
iShares MSCI New Zealand (NYSEARCA:ENZL)
-0.7%
iShares MSCI Hong Kong (NYSEARCA:EWH)
-0.8%
iShares MSCI Philippines (NYSEARCA:EPHE)
-0.9%
First Trust Dividend Leaders (NYSEARCA:FDL)
-1.1%
S&P 500
-1.4%
Dow
-1.8%
The above-mentioned ETFs — and the three categories described earlier — provide a combination of income, relative safety and opportunistic growth. In truth, circumstances aren't likely to change enough in the near-term to warrant additional risk taking.
Some are predicting that disaster is about to unfold. Perhaps. Yet you don't want to become a panicky seller, nor do you want to listen to the doomsayers who have been whistling the same monotonous tune throughout the year. (For that matter… gloom-n-doomers have predicted the demise of market-based securities in every month and in every year in the new century!)
Here is one way to tune out the cacophony of perma-bears as well as perma-bulls. Employ a trustworthy benchmark like the S&P 500. If the index closes below its 200-day moving average, sell a portion of your growth-oriented assets. And if you're genuinely concerned that the corrective phase is turning into a systemic, 2008-style collapse, use a tight stop-limit loss order on the remainder of your riskier ETF holdings. That's it!
(click image to enlarge)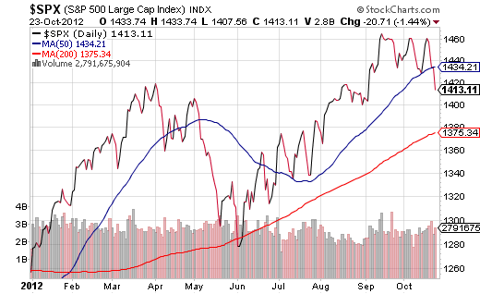 Don't fret the price movement of your intermediate bond holdings at this stage. Corporations are sitting on more cash than in the history of their existence, making Vanguard Intermediate Corporate Bond (VCIT) safe. Meanwhile, emerging market countries have a far better debt-to-GDP ratio than their counterparts in the developed world. That makes the dollar-denominated PowerShares Emerging Market Sovereign Debt (PCY) a safer haven, too.
Disclosure: Gary Gordon, MS, CFP is the president of Pacific Park Financial, Inc., a Registered Investment Adviser with the SEC. Gary Gordon, Pacific Park Financial, Inc, and/or its clients may hold positions in the ETFs, mutual funds, and/or any investment asset mentioned above. The commentary does not constitute individualized investment advice. The opinions offered herein are not personalized recommendations to buy, sell or hold securities. At times, issuers of exchange-traded products compensate Pacific Park Financial, Inc. or its subsidiaries for advertising at the ETF Expert web site. ETF Expert content is created independently of any advertising relationships.