The grandfather of the stock market, General Electric (NYSE:GE), has had to contend with slow growth in Europe this quarter. Fortunately rising demand in Asia for locomotives and electric turbines has compensated allowing the company to post a quarterly profit increase of 8.3 percent. Over the years General Electric has grown into a highly diversified multinational conglomerate that has produced everything from light bulbs and refrigerators to jet engines. Today it still produces light bulbs and jet engines, but also has a hand in every conceivable venture in between. The company has continued to report consistent growth in all sectors but most especially in its financial arm, GE Capital, which is its largest revenue producer and responsible for the large cash reserve that GE has on hand. Nearest Tier 1 competitors Honeywell (NYSE:HON), Siemens (SI), United Technologies (NYSE:UTX), and 3M (NYSE:MMM) cannot touch it in terms of diversification or longevity. In 2010, Forbes listed GE as the second largest company in the world based on sales, net income, market capitalization and assets. To put things into perspective, General Electric employs over 300,000 people worldwide. It has an impact on the economies of more than a few countries.
In July, General Electric announced that in an effort to update its energy division it will split the branch into three separate entities. With revenues of over $50 billion per year in its energy department, General Electric hopes that this move will make earnings more readily visible to investors. CEO Jeffrey Immelt released a statement on the reorganization: "Big companies are always fighting organizational complexity. We are taking action at a time when the energy business is doing well." The company also announced that vice chairman John Krenicki, who is in charge of the energy division, will leave the company at the end of 2012. Analysts are mystified by his departure as he is a key player in the company. The three new divisions of the company will report directly to Jeffrey Immelt. The Wall Street Journal reports that the move is all about making things simple and taking a layer of management out of the mix. From the perspective of the company, analysts and investors, it appears to be a sound move.
In a reassuring prediction by analysts, General Electric is poised to pay dividends this third quarter of approximately 36 cents per share. This is due, in part, from dividends of over $3 billion paid to the parent company from GE Capital in the second quarter this year. Shareholders cannot help but be content with the performance of the company this year. As the chart shows, there has been consistent growth.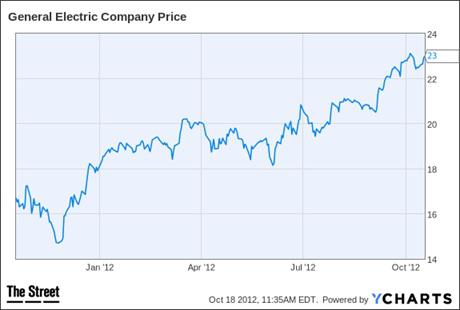 Like a chameleon, GE is adept at changing color to keep pace with consumer and investor demand in innumerable areas. The corporation uses a tactic of buying and selling companies to take full advantage of revenues when the circumstances call for it. This technique allows General Electric to adjust its portfolio to maximize profitable conditions in any market. Conglomerates are generally slow to move but GE is something of an exception to this rule. Stressing globalization over the past decade has enabled General Electric to grow at a faster pace and to take advantage of technological talent outside of the United States. It has also opened the company to emerging markets and new consumers. This was another sound business decision on Jeffrey Immelt's part. General Electric now operates in over 55 countries in one form or another, worldwide.
General Electric is considered by analysts to be a modest growth investment. It is a stock that has been under appreciated over the past decade by many investors looking for a high return in a short amount of time. Stable low growth is the hallmark of this stock and investors should realize that before adding it to their portfolios. Jeffrey Immelt appears to be steering the company in the right direction and analysts are confident that the company is strong and very stable. As the chart shows, the price of General Electric stock as of July was selling at a 2 year high. As of October 12, 2012 shares were selling for $22.51, slightly up from earlier in the day. The stock has remained consistently above $21.00 since the middle of the summer this year. The bottom line is that General Electric is a sound investment for the long-term and both analysts and investors are bullish on this stock. Look for GE to maintain and increase growth in all areas for the foreseeable future.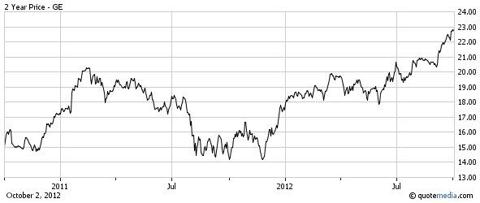 Disclosure: I have no positions in any stocks mentioned, and no plans to initiate any positions within the next 72 hours. I wrote this article myself, and it expresses my own opinions. I am not receiving compensation for it (other than from Seeking Alpha). I have no business relationship with any company whose stock is mentioned in this article.