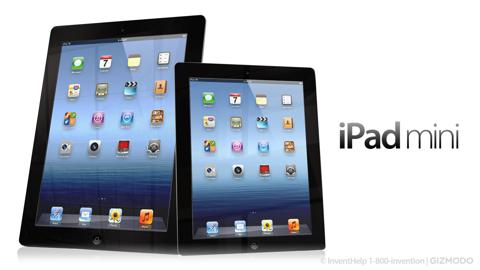 "Don't trade Apple. Own it."
That was the prescription offered this evening (October 23, 2012) by CNBC's Jim Cramer on his show "Mad Money." My wife went out to dinner tonight, so I was able to catch the show, almost as if it's a guilty pleasure. I don't really get to do that anymore, although I never really turned my back on Cramer. I just like marital harmony.
While I very often enjoyed the theses that Cramer would use to support his position, whether in agreement or otherwise, the thought processes themselves were always worthwhile lesson plans. However, his support of Apple going forward as an investment had no basis. There was no compelling thesis. There was no supporting data. Just a pithy statement: "Don't trade Apple. Own it."
There wasn't even a ritual smashing of the yet unavailable, new iPad.
Cramer, as he so often is, may be absolutely right. Obviously, only time and an individual's time frame can determine the unique outcome that we all experience. But this one left me a bit empty.
Today was the long awaited day, as one of the worst kept retail and technology secrets was unveiled. By whatever name the new and smaller Apple (NASDAQ:AAPL) iPad is ultimately known, the market didn't react very kindly.
Although shares of Apple weren't soaring in anticipation -- after all, the market was plunging 200 points in the aftermath of DuPont's (DD) earnings and guidance before the market opened -- it did a turnaround and gave up 80% of the previous day's $25 gain.
On top of disappointments from the likes of Google (NASDAQ:GOOG), General Electric (NYSE:GE), and IBM (NYSE:IBM), this is turning out to be just what the market needed in order to restore volatility. The question going forward may be, "did Apple provide what the market needed?"
There's no doubt that at least for the past year, a healthy and upward moving Apple has taken the overall market along with it. When Apple started its journey on the other side of its upward climb in early April 2012, the market followed. When it started to re-capture and surpass those highs, the market followed.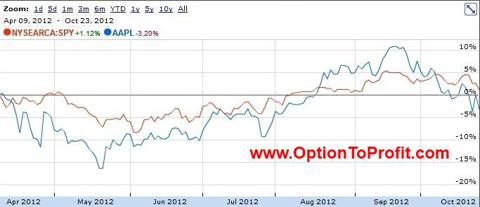 You don't have to own Apple shares to root for Apple. There's no shame in thriving off the run-off. There are certainly many investing strategies that owe their very existence to being an Apple derivative.
Regardless of what Steve Jobs may have thought about introducing a smaller screen iPad, and regardless of what he may have thought about the pricing structure and maintaining older product lines, the issue at hand is that Apple is running out of steam, and isn't creating the excitement that it needs for all of us to thrive.
Look at Intel (NASDAQ:INTC) and SanDisk (SNDK). At some point, people begin to stop being infatuated with the engineering and manufacturing miracles involved in continually cramming more and more power into smaller and smaller spaces. Even worse, people begin losing interest in paying premium prices for things that no longer have the "wow" factor. In a few years, maybe even less, you won't even be able to find Advanced Micro Devices (NASDAQ:AMD) to ask them the same question, so you may as well do it now.
Today, Apple offered nothing new. Instead, it added to its incredible product line-up and started introducing confusion, as it increasingly will maintain multiple product versions at different pricing points, among which the more casual user may have difficulty discerning differences and advantages.
Face it. The days when most Apple users were encyclopedic on their products is rapidly disappearing. The days when the typical Apple product user could seamlessly have been placed on the other side of the Genius Bar are also coming to an end.
As Apple seeks to miniaturize and remove unique characteristics from its products, commoditization begins. With an ever decreasing inter-generational time span -- as owners of the iPhone 4s and iPad 3 can attest -- and without quantum leaps forward, there's only so long that Apple can go back to the same well. When such becomes water cooler conversation, it may be too late.
With the announcement that Apple had sold more than 100 million iPads came disappointment and in fact, was the point at which the share price began tumbling, even as the market was staging a mild, albeit short-lived, recovery.
On a day like today, the slightest curveballs or flutters can be greatly exaggerated. As bad as DuPont and the oil patch were today, was there really a unifying hypothesis to drag Freeport McMoRan (NYSE:FCX) down 4% the day after it reported good earnings and gave no guidance warnings? So of course, you can't blame all of Apple's turnaround on its particularly luster-less presentations today.
Although Hewlett Packard (NYSE:HPQ) and Research in Motion (RIMM) have fallen by the wayside, and despite the fact that Amazon (NASDAQ:AMZN) marches to its own drum in the world of tablets, the landscape is being set up for change. Whatever the future holds for Microsoft's (NASDAQ:MSFT) Surface and a competing Google tablet, it's clear that not all are willing to cede the future of personal computing to Apple. The stakes are just too large.
As dominant as Apple has been and continues to be, there are very few historical precedents to suggest that market dominance continues, even when you have the best and the brightest toiling away at your service.
The expectations for Apple and its products continue to be at high levels, essentially a standard all its own. However, just as we've learned that our political leaders and our spiritual leaders are often all too human and suffer from the very same foibles as the rest of us, there may be more disappointment coming our way.
With the realization that corporations are people, it may end up coming as no surprise that Apple is capable of being less than the idealized image that we have had for the past 20 years. Ecosystem or no ecosystem, if you don't evolve, you die.
As far as the initial hypothesis goes, with volatility such as Apple has been demonstrating, it's a little difficult for someone like myself, who tends to sell covered calls on all holdings, to look at Apple as an ownership vehicle, especially now. With volatility comes opportunity, and Apple has lots of both.
For someone inclined to purchase shares, after today's drop to $613.25, Apple offers a $15.75 premium for the $615 strike contract that expires this Friday. Of course, that premium is somewhat inflated, as Apple reports its quarterly earnings after the market close the day before expiration. However, once that uncertainty is put in abeyance for another three months, a near the money call option typically commands a 1% premium. Just as there's nothing wrong with growing your assets through trades of Apple derivative companies, there's also nothing wrong with growing your assets trading Apple derivatives, week in and week out.
That's an ecosystem that's really self-sustaining and can be done ad nauseum, without needing to fend off avarice competition or continually re-inventing itself.
Disclosure: I am long INTC, MSFT. I wrote this article myself, and it expresses my own opinions. I am not receiving compensation for it (other than from Seeking Alpha). I have no business relationship with any company whose stock is mentioned in this article.