Facebook (NASDAQ:FB) reported Q3 results on October 23rd.
Key highlights:
Revenue: $1.26 billion, +32% y/y
Advertising: $1.09 billion, +36% y/y
Payment: $176 million, +13% y/y
Non-GAAP income: $525 million, +8.5% y/y
Non-GAAP EPS: $0.12 per share, flat y/y
Monthly Active Users (MAU): 1.01 billion, +26% y/y
Daily Active Users (DAU): 584 million, +28% y/y
Mobile MAU: 604 million, +61% y/y
What I liked: Above-consensus results, continued growth in user base, additional color on mobile
Consensus-beating Results: Facebook reported solid top and bottom lines that beat consensus. Revenue came in at $1.26 billion and non-GAAP EPS came in at $0.11 per share, compared with consensus of $1.22 billion and $0.11 per share, respectively.
Advertising revenue came in at $1.09 billion, of which $152.6 million, or 14%, was generated from mobile. Payment revenue came in at $176 million, an increase of 13% y/y but a decline of 9% sequentially. Non-GAAP EPS of $0.12 per share also came in above consensus of $0.11 per share.
While it is encouraging to see that Facebook beat the consensus estimate at both the top and bottom line, investors should note that expectations for Facebook were already low heading into the earnings report, so the quarter's beat should be taken with a grain of salt.
Continued growth in user base: Facebook finished the quarter with over 1 billion monthly active users worldwide. US & Canada finished the quarter with 189 million MAUs, +7% y/y, and Europe increased its MAUs by 14% y/y to 253 million. Asia and the rest of the world continued to see robust user growth of 41% y/y to 277 million while the rest of the world grew by 39% y/y to 288 million.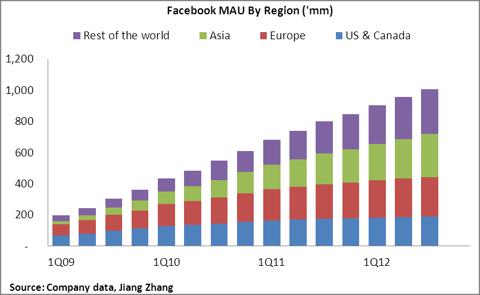 Daily Active Users was 585 million at the end of the quarter, +28% y/y, driven by strong growth in Asia (+44% y/y) and rest of the world (52% y/y) while U.S. (+6% y/y) and European growth (19% y/) was tepid.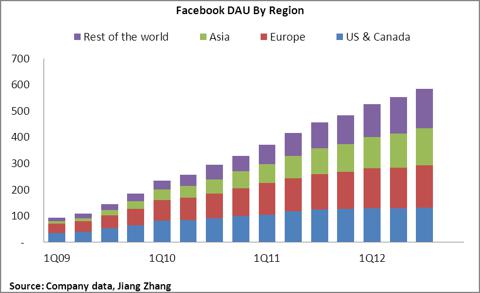 For mobile, Facebook had 604 million MAU mobile users, +61% y/y, which accounts for 60% of worldwide total MAU.
While Facebook is growing its users, ARPU is also climbing. I note that ARPU in US & Canada, Asia, and rest of the world showed second straight quarter of sequential growth. Worldwide ARPU was $1.29, +4.4% y/y, driven by resilient growth in the US & Canada (+21.4%), which offset the weaker growth in Europe (+2.2% y/y) and Asia (+3.57%).
Additional color on mobile:
I am encouraged by management providing additional color on mobile (eg. 14% of advertising revenue).
Personally, I have no doubt on Facebook's mobile monetization opportunity. Because of the proliferation of smartphones, Facebook is well positioned to monetize its 600 million plus mobile monthly users given that a mobile user has a 70% likelihood of using Facebook compared with a desktop user, who only has a 40% likelihood of using the platform.
Facebook's recent upgrade on the iOS app resulted in an 80% increase in newsfeed and 20% in user engagement. An Android upgrade should be coming soon, and the increased newsfeed and engagement can lay the foundation for future monetization opportunities.
After just six months into its mobile monetization ramp up, mobile revenue accounted for 14% of the total advertising revenue. Heading forward, I am confident that Facebook can continue to accelerate its mobile revenue through various monetization methods including app install, Facebook exchange, and Facebook Gifts.
What concerned me: Mobile transition continues to climb, mixed user engagement
Mobile Shift: Mobile engagement level, which I measured with mobile MAU/total MAU, reached 60%, compared with 57% in Q2 and 47% in 3Q11. The accelerated shift to mobile engagement is not giving Facebook sufficient time to ramp up its mobile monetization platform in a way that will satisfy investors' expectations. While the long-term prospects are bright (as I mentioned above), I am still concerned about the short-term prospects.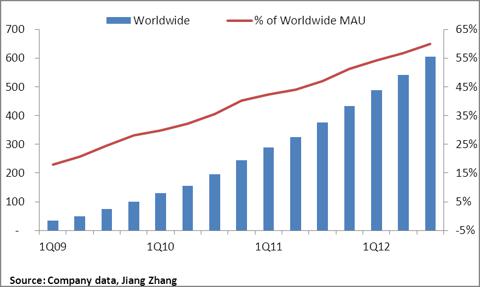 Mixed engagement result: Facebook measures user engagement by calculating DAU/MAU.
Over the past three quarters, Facebook's user engagement is plateauing.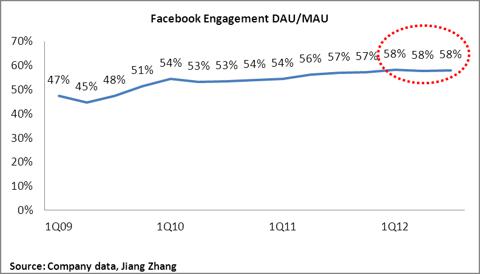 The biggest concern is in regards to user engagement in Facebook's most profitable markets, North America and Europe, as measured by ARPU.
While overall engagement has plateaued, user engagement in North America and Europe declined for the second consecutive quarter. US & Canada engagement decreased to 69.8% compared with 70.5% in Q1 and European engagement level decreased 40 bps to 63.2% over the same period. Asia and rest of the world continues to see growth in engagement, which offset the weakness in Facebook's key markets.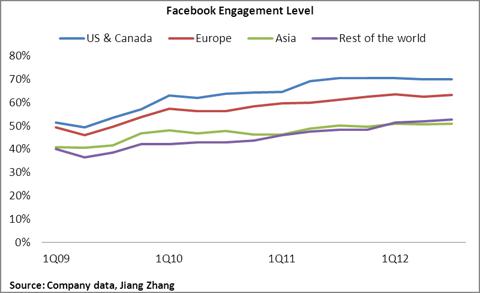 I remain my Equal-weight rating on Facebook and $25 price target (View report).
Disclosure: I have no positions in any stocks mentioned, and no plans to initiate any positions within the next 72 hours. I wrote this article myself, and it expresses my own opinions. I am not receiving compensation for it (other than from Seeking Alpha). I have no business relationship with any company whose stock is mentioned in this article.