In my defense, I figured it out. In what might have been my worst call in over a year and 173 articles here on Seeking Alpha, I actually recommended that investors buy RadioShack (NYSE:RSH) almost exactly one year ago, at $11.70 per share. I doubled down on that argument in January, writing the following:
RSH's struggles of late do not stem from macroeconomic conditions or an inability to compete; they are, first and foremost, a management problem...And while a struggling management team is a rare argument in the bull case for a stock, there is a sense that for RadioShack, there is nowhere to go but up. The Mobility segment is going to grow, the company will generate a modest amount of cash, and the dividend will get paid for the near future.
Of course, Mobility has not grown -- same-store sales were down 1.6% in the third quarter -- free cash flow has been modestly negative for the first nine months, the dividend was suspended, and former CEO Jim Gooch stepped down last month after just 16 months in the top spot. Other than that, I had it completely right.
The stock had dropped by half by the time I figured it out in April, after fiscal first quarter earnings once again disappointed. In that piece, I noted Gooch's seemingly delusional answer to an analyst questioning the company's focus on lower-margin mobility products (phones and tablets from Verizon (NYSE:VZ), Sprint (NYSE:S), and AT&T (NYSE:T)) over its higher-margin legacy components and accessories segments. It was clear at that point that, fundamentals aside, investors simply could not trust management's basic competence, given that they were clearly intent on going forward with what had already been proven to be a failed strategy.
With that little bit of history aside, the question now is: with the stock now down another 50 percent, closing Tuesday at $2.57, and Gooch gone, should investors consider RadioShack as a turnaround play? After Tuesday's earnings report, the market very clearly had widely divergent answers to that question, as RSH went on a volatile ride on 2.5 times its average daily volume:
Click to enlarge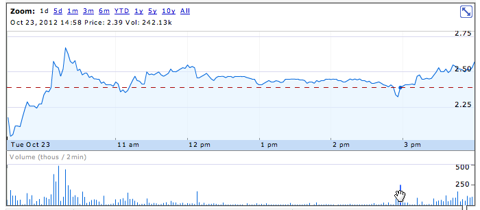 Chart courtesy Google Finance
After hitting an intra-day low of $2.02 in early trading, RSH jumped some 34% in about an hour, faded back into negative territory, rebounded, faded again, then closed strong to finish up 7.5% amidst another rough day in the broad market.
Clearly, it was a bruising battle today between the bulls and bears, with the bulls eventually winning out. It's easy to see why the battle was so fierce; there are strong arguments on each side. For RSH bulls, the first and simplest argument is the balance sheet. First, RSH is trading at 41% of its tangible book value. Valuing inventory at 50%, and property and equipment at 20%, the stock is trading slightly below its liquidation value.
Secondly, the company does have surprising financial flexibility, despite its seemingly dire straits. With $546 million in cash, RadioShack should be able to easily re-pay the remaining $287 million in convertible bonds due in August 2013. Beyond that, RadioShack has $462 million in debt coming due between 2016 and 2019; but it also retains some $259 million in cash beyond the money owed to convertible bondholders, in addition to nearly $400 million under a revolving credit facility that expires in January 2016. Capital leases are flexible as well; most RadioShack leases are three to four years long, allowing the company to close unprofitable stores. In short, it seems highly unlikely the company will face a liquidity crunch over the next three years, giving time and breathing space for a potential turnaround.
The problem with the bull case, however, is simple: right now, the company is not planning a turnaround. While Gooch's departure was long overdue, he has been replaced by his CFO, Dorwin Lively. Lively's track record at RadioShack has hardly been stellar; notably, Lively oversaw the company's $325 million debt issue in May 2011. Using proceeds from that debt, RadioShack repurchased $113 million worth of stock at a stunning $15.68 average cost per share, before canceling the program in January. The loss on the repurchase now comes out to be about $94 million, with the added annual interest costs creating another $100 million or so in destroyed shareholder value. In short, the total cost of that decision looks to be in the range of $200 million, or about 80% of RadioShack's current market capitalization. While I understand the board's hesitance to replace the entire C-suite all at once (with the Chief Merchant Officer position still unfilled), Lively's promotion (albeit on an interim basis) and the board's allowing Gooch to resign rather than be fired raise questions about its oversight of management.
And listening to Lively on the Q3 conference call, it's clear that, right now, RadioShack has no plans to change the strategies that have led to a billion dollars in shareholder losses over the past twelve months. Lively is making some smart moves; corporate layoffs earlier this year led to quarterly SG&A dropping by about $11 million year-over-year, excluding one-time charges. Capital expenditures fell by about $18 million in the first three quarters as well. RadioShack has also issued a termination notice to Target (NYSE:TGT), in whose stores RadioShack operates 1,512 kiosks, according to the Q3 10-Q. Lively said on the call the company hopes to renegotiate the arrangement, which has caused operating losses of at least $40 million (and likely closer to $50 million) on a cash basis over the past two years. Those three changes, in total, could boost the bottom line by $80-$90 million -- or 80 to 90 cents per share -- annually.
But can that be enough to sustain the mobility-focused strategy that creates lower gross margin, but has not boosted revenues? It seems unlikely, and clearly RadioShack is not deviating from its plan to become, first and foremost, a wireless reseller. The company is actually increasing its investment, according to Lively, by "add[ing] some highly trained wireless experts' to some of our high volume stores" in anticipation of the holiday season. This of course begs the question: who exactly is selling the phones the rest of the time? Shouldn't a company that is branding and marketing itself as a one-stop shop for postpaid wireless plans from a variety of carriers always have "highly trained wireless experts" selling those phones? If they don't, why exactly are customers going to enter the stores?
Without a differentiated proposition -- such as salespeople who understand the features and capabilities of each phone and the fine print of each carrier's contract -- RadioShack will not compete in what it is a brutally competitive market. When asked about market share on the call, Lively responded [emphasis mine]:
The data would say that the carriers probably own about 70%-plus of the market share...So that means [RSH] and everybody else is kind of fighting for the 30-ish number and that includes everybody including franchises and independents and et cetera. We haven't commented on exactly about our share, but it's in the single digits. I wouldn't say it's changed drastically if you will go over the last two or three.
This is the mobility strategy in a nutshell: focusing the company on a segment where it has not only lower margins, but single-digit market share and a clear ceiling on market share expansion. It's simply not working. Lively, responding to a question from Barclays analyst Alan Rifkin, had to backtrack from his optimism in the prior quarter, when he had forecast "stabilization" in Q4 and operating profit of $40-$50 million in 2013. "I think that's going to take a bit longer," the interim CEO admitted. "And I think we will likely see a continued [margin] compression in Q4 as well. But I still think that we'll see some improvement into next year, but maybe not totally to that same extent."
The problem is that unit volumes are down dramatically. Revenues are roughly flat, or modestly down, in the segment, but the average selling price of phones has risen tremendously, as higher-priced smartphones -- notably the iPhone from Apple (NASDAQ:AAPL) -- replace older, less functional, and less expensive handhelds. Flat revenues at higher ASPs means far lower unit sales. Unit volumes are down dramatically, in part, because there just isn't as much need for a reseller in the segment. With Nokia (NYSE:NOK) and Research In Motion (RIMM) seeing single-digit market share and plunging consumer interest in the US, many consumers are choosing between a small number of models, either Google (NASDAQ:GOOG) Android phones or the iPhone. In addition, as Lively himself noted, the coverage among different networks has become extensive and roughly standardized, meaning "the appetite to change carriers is probably not as great as it was some time ago." The inability to poach dissatisfied customers from other carriers is another factor driving unit volumes down.
And yet, the only way the reseller strategy works is if unit volumes grow, meaning revenues grow substantially, overcoming gross margin weakness and supporting the fixed-cost structure of 7,205 retail locations. That's not happening; it's not even close to happening; and it seems unlikely, at best, to ever happen. There's just no need for a wireless reseller any more, certainly not one with the size and cost structure of RadioShack.
So, yes, the fundamentals look outstanding, and yes, the balance sheet is likely more flexible than many casual observers would realize. And yes, there is time for a turn around. But for RadioShack to execute a turnaround, it has to actually decide to turn around. Late in Tuesday morning's call, UBS analyst Michael Lasser asked Lively, "Is there that point at which you need to take a broader look at the strategy?" Lively responded, "I think that right now, I would say that is exactly the point that we're working on." If RSH leadership can come to accept the failure of the mobility strategy, there is still yet hope for RadioShack. But until there's a new CEO, and a new strategy, RadioShack will stay on the same self-destructive path.
Disclosure: I have no positions in any stocks mentioned, and no plans to initiate any positions within the next 72 hours. I wrote this article myself, and it expresses my own opinions. I am not receiving compensation for it (other than from Seeking Alpha). I have no business relationship with any company whose stock is mentioned in this article.