Homebuilders have been one of the brightest spots in the market this year and despite significant gains, evidence suggests there is plenty of room left as we move toward 2013, particularly in back-door housing plays such as USG Corporation (NYSE:USG).
New home construction is good news for USG's drywall sales.
In September, housing permits increased 45.1% and housing starts rose 34.8% from a year ago. August new home sales increased 27.7% year-over-year, as inventory dropped to 4.5 months from 6.6 months.
The expansion helped USG report 9% growth in Q3 earnings from last year, driven by both demand and higher Sheetrock prices.
The company's drywall sales climbed 14.3% to 1.20 billion square feet as realized selling prices increased to $131.97 per thousand square feet, up from $111.16 year-over-year. Overall, North American Gypsum sales increased $59 million to $496 million, generating segment operating profit of $35 million - up from a $70 million operating loss last year. This helped company wide operating profit climb to $32 million, reversing a year ago loss of $20 million.
Improving construction trends also gave USG's Building Products Distribution segment a $17 million bump to $300 million in the quarter. The division handled 5% more wall board than a year ago and prices boosted spreads by 10%. While the segment still had an operating loss of $10 million, results were much improved from the $17 million loss a year ago.
Across the company, sales growth was leveraged against fixed costs to produce a 13% gross margin, up from 6% last year. Additional volume tied to new home construction could drive earnings much higher. After all, the company earned well over $8 per share during the boom years of both 2005 and 2006.
While we're miles from those heady days, significant additional volume growth is certainly possible, particularly considering how much activity would be needed just to get us back to historical norms. As you can see from the following chart, home construction is in the very early days of recovery.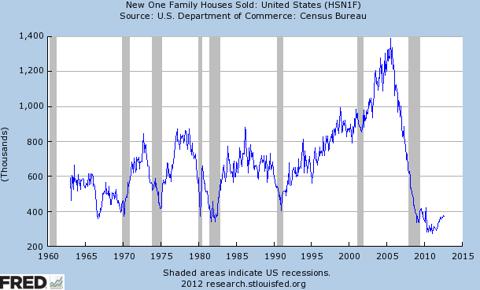 Commercial construction also offers upside.
Non-residential construction spending has been sluggish compared to residential. But spending on commercial projects is still growing. In August, non-residential construction spending increased 7.2% from August 2011.
Private sector spending on drywall-intense projects, including lodging and office space, increased 33.7% and 10%, respectively. This growth helped offset lower public spending for those categories.
Strength in lodging is likely to continue given 289,145 rooms remained in development as of September, according to STR. Hotel occupancy climbed 0.4% in September to 63.4%, helping revenue per available room increase 3.8%. As long as occupancy and rates continue to increase, lodging projects will move forward, bullish for drywall demand.
The office market isn't nearly as attractive as residential or lodging. However, office vacancy rates seem to have stabilized, falling 0.1% to 17.2% in Q3 from Q2. This brought office vacancy rates 0.30% lower year-over-year and helped office rents increase 1.4%. Clearly, there's a lot more work to do before substantial office construction returns. But, if the economy continues to add jobs, vacancy and rental rates will eventually help spark additional drywall demand too.
So, while homebuilders like Pulte Group (NYSE:PHM), KB Homes (NYSE:KBH) and Hovnanian (NYSE:HOV) have garnered a lot of attention this year, investors shouldn't limit themselves solely to those plays. Instead, they should consider companies supplying these builders too. If construction trends continue higher, companies such as USG may reward investors just as handsomely.
Disclosure: I am long USG, PHM, KBH, HOV. I wrote this article myself, and it expresses my own opinions. I am not receiving compensation for it (other than from Seeking Alpha). I have no business relationship with any company whose stock is mentioned in this article.