First Emerging Asian Currency Basket Fund
On Thursday, September 4 Barclays Capital launched the first Exchange Traded Note [ETN] to provide investors access to a basket of eight emerging Asian currencies. The Barclays Global Emerging Market Strategy [GEMS] Asia 8 Index ETN (NYSEARCA:AYT) trades on the NYSE-Arca and includes the following eight currencies: the Indonesian rupiah, the Indian rupee, the Philippine peso, the South Korean won, the Thai baht, the Malaysian ringgit, the Taiwanese dollar and the Chinese yuan.
According to the prospectus, the note will reach maturity in approximately 30 years with a "closing indicative value on the inception date [of] $50." Expenses are a hefty 0.89%. Barclays defines the notes as 'unsecured debt', "riskier than ordinary unsecured debt securities." Returns are tied to performance of of the underlying currencies against the U.S. dollar.
High Levels of Current Income
Explaining the reasoning behind the launch of AYT, Philippe El-Asmar, Head of Solution Sales, Americas at Barclays Capital said, "As investors look for diversified ways to access emerging market growth, we have seen increasing interest in packaged currency investments, especially those that offer high levels of current income." (press release)
Index Universe's Murray Coleman believes a major draw of AYT may not be the underlying index so much as its monthly payout. Past currency funds have included the underlying indexes' yields within the listed price of the notes, rather than offering investors the ability to receive distributions. AYT is part of a new trend of funds targeting older investors who are interested in income paying funds as they approach and enter retirement age. The yield as of mid-August was approximately 4.5%. According to Coleman, "interest payments for AYT will be treated as ordinary income, meaning investors won't get any tax breaks if held outside of tax-deferred accounts."
Overlapping Funds, Pricing
While it's true AYT is the first fund to offer U.S. investors many of the currencies in its basket, there are already a few emerging Asian currency ETNs on the market. Van Eck and Morgan Stanley have teamed up to offer exposure to Chindian currencies through the Market Vectors Renminbi/USD ETN (NYSEARCA:CNY) and the Market Vectors Indian Rupee/USD ETN (NYSEARCA:INR). WisdomTree also has a pair of India/China currency funds: Indian Rupee (NYSEARCA:ICN) and Chinese Yuan Fund (NYSEARCA:CYB). The Market Vectors sport expenses ratios of 0.55% while the WisdomTree funds charge investors just 0.45%.
According to an article on Seeking Alpha by Ray Hendon published on September 4, AYT's underlying currencies most recently sported the following interest rates: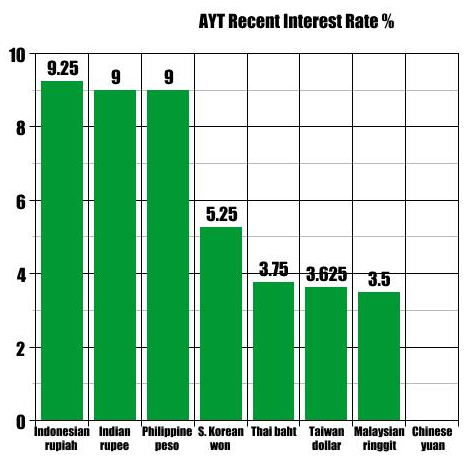 * Chinese yuan interest rates not reported