Despite the fact that the eurozone debt crisis and, to a lesser extent, weakness in other non-US currencies have served as kryptonite to Philip Morris International's (NYSE:PM) growth, we believe that is a great business and a good investment. While core earnings growth may have been almost totally offset by the weak year-over-year changes in the euro and other non-US currency, there is absolutely no question that Philip Morris is the world's favorite cash cow. Because of its gargantuan levels of return on equity and free cash flows, PM is one of those rare-breeds of companies that offers an above average dividend yield of 3.7% (as of October 19th, 2012) and is a dividend growth champion (dividends have increased at a compounded annual growth rate of 13% since it was spun off from Altria Group (NYSE:MO)). We even wrote about how PM's dividend growth is like the back-to-school period in that every September, kids go back to school and Philip Morris increases its dividend.
images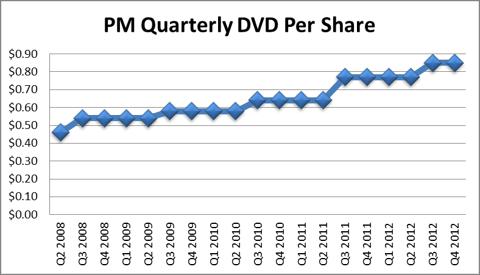 Source: Philip Morris International's Dividend Schedule and History
PM faced difficult macroeconomic headwinds as well as a challenging comparison to last year's quarter due to a one-time boost in Asian shipments because of Japan Tobacco's (OTCPK:JAPAF) struggles in the wake of the Japanese earthquake. In Q3 2011, PM's shipments to Japan grew by 47.1% and 22.4% for Korea because Japan Tobacco was dealing with the aftermath of the big quake. Because Japan Tobacco recovered, Philip Morris's Q3 2012 Japanese volumes declined by 7.7% year-over-year and its Korean volumes declined by 8.9%. PM's adjusted EPS still grew at 0.7%, primarily due to share repurchases. EPS saw a negative headwind of 5.1% due to the stronger US dollar (reporting currency) versus the operational currencies of its global subsidiaries. PM also took a $.05 non-recurring charge to deal with certain discrete and outstanding matters pertaining to its 2004-2006 tax returns. Philip Morris also kicked off its new 3-year, $18B share repurchase program with nearly $900M in repurchases and repurchased the last $600M available on its 2010 vintage repurchase program.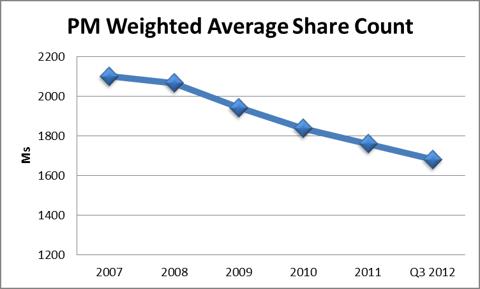 Source: Morningstar Direct
Philip Morris saw its strongest performance in its Eastern Europe, Middle East and Africa segment. The company grew its reported revenues by 9.4% excluding the impact of the sharply stronger US dollar. This market achieved 3% unit volume growth, which enabled it to generate 13.2% increase in operating income (19.6% excluding negative currency impacts). This market saw its operating income increase by $122M due to positive pricing initiatives and $52M due to volume and product mix changes. This was the sixth straight quarter of positive volume and product mix growth in the region. Parliament grew by (13.8%) due to strength in Kazakhstan, Russia and Turkey. Russia saw a 4.5% increase volume in the quarter and 4.8% during the first half. PM's Russian market share grew by 70bp to 26.5% according to Nielsen as of the end of August on a year over year basis and 40bp on a linked quarter basis on the strength of Parliament, L&M, Bond Street and Next. PM's Turkish market share was 46% thanks to strong market share gains for Parliament in the premium category, Muratti in the mid-price space and Lark in the discount segment. PM Ukrainian market share was 32.4%, up from 32.2% last year at this time.
Philip Morris Asia saw its organic cigarette volumes declined by 0.7% and increased by 1.7% excluding the temporary unit volume boost in 2011. The Indonesian tobacco market remains the strongest market for Philip Morris Asia and it grew its volume by 2.4% and PM/Sampoerna grew its volumes by 13%. This enabled Philip Morris to grow its market share by 3.3% in the quarter (year-over-year) and 1.4% quarter-on-quarter and it now stands at 34.9%. Even though the company saw its operating income and revenue decline by 0.9% and 1.4% versus the prior year's comparable quarter, Philip Morris Asia still generated strong revenues ($2.76B), operating income ($1.3B) and operating margin (47%).
Philip Morris Americas (Latin America and Canada) reported mixed performance. This is PM's smallest market segment and it saw incremental revenue declines for the quarter and year-to-date due to the same currency headwinds that all the markets are facing. Although operating income declined 0.9% on an adjusted basis, it grew by 4.1% for the quarter. PM's Europe Union segment remains the weakest performing market because of the deep recession throughout the eurozone. PM European Union saw its constant currency revenue decline by -1.9% year-over-year for the quarter and 0.6% year-to-date. Negative headwinds from the weak Euro contributed seven-eighths of PM EU's 15.2% Q3 2012 revenue decline versus Q3 2011.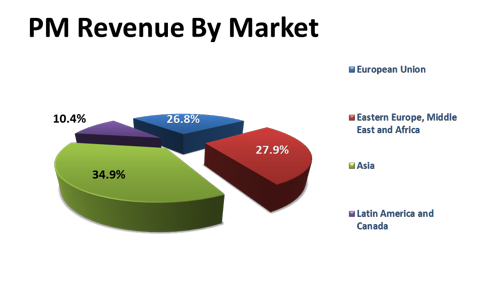 Source: Philip Morris Q3 Earnings Release
We previously covered the negative ruling in the Australian plain packaging case. Even though 6 of the 7 Australian High Court judges recognized that plain packaging deprives tobacco companies of valuable intellectual property, the court rules that the law was constitutional. The ruling turned on the specific, if not unique, nature of the Australian Constitution, which provides broad powers to the Commonwealth Parliament to make laws but contains few protections for basic rights. Australian law is violated only if the Government, as the taker of property, receives a proprietary benefit from that property. Despite the fact that property was taken, the Court found that the government did not "acquire" the property because it did not receive such a proprietary benefit. By contrast, the law in Europe and other countries is different. For example, in contrast to the Australian Constitution, the Constitutions of the EU Member States generally contain strong protections for fundamental rights and place limits on the powers of central governments. A finding that manufacturers have been "deprived" of property would, in our view, amount to a violation of a number of EU and Member State laws.
Due to the scope of this specific case, the Australian High Court did not rule on whether plain packaging will reduce smoking prevalence or whether plain packaging breaches Australia's international trade and treaty obligations.
The High Court ruling confirms that other ongoing international legal cases are strong and that the Australian government is at serious risk of having to pay substantial compensation in these cases or bring its plain packaging measures into conformity with international treaties, or both.
Based on our observations, we believe that recessions, currency headwinds and the reversal of large temporary market share boosts can't keep Philip Morris from growing its EPS. Such headwinds can only contain Philip Morris. Despite facing the one-two punch of a weak Euro and weak eurozone sales volume, the combine still pulled out a small increase in its adjusted EPS for the quarter. PM announced that it reduced the per share currency headwind from the $.27 it expected in Q2 2012 to $.23 recently. Even with the headwind to EPS growth due to unfavorable effects of a strong US Dollar, the company is expected to register $5.15 in adjusted EPS and this represents 5-6% EPS growth this year. Add in a dividend that is surely going to be increased in September and you have one of the best companies in the world to invest in. Considering that the company has increased its capital expenditures versus the prior year period, we believe that there is more potential for organic growth than meets the eye in this company. Philip Morris has always been a strong performing company, whether now as an independent or when it was part of The Philip Morris Companies along with Altria (Philip Morris USA). The last thing we like about Philip Morris is that it is one of the few companies that includes its transcript along with its 8-K earnings release.
Disclosure: I am long MO, KFT, PM. I wrote this article myself, and it expresses my own opinions. I am not receiving compensation for it (other than from Seeking Alpha). I have no business relationship with any company whose stock is mentioned in this article.
Disclaimer: This article was written by an analyst at Saibus Research. Saibus Research has not received compensation directly or indirectly for expressing the recommendation in this article. We have no business relationship with any company whose stock is mentioned in this article. Under no circumstances must this report be considered an offer to buy, sell, subscribe for or trade securities or other instruments.