Yandex (NASDAQ:YNDX) is the leading internet technology company in Russia, offering the most popular search engine attracting 49 million unique visitors monthly. Branded as the "Russian Google", Yandex generates 60.5% of all search traffic in the country, making it Russia's most visited website, more than double the share held by Google (NASDAQ:GOOG). The company offers similar services to Google, including Yandex.News, Yandex.Maps, Yandex.Disk and Yandex.Market, to name a few. The chart below depicts Yandex's share in Russia versus other search engine service providers.
images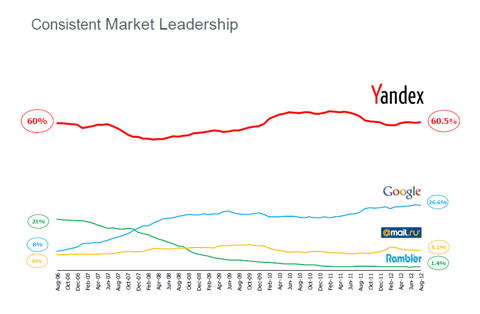 Source: Yandex Investor Presentation, pg.8
Yandex was listed on the NASDAQ in May of 2011, proving to be the largest tech IPO of the year. While the company offered shares at $25, enthusiasm spilling over from LinkedIn's IPO one week prior gave shares a 40% boost to roughly $35. At this quote, Yandex sported an $11 billion valuation. The success of LinkedIn's IPO (which saw shares more than double in price in one trading session) may have influenced investors to over value Yandex, assessing the company at 25-times its 2010 revenues. Consequently, Yandex's shares are down 36% from IPO valuation due to unrealized hype surrounding its IPO and reassessments in growth expectations.
Since 2007, Yandex revenues have been growing at a compound annual growth rate (CAGR) of 47%. In addition, so far in the first half of 2012, the revenue is up 50% from the same period a year ago. With 72% of revenue coming from text based advertising on their platform, Yandex has achieved current level of profits by focusing on this core competency. Furthermore, the substantial growth experienced thus far shows that Yandex has been defending its market share in its home turf as Google gains ground (as depicted in the chart, above). The company has maintained a market share of around 60% while Google slowly creeps up, overtaking the competition. Just recently, Yandex launched its own internet browser, Yandex.Browser, after Mozilla replaced its Yandex default search with Google. This inevitable action was a response to reinforce Yandex's dominance in the Russian search engine market.
Google's latest earnings had the market in an uproar last week as the company missed Wall Street expectations. Profits slipped 20% from the prior year to $2.18 billion mainly from the slower ad revenue growth and losses in the Motorola division. The $12.5 billion Motorola investment weighed down the third quarter earnings as the phone maker experienced a loss of $527 million. This attempt to penetrate the hardware mobile market may prove to be beneficial in the long term for Google as it attempts to challenge Apple's (NASDAQ:AAPL) innovative products, but will weigh on cash flows in the interim.
Google saw a slower increase in its ad revenue, 15% growth, down from 39% a year ago, a figure that has been lagging since mid-2011. Although they sold more ads, the average price paid by web advertisers per click, CPC, was 15% less than a year ago. This decline is driven by the shift towards the cheaper mobile ads, as more users are adapting mobile devices for online browsing.
The transition from desktop advertisements has proved to be a challenge for internet companies as advertisements do not work the same on the smaller screened mobile devices. However, marketers are trying to figure out the mobile ad market, given that mobile usage is expected to overtake PC by 2015. The potential for additional profits has presented itself to the internet giants, but their execution to implement this new opportunity will be the determinant for future success.
In its second quarter earnings, Yandex has revealed similar concerning trends that caused Google's latest earnings disappointment. Although revenues have been increasing substantially over the last couple of years, it has been fueled by an increase in the number of advertisers. Similar to Google, Yandex has upped the number of advertisers by 34% from 2011 and, as a result, has had a 64% increase in the amount of paid clicks. Nonetheless, the company has been experiencing a decline in their CPC figures (seen in the chart below) meaning the value of each advertisement clicked has gone down. This ongoing decline is a cause of concern for the company as it shows innovation is needed to implement efficient advertising into mobile markets.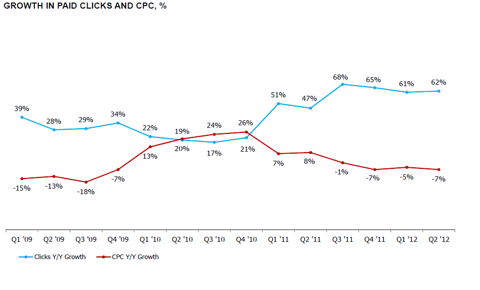 Source: Yandex Investor Presentation, pg.32
Yandex has begun to implement its mobile strategy to have the upper hand in this dynamic market by partnering with non-competing mobile platforms to distribute its services. Microsoft's (NASDAQ:MSFT) Windows Phone 8 will be preinstalled with Yandex as the default search engine in Russia. Similarly, Samsung Android smart phones will have Yandex apps preinstalled. This gradual integration into the mobile market is giving Yandex the opportunity to further develop its advertisement technology to take advantage of the shift in consumer trends and stay competitive.
According to CEO Arkady Volozh, Yandex does not have any intention to follow Google into the hardware market, as it focuses on the services which established its competitive advantage. At this point in time, the mobile hardware extension would be an unnecessary expenditure of capital for Yandex as the market is already congested with powerful players (like Apple and Samsung) with robust moats and capital resources. Additionally, mobile hardware would require outsourcing, and therefore a large investment, as seen with Google's acquisition of Motorola.
From CEO Arkady Volozh (see here):
We'll be growing 30 percent or something next year, but it's not doubling every year as we used to have four or five years ago. We need to find some new markets, new opportunities ... it could improve our revenues dramatically.
New opportunities are in the form of expansion abroad as Yandex eyes Turkey, Europe's largest and fastest growing web market, as its next target. Currently, the emerging Turkish internet market is being dominated by rival Google, who owns over 90% market share. However, Yandex plans to use its own expertise to grow the existing 1% market share to an ambitious 5% by year's end, as it faces no real competition for the number two spot in the emerging country's search market.
Turkey could prove to be a huge opportunity for Yandex as it currently has 46% internet market penetration (i.e. 46% of the population is online) and a $257 million ad market. This ad market is expected to grow to $400 million by 2014. Taking a conservative approach, if Yandex were to own 5% of Turkish market share in 2014, it would increase revenues by $20 million. However, expansion into foreign search markets are easier said than done - just ask Baidu (NASDAQ:BIDU). The Chinese search giant has struggled with expansion into the Japanese market, posting losses and disappointing gains in market share.
It seems Yandex has outgrown the confines of Russia and needs to develop its business abroad for the company to expand. With third quarter earnings coming out next week, annual growth for full year 2012 has been projected to be in the 40-45% range in 2011. These upcoming results are crucial for investors to see where the company is heading with future operations. Will their comparable advertising cost trends result in the same disappointment that Google encountered last week?
Particularly, investors should keep an eye on the progress in the Turkish market, ad revenue growth and further integration with mobile ads which will be key indicators of success. That being said, Yandex is a well-positioned company in a growing market that has laid out a promising strategy; now it is time for them to execute on it.
Disclosure: I have no positions in any stocks mentioned, and no plans to initiate any positions within the next 72 hours. I wrote this article myself, and it expresses my own opinions. I am not receiving compensation for it (other than from Seeking Alpha). I have no business relationship with any company whose stock is mentioned in this article.