By law, U.S. REITs are required to pay out at least 90 percent of taxable income to their shareholders in the form of dividends. REITs also tend to generate a stable and consistent income stream for the shareholders. In a low interest rate environment, such REITs become attractive investments for those looking to add extra income to their portfolio.
Weingarten Realty Investors (NYSE:WRI) trades around $26.85, up 30% in the past 1-year. The stock trades at FFO multiple of 15 times, which is a 10% discount to its peer group. The stock yields 4.3%. Other REITs in its peer group such as DDR Corp. (NYSE:DDR) yields 3%, Kimco Realty (NYSE:KIM) yields 3.79%, and Regency Centers (NYSE:REG) yields 3.83%.
The chart below compares share performance over the past year. "D"s mark dividends paid (click to enlarge image).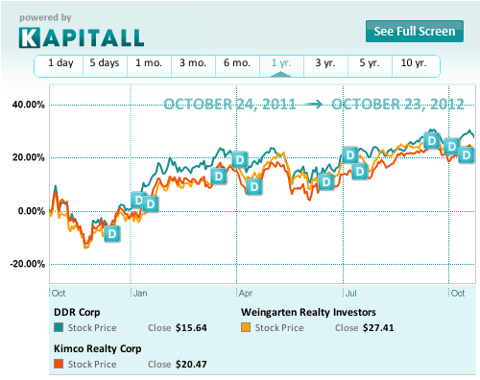 A quick look at the fundamentals: Weingarten Realty has $326 million in available liquidity in the form of a credit revolver, and $15 million in cash on the balance sheet. In terms of public debt covenants, as of June 30th, 2012, the company is in compliant with all covenants. On October 2nd, 2012, the company issued $300 million in unsecured debt, proceeds of which will be used to pay down part of the credit facility, and the remaining for general corporate purposes. The company has clearly been pro-active in reducing leverage, with debt-to-cap dropping from 43.8% in December 2011 to 36.3% in June 2012.
The company has a diversified tenant base with no tenant contributing more than 2.5% to revenues.
The total square footage of leases expiring in the next 2 years is a minimal 7,000 sq. ft., which contribute $84 million in revenues.
Occupancy rate continues to improve with 93.4% in June 2012 versus 91.7% last quarter, and 91.2% in June 2011.
The company is committed in selling its non-core assets. In Q2-2012 the company sold its 9.6 million square feet industrial portfolio to DRA Advisors for $382 million
Conclusion: Weingarten Realty management has done an excellent job in turning around the company into a profitable, well-diversified REIT with reduced leverage. It is also one of the higher yielding names among its peer group.
Written by Kapitall's Sabina Bhatia. Tool provided by Kapitall.
Disclosure: I have no positions in any stocks mentioned, and no plans to initiate any positions within the next 72 hours.
Disclaimer: Kapitall is a team of analysts. This article was written by Sabina Bhatia, one of our writers. We did not receive compensation for this article (other than from Seeking Alpha), and we have no business relationship with any company whose stock is mentioned in this article.