Investors rarely utter 'gold investing' and 'dividends' in the same sentence. But today these two seemingly contradictory terms may have become a match.
Below I have filtered the gold equities universe into a handful of stocks that pay some of the highest yields. Other than writing covered calls on a gold ETF, this is probably one of the few ways to generate income from gold-related assets.
| | | |
| --- | --- | --- |
| Ticker | Company | Country |
| (NYSE:GFI) | Gold Fields Ltd. | South Africa |
| (NYSEMKT:GORO) | Gold Resource Corp | USA |
| (NYSE:NEM) | Newmont Mining Corp. | USA |
| (NYSEMKT:NSU) | Nevsun Resources Ltd. | Canada |
| (NYSE:ABX) | Barrick Gold Corporation | Canada |
Before looking at the dividend yields for each of these gold companies, let's first examine the sustainability of each dividend. Based on the payout ratios in the table below, all except for NEM's dividend appears repeatable.
| | |
| --- | --- |
| Ticker | Payout Ratio |
| GFI | 7.27% |
| GORO | 23.22% |
| NEM | 219.02% |
| NSU | 11.06% |
| ABX | 15.09% |
However, let's face it: These are gold companies and earnings are generally levered to gold, which is a volatile asset. Moreover, extraction costs are linked to energy prices so earnings for gold companies can unexpectedly get pushed in either direction. For these reasons, I wouldn't expect dividends from gold equities to be the foundation of an income-generating portfolio.
The five charts below show the dividend and dividend yield history for these companies. While current yields range between 2.10% and 4.00%, they have varied over time. This is partly because dividends paid have increased for most of these companies over time. Note, however, that dividends have not risen in a straight line. The dividend payouts for ABX and GFI, for instance, have been fairly inconsistent.
Also note that the dividend history for most of these companies isn't that long. Investors shouldn't get too comfortable about the consistency and sustainability of these dividends.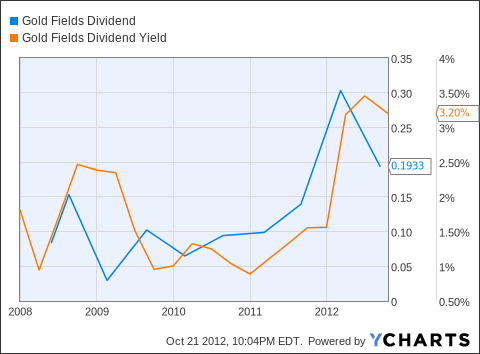 GFI Dividend data by YCharts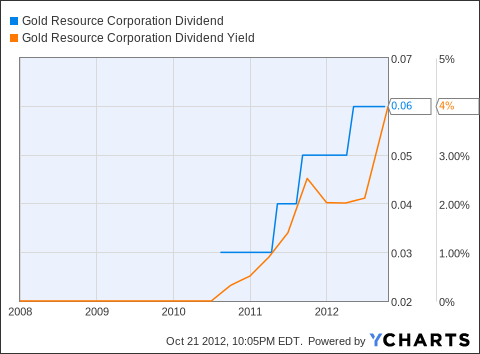 GORO Dividend data by YCharts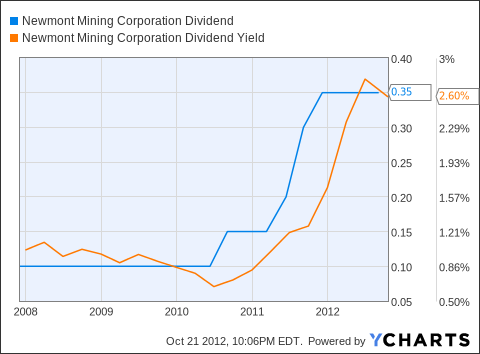 NEM Dividend data by YCharts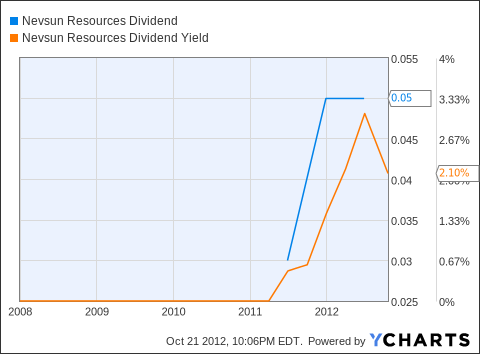 NSU Dividend data by YCharts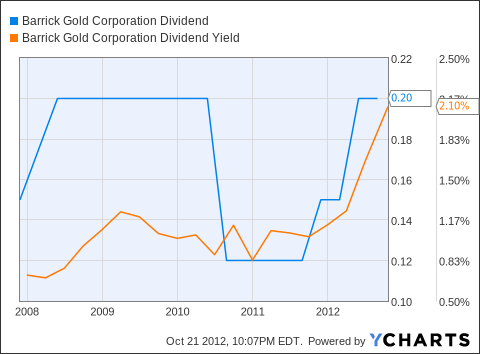 ABX Dividend data by YCharts
So which company is most likely to experience wide variations in dividends paid? While nobody can predict management's dividend policy changes, the companies most likely to change dividends (either up or down) are the ones most exposed to the earnings cycle. Companies with high leverage ratios are generally more susceptible to fluctuations in revenue.
The table below lists the debt-to-equity ratios for each company. I would suggest that the companies with higher ratios are more likely to revise their dividends with fluctuating gold and energy prices.
| | |
| --- | --- |
| Ticker | LT Debt/Equity |
| GFI | 0.36 |
| GORO | 0 |
| NEM | 0.47 |
| NSU | 0 |
| ABX | 0.51 |
While income-generating gold assets have an attractive appeal for many investors, it is important to realize that we are still in the early stages of the gold equity dividend era. Dividend track records are young and consistency questionable.
Adding dividend-paying gold stocks to an income-generating portfolio could add some diversification benefits and serve as an alternative to no-yielding gold bullion or gold equities. However, it is too early to put too much faith in income generated from gold stocks. For those willing to take the risk, the five stocks mentioned above deserve further exploration.
Disclosure: I have no positions in any stocks mentioned, and no plans to initiate any positions within the next 72 hours. I wrote this article myself, and it expresses my own opinions. I am not receiving compensation for it (other than from Seeking Alpha). I have no business relationship with any company whose stock is mentioned in this article.
Data source: Finviz and Ycharts. This is not advice. While the author makes every effort to provide high quality information, the information is not guaranteed to be accurate and should not be relied on. Investing involves risk and you could lose all your money. Consult a professional advisor before making any investing decisions.