Earlier this year, Cisco (NASDAQ:CSCO) released the Cisco VNI Global Mobile Data Traffic Forecast Update. The report presents projections and forecasts on mobile devices (defined as smartphones, tablets, nonsmartphones, laptops/netbooks, home gateways, M2M, and other portable devices) from 2011-2016. The rapidly growing industry of mobile data is something we have been communicating to our clients for the past few years. I strongly believe this is one of the largest growth opportunities over the next decade for retail investors to access.
For most investors, it is difficult to buy stocks when all the headlines around us are negative. From continent to continent we are bombarded with worry that hinders out investment decisions. As third quarter earnings are being released, we are witnessing sings of revenue slowing, further adding to uncertainty. Some of the greatest investors in history; Warren Buffett, Jack Bogle, Benjamin Graham, and John Templeton all invested in periods of time where the world felt like it was coming to an end. What made them great was their ability to look into the future and see opportunity rather than risk. In my opinion we are in the early innings of a technology bull market.
Look at your daily life and how it has changed over the past decade. How much time do you spend surfing the web or checking email from your PC? Isn't most of it done on a tablet or smartphone these days? How about movies and television, don't you see YouTube and Netflix (NASDAQ:NFLX) demanding more and more of your time? There are so many habits in our daily lives that point to incredible investment opportunities and mobile data is one of the largest. I am going to use Cisco's research to communicate a handful of investable ideas that may make sense in your portfolio. Cisco published this white paper because they undoubtedly are already investing in many of these areas. While this article will in no way be exhaustive of potential investment ideas, I hope it serves as a framework for your own investment research.
Global Mobile Data Traffic
The growth in global mobile data traffic has been tremendous. Over the past four years the growth rate has more than doubled! In 2011 alone, mobile data traffic was eight times the size of the entire global internet in 2000. The chart below shows past growth rates and projected growth rates using Cisco's Visual Networking Index.
| | |
| --- | --- |
| Year | Global Mobile Data Traffic Growth |
| 2009 | 140% |
| 2010 | 159% |
| 2011 | 133% |
| 2012 (estimate) | 110% |
| 2013 (estimate) | 90% |
| 2014 (estimate) | 78% |
Source: Cisco VNI Mobile
So just how much data are we actually using? Currently roughly 1 Exabyte of data is used per month. An Exabyte is 1,000,000,000,000,000,000 or simply 1018 bytes. Said another way, 1 Exabyte is equal to 1 billion Gigabytes. To put this in perspective, most smartphone plans allow 2 gigabytes of data per month. According to Cisco's projections (below), by 2016 we will be using 10.8 Exabyte's per month!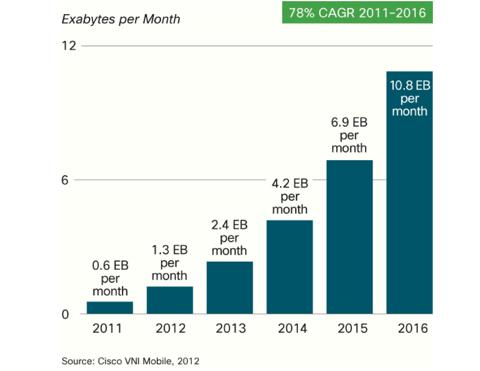 Smartphones
Average smartphone usage increased by nearly three times year over year in 2011, moving to an average of 150MB per month. Up until recently Apple's (NASDAQ:AAPL) iPhone's dominated the greatest amount of data used in the smartphone space, however Google's (NASDAQ:GOOG) Android is now in the lead. Google CEO Larry Page recently announced that there are currently over 500 million Android devices in existence and 1.3 million new Android devices activated daily. Both companies offer a great way to gain exposure to the theme of global mobile data on many different levels (more to be discussed later). The Cisco study also estimates that by 2016, one quarter of all mobile users will own two or more mobile connected devices. It is almost certain at least one of those devices will be a smartphone. Microsoft (NASDAQ:MSFT), Research in Motion (RIMM) and Nokia (NYSE:NOK) are all publicly traded securities that offer exposure to smartphone sales. As I mentioned earlier, please do your research on each individual security as certain companies are currently losing market share.
Another way to invest in the growing smartphone space is through the service providers. Both AT&T (NYSE:T) and Verizon Wireless (NYSE:VZ) offer data plans for virtually any mobile device. As technology improves and data is accessible at a faster rate, you can expect both companies to benefit from data plan purchases. If you want to look outside the United States, China Mobile (NYSE:CHL) will give you exposure to one of the fastest growing markets in the world. China currently makes up less than five percent of all global mobile data traffic, Cisco estimates that by 2016 China will account for over 10% of worldwide mobile data traffic!
Mobile commerce is another exciting topic in the smartphone conversation. As companies like Apple, Visa (NYSE:V), Mastercard (NYSE:MA), Facebook (NYSE:F), Google, and eBay (NASDAQ:EBAY) all try to convince consumers to use their service when paying for goods via a mobile device, another realm for investment appears. Cell phones may very well replace our wallets in the future. Who will come out on top is still a great question as mobile commerce is still in its infancy stage.
Mobile Video
Remember the old days of wanting to watch a movie. You had to drive to the nearest Blockbuster, walk the perimeter of the store (to view all the new releases), stand in line to check out, pay $5 for the film, then drive home and hope your DVD (or VHS) wasn't scratched (which would then lead you to doing the process all over again). Thankfully we have moved past those days and with the simple click of a button, you can now stream thousands of movies and TV shows instantly.
Mobile video traffic by far demands the largest use of data, accounting for 52% of all data traffic in 2011. Cisco estimates that mobile video will grow at a CAGR of 90% between 2011-2016, and account for over 70% of mobile data traffic in 2016 (see chart below).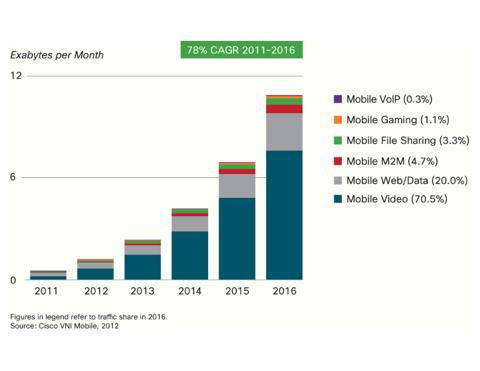 There are many ways to invest in the mobile video industry. The largest provider of movies on demand is Netflix. For under $10 a month you can instantly access thousands of movies and TV shows from virtually any mobile device you own. Competitors like Amazon's (NASDAQ:AMZN) Prime service or Apple's iTunes store, allow you to purchase movies and TV shows anytime you wish.
Google's YouTube service has been one of the best acquisitions in the company's history. With over 4 billion videos viewed a day and more video uploaded in one month than the three major US networks have created in the past 60 years (source: YouTube), the ability to reach consumers is becoming easier and easier. When you have viewers spending this much time on your website you can learn their preferences (i.e. better advertisements), create online TV shows to keep them coming back, and ultimately find new ways to monetize the user experience. With Google's massive search engine, in addition to many other business segments, their tentacles reach the further into the global mobile data industry than any other company.
Cloud Computing/Data Storage
As more and more of our daily tasks are streamed via the web, we need storage devices and cloud applications to handle out data. If it weren't for the powerful server computers utilized by Facebook, Pandora (NYSE:P), or NetFlix, we wouldn't be able to access the data we need when we need it. There are many ways to invest in the cloud computing space. Some of the largest companies that make storage servers are EMC (EMC), NetApp (NASDAQ:NTAP), International Business Machines (NYSE:IBM), and Cisco. Again, spend time researching each individual company to determine if you are getting a pure-play cloud computing company or a diversified technology company.
As more and more data is streamed across the globe on a daily basis the storage space will need to increase. Think outside of the United States, as emerging economies continue to grow and invest in technology, companies that make the components allowing us to stream data will likely see increased sales. Many corporations' 10-k and 10-Q filings break apart sales by geographic segments, one cannot help but notice the rapidly expanding emerging markets segment.
Conclusion
I have barely scratched the surface on the topic of global mobile data. With the possibilities that lie ahead over the next decade, one could fill the pages of a small novel about what may come of this industry. I left out very lengthy topics such as advertising, tablets, mobile-to-mobile (example: computer chip in your toaster), mobile network connection speeds and ongoing service providers to name a few. It's not that I don't find these areas of interest, I just didn't want to float too many ideas in one article.
If you made it this far through the article take the time to think about what areas of your life are drastically different today than they were ten years ago. Ask yourself why these changes occurred and if they are likely to stay. If so, I urge you to research the companies mentioned above in greater detail, and invest where appropriate. Despite all the headline risk which bombards us every day by various media outlets, we are about to head towards one of the greatest technological expansions this country has ever seen.
*Note: All data reported is from the Cisco Visual Networking Index Global Mobile Data Traffic Forecast Update, unless otherwise noted.
Disclosure: I have no positions in any stocks mentioned, but may initiate a long position in AAPL over the next 72 hours. I wrote this article myself, and it expresses my own opinions. I am not receiving compensation for it (other than from Seeking Alpha). I have no business relationship with any company whose stock is mentioned in this article.