Prices come first, fundamentals come second.
In a recent article of mine, I argued that gold futures would break out above technical resistance at $1,800, as a result of QE3, its likely safe-haven status in the event of a new leg down in the euro crisis, and the extended slow-growth environment. Since failing to break out above $1,800, gold had entered a significant consolidation: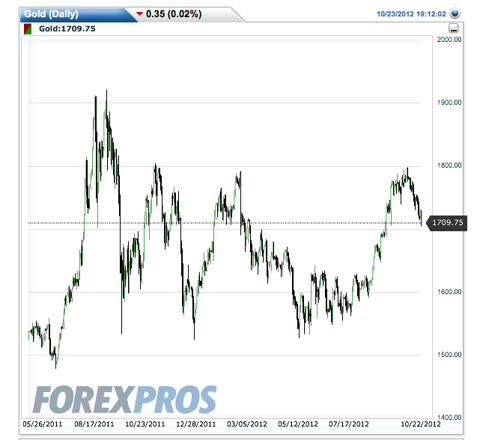 Traders should note the year-long trading range between $1,540 and $1,800.
Have The Fundamentals Changed?
Dollar Strength
The spot USD futures just crossed above their 50-DMA, and recent developments indicate that the dollar may be setting up for a big upward move.
One good thing that QE3 did for the dollar was remove the surprise factor of a new round of easing. QE's open-ended nature allows currency traders to price in Fed policy (exceptionally low interest rates until mid-2015, operation twist until the end of 2012, $40 bb in monthly MBS purchases until housing and employment pictures improve) without major shocks.
With fiscal cliff worries growing, the election picture shaping up, and European markets approaching another cyclical downturn, the dollar has no shortage of catalysts.
Some sort of fiscal deal will in fact get done; equities may not like it either way. Unless the deal is totally superficial, the dollar should rally on legitimate recognition of the deficit and physical action to cut it.
A Romney election will likely send the dollar flying. Governor Romney's rhetoric about easy-money policies at the Fed has been tough, and it appears that he will run politically opposed to unconventional monetary policy. Regardless of whether or not a Romney appointee would drastically alter the monetary policy of the Fed in the aftermath of Bernanke's reported 2014 departure, a Romney election will likely be taken as dollar-bullish.
Finally, a repricing of the euro currency could be in the works. The market has largely priced-out euro worries over the past couple months in the midst of potential ECB bond buying and QE3, which has strengthened the euro dramatically vs. the dollar since its summer lows. However, with a Spanish bailout impending, the ECB bond-buying program may soon be triggered. Balance sheet expansion on the ECB's part should place downward pressure on the euro.
Given the relative calm of European markets currently, I also expect another mini-cyclical downturn and risk repricing. Peripheral bond yields have eased dramatically since their summer crisis levels, yet the economies of Spain, Italy, Portugal, and even France are contracting, and growth has yet to pick up in the core. Both euro scenarios are also dollar bullish.
QE3: Bad For Gold?
While open-ended money printing is certainly not a negative on the price of gold, the nature of QE3 has removed the catalyst of impending Fed action in the gold market. From a psychological standpoint, there is no shock value left to initiate a significant upward move. Though this is absolutely not to say that nothing will catalyze a bullish move in gold, it does illustrate the altered the landscape for gold traders.
Diminishing stimulative effects on asset markets has been a major concern for investors and traders alike since QE2, and it appears those fears are being realized. Taking a cue from equity markets, which have sold off significantly in the last couple of weeks, the commodity complex has fallen in tandem.
Sure, the Fed could announce GDP targeting, additional treasury purchases in conjunction with MBS purchases, extension of operation twist, etc., but the element of surprise just simply isn't there anymore.
Technicals Are "Fundamentally" Poor
Given the nature of the demand for gold, which is largely based on various investor concerns and speculative activity, I believe the technicals are as important a fundamental case for the price of gold as anything else.
Gold's inability to breakout above $1,800, observed with the fundamentals as a backdrop, was a very bearish event for the intermediate term. Over the last year, gold has attempted the $1,800 region three times; many traders felt that QE3 was the perfect catalyst for a successful and sustained move. Gold's failure to do so, with such a seemingly strong fundamental reason, indicates that it's headed quite lower over the next two or three months. As was the case with the last two failed breakouts, I believe gold could re-test the lower end of the year-long trading range of $1,540.
Additionally, a cross of the 10-DMA under the 30-DMA has provided very strong signals over the past 12 months. This move occurred last Friday. The short-term bear trend is in effect until the 10-DMA crosses back above the 30-DMA.
Conclusions
For now, I am short December gold futures. The dollar, having sold off significantly from its 2012 highs has several potential catalysts. The Fed's effects on asset markets is perceived as having been weakened, as evidenced by the decline in both equities and gold, most notably gold's failed breakout.
I expect to hold this position for several weeks, with a downside target of $1,650 by mid-November. A price close above the 10-DMA (currently $1,743) would likely force me out of the position. I recommend investors short the futures or the gold ETF (NYSEARCA:GLD).
Long-term, the combination of negative real interest rates, continued, unprecedented, currency debasement, weak economic growth and sustained tail-risk should keep gold prices supported.
Disclosure: I have no positions in any stocks mentioned, and no plans to initiate any positions within the next 72 hours. I wrote this article myself, and it expresses my own opinions. I am not receiving compensation for it (other than from Seeking Alpha). I have no business relationship with any company whose stock is mentioned in this article.
Additional disclosure: A portfolio I co-manage holds a short position in December gold futures (GCZ12).