Introduction and Thesis Overview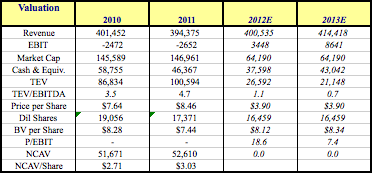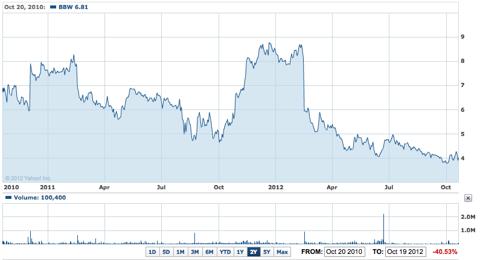 Build-A-Bear Workshop (NYSE:BBW), the specialty retailer known for selling plush animals in a DIY format, trades far below its intrinsic value. Despite a strong balance sheet, positive cash-flow, and an expected return to profitability this year, Build-A-Bear still trades at just half of its book value. Share prices have recently been depressed due to a lack of top-line growth after a disappointing Q4 2011 result as well as a general belief that the brand's previous success was merely a fad.
Build-A-Bear's share price ($4.05) should rise as same store sales improve and profitability returns. Currently the market has underappreciated the value of Build-A-Bear's business and has overestimated the long-term impact of the company's Q4 2011 top-line results.
Same Store Sales Growth - New Store Design
2H Same Store Sales
Despite producing -2.1% same store sales last year and a 4-year same store sales stack of -31.5%, same store sales have begun to stabilize as the company has closed underperforming stores, shifting sales to higher performing stores in the same markets. The 3rd and 4th quarters of the year are most important to the company. Currently same store sales expectations are low. I expect the company to benefit from a positive comparison in Q4 2012 against Q4 2011. What many do not realize is the impact of both the Happy Feet Two and Shipwrecked movie releases on Q4 2011 sales.
"Unfortunately for the movie industry and for Build-A-Bear Workshop, the holiday season at the theater was one of the most disappointing in years. Both Happy Feet Two and Shipwrecked were sequels with strong historical box office performance and very strong sales on the feature characters at Build-A-Bear Workshop, but neither film performed as projected or in accordance with their box office.

In fact, box office revenues were down over 60% and 40%, respectively, to their last releases. This contributed to a sales shortfall to our plans for our movie-related product. Had either of the films performed to expectations, our fourth quarter would have had positive sales on a consolidated basis."

-Maxine Clark CEO, Q4 2011 Conference Call
Not only did the poor box office results hurt sales but they also forced Build-A-Bear to sell much of their movie product at discount, contributing to the -224 Bps drop in GPM%. As of today, there are no planned large movie promotions in Q4 2012, allowing the company to better position core merchandise as well as further leverage gross margin.
2013/2014 Same Store Sales
Build-A-Bear has realized that play patterns among children have shifted over the last 10 years. Children now spend approximately 2 hours a day playing on either a computer or tablet. To respond to new play patterns and remain relevant, Build-A-Bear is switching its store design to feature a digital interactive layout.
The first store with the new design opened this September in St. Louis. The company next plans to open newly designed stores in Detroit, Indianapolis, Washington DC, Annapolis and the San Francisco East Bay area. Look for these new stores to report higher same stores sales, hopefully commented upon during the Q3 2012 conference call.
The company plans to completely switch their store base over to the new design during the next 3-5 years.
"It's a prototype at this point, so each one is going to build uniquely. And then like our first 10 or 15 stores we built, starting back in 1997 and then we take the good things and we mass produce them for expansion to other stores. And our plan is that we will convert all of the stores that we intend to move forward with over a relatively short period of time not all in one year or two years, but probably within a three to five-year period to the new element of the store." - Maxine Clark CEO, Q1 2012 Conference Call
As the store base transitions towards the new store design, expect same store sales growth to accelerate conservatively towards low single digits.
Cost Cutting Leverage
In Q4 2010, Build-A-Bear hired a consulting firm to evaluate the entire business from a cost standpoint. The firm was able to find approximately 10-12 million dollars in both fixed and variable costs to reduce. Total annualized savings are expected to be between $10 million and $15 million. Gross margin on a trailing 4-quarter basis should increase once the poor sales results stemming from the Happy Feet Two and Shipwrecked products are anniversaried.
These cost saving measures have allowed operating profits to shift from -2.04% in 2009 to an expected +0.77% in 2012, although still far below its +10.84% OPM% in 2006.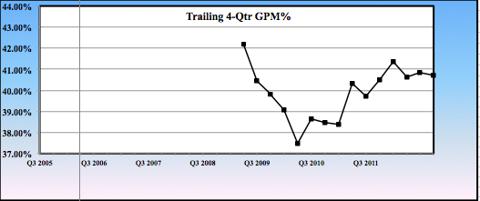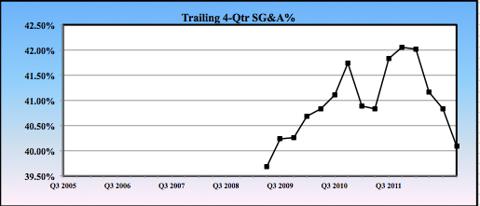 As same store sales increase, Build A Bear will be able to further leverage these cost benefits, increasing profitability.
Valuation
Examining Build-A-Bear's Wind Down/Liquidation Value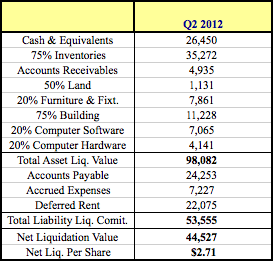 If Build-A-Bear wound down operations, liquidated inventory (2.5 month turnover rate), and paid all current liabilities value would equal $2.71 per share.
Trading at $3.90 (end of Q2 2012), a liquidation value of $2.71 provides a maximum 30.5% downside risk.
There are also multiple off-balance sheet assets.
-In 2011 the company recorded a $15.600 million valuation allowance on its US deferred tax allowances. This allowance was allocated after 3 consecutive years of NOLs. If Build-A-Bear returns to full year profitability a portion or all of this allowance may eventually be released.
-Additionally, the company holds a 25% stake in Ridemakerz, a retailer of customizable toy cars. The company currently has 4 locations, including 2 inside Disneyland, after downsizing from a peak of 15 locations. The book value of Build-A-Bear's investment in Ridemakerz is zero as of Q2 2012 but still presents an upside opportunity contingent on Ridemakerz returning to profitability or expansion.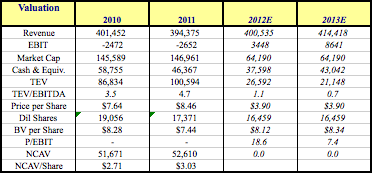 Valuation Rational
Build-A-Bear is currently trading far below its book value. As same store sales recover (a conservative 2% was used in estimate) profitability returns. Once profitably returns at the end of 2012, Build-A-Bear becomes very attractive from a valuation basis.
-Using a conservative 15x P/EBIT multiple, I expect BBW to trade at $7.86 by the end of FY 2013 (101% return)
-Using a more aggressive 20x P/EBIT multiple, I expect BBW to trade at $10.50 by the end of FY 2013 (169% return)
Both of the valuation estimates provide a very attractive investment opportunity compared to a maximum downside of $2.71
There is also $7 million left in the company's stock buyback program, set to expire April 30th, 2013. There is a strong chance that if same store sales increase in Q3 2012 the company will use cash on hand to complete the buyback program while share value is depressed.
Since its collapse, Wall Street has considered Build-A-Bear tarnished, with only 3 sell-side analysts providing coverage. Where many see a failed company, I see opportunity. If the company can return to profitability its market capitalization should increase back towards a range where more "traditional" asset managers can allocate capital in the position.
Key Risks
There is a chance Build-A-Bear will not be able to increase its same store sales. This risk will be further magnified from additional capital expenditures if same store sales do not increase at the new design stores.
There is also a risk that increased competition from both brick & mortar retailers such as Wal-Mart (NYSE:WMT) and Toys R Us will gain share or increase gross margin pressure.
There is a risk that further economic pressure will depress discretionary spending and consumers will shift spending towards lower cost plush animals without personalized interactive assembly.
Conclusion
Build-A-Bear is currently undervalued. The company's profitability potential, sales growth and balance sheet are all misunderstood by the investing community. Normally when a company is trading at half of its book value, investors anticipate severe shareholder equity destruction. Build-A-Bear its simply not one of those instances. Between the return to profitability through aggressive cost trimming, stabilization in sales, and the short horizon remaining to complete the remaining $7 million left in their stock buyback program, expect book value and earnings to increase into the end of the year.
Build-A-Bear will most likely never return to the size seen from 2005-2007. At that time market expectations were much greater for the company and investors were caught up in a euphoria from the recent IPO. Build-A-Bear's share price collapsed during the recent recession, consumer discretionary spending has been down, operating costs were excessive and many did not believe the company would be able to remain public.
Currently, expectations for Build-A-Bear are at rock bottom even after the company has turned in corner in stabilizing sales and cutting costs to a point where they can return to profitability. Many investors felt "burned" after the stocks run-up in Q4 2011, after the company reported strong Q3 earnings only to miss on same store sales during the all-important Q4. Despite a strong Q3 2011, 2H 2012 presents a much easier comparison and should allow the company to beat expectations on both the top and bottom-lines. I expect pending strong low to mid single digit same store sales, Build-A-Bear should return to trading in the $8 range or slightly above book value.
Disclosure: I have no positions in any stocks mentioned, and no plans to initiate any positions within the next 72 hours. I wrote this article myself, and it expresses my own opinions. I am not receiving compensation for it (other than from Seeking Alpha). I have no business relationship with any company whose stock is mentioned in this article.