It is to the credit of Medtronic (MDT) top brass that they realized the potential of the renal denervation market early on when they contributed $47 million to acquire 11% of Ardian in March 2009.
At the time, Ardian, created by The Foundry medical device incubator, was developing the Symplicity renal denervation system, has just completed animal studies and was confirming proof-of-concept in a 45-patients first-in-man trial.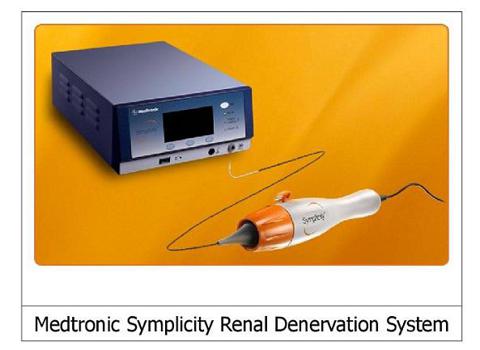 The Symplicity renal denervation system consists of an ablation catheter and a radio-frequency generator. The physician inserts the flexible catheter into the femoral artery and threads it into the renal artery.
Once the catheter tip is in place within the renal artery, the generator is activated to deliver a controlled, low-power radio-frequency energy to deactivate the surrounding renal nerves.
The minimally invasive catheter-based procedure, which is intended for patients with treatment resistant hypertension, is easier to perform than a coronary angioplasty and has the potential to prolong and improve the quality of life of the chronically hypertensive patient.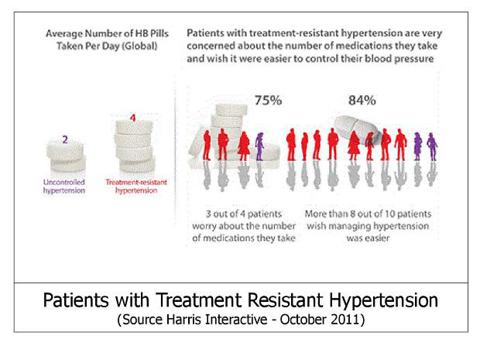 By definition, adults with treatment-resistant high blood pressure take on average four prescription pills every day for their blood pressure and consider hypertension their most serious health concern.
Renal denervation devices offer the opportunity to selectively modulate activation of the sympathetic nervous system as well as minimize the systemic adverse effects of hypertensive drugs.
The Symplicity renal denervation system received CE Mark approval, and was launched commercially, in April 2010. In November 2010. Medtronic paid $800 million in cash for the 89% of Ardian that it did not already own with a potential upside of $500 million more in milestone payments.
During 2011, Medtronic realized $25 million in Symplicity related revenue and expects to achieve $50 million in 2012.


In April 2012 Covidien (COV) entered the market by acquiring Maya Medical, developer of the OneShot renal denervation system, in a transaction valued at $230 million, $60 million upfront cash payment with up to an additional $170 million in milestone payments.
In May 2012, St. Jude (STJ) followed with its own EnligHTN renal denervation system, a basket design second-generation multi-electrode radio frequency ablation system that St. Jude positioned as the contender in the space.
By mid-2012, four new renal denervation systems were available in Europe and international markets outside the US and Japan. Half a dozen more are currently in development by both multinationals and tiny medtech startups.
No device has received US FDA commercial approval yet, however, Medtronic's Symplicity received IDE (Investigational Device Exemption) in July 2011 and is on track for a US launch in 2014.
According to Medtronic executives, the company is comfortable with its current competitive position. They do, however, acknowledge that Symplicity is a first generation technology and that they are looking for enhancements to the product.
Some analysts believe that Medtronic might have overpaid for Ardian, given the price paid by Covidien for Maya and the fact that Medtronic will likely have to make another acquisition in the space to retain competitive advantage over, already launched, second-generation devices.
If this is true, then Medtronic entry into the renal denervation space, thought prescient, is value dilutive and, taken in isolation, should bode negatively for Medtronic share price expectations.
Disclosure: I have no positions in any stocks mentioned, and no plans to initiate any positions within the next 72 hours. I wrote this article myself, and it expresses my own opinions. I am not receiving compensation for it (other than from Seeking Alpha). I have no business relationship with any company whose stock is mentioned in this article.