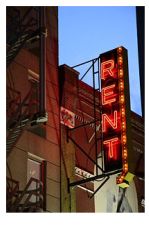 Last year investors were touting New York City multi-family rental properties as being as low risk as T-bills, but with upside. The upside was to be generated by "repositioning." In many cases, this was code for throwing out rent-controlled/stabilized tenants and capturing the arbitrage versus free market rents. Both of the suppositions embedded in this strategy have been called into question recently.
I would point out that a backlash was brewing in the city and in Albany, where several bills were introduced in the state Senate to tighten up regulations and prevent landlords (read: hedge funds and opportunity funds) from significantly increasing turnover in their properties. Secondarily, costly, over-levered and often ill-conceived condo projects which are topping off in a soft demand environment are all of a sudden being forced to go rental, causing a spike in supply (see Crain's article cited below). Couple the increased supply, albeit modest, with the soft economy and evidence of a slowing in rental rate increases and even declines are emerging.
Last weekend's Barron's features an article "Out of Control - Investors in some huge New York apartment complexes face big losses and defaults, as quick conversions to market rents proves to be a fantasy." The article spotlights a couple of very large New York City residential building deals, done using very high degrees of leverage, which are imploding. In particular, it focuses on the Tishman deal for Peter Cooper Village and Stuyvesant Town, a historic top marking kind of deal in the spirit of AOL/Time Warner (NYSE:TWX).
According to Barron's,
When the landlords arranged financing in 2006, they projected that rental income would triple, to $336 million, by 2011. To reach that goal, rents would have to double from their current average around $1,800 a month - an unlikely scenario.
Unlikely seems to be an understatement as of the current environment, yet the buyers heaped on a reported $400,000 of debt per apartment. The article discusses three other similar deals that are in trouble and in every case the debt service reportedly exceeds the properties' annual operating income. I hope these guys have deep pockets.
According to a recent study by Guild Partners, other players in the middle market multi-family apartment market in Manhattan, Brooklyn and Queens weren't much smarter than the big hedge fund/opportunity fund boys. On average buyers paid $200,000 per unit for apartment buildings in these boroughs year to date in 2008, up 163% from $75,938 in 2003. On a price per square foot basis the increase was an even more dramatic 201% from $114.39 to $344.73. At the same time the reported expense ratios of the buildings acquired declined from 37.6% in 2003 to 30% thus far this year, implying very little juice left to squeeze out of profits from lower expenses. Indeed, we can all surmise that expenses will be going up with energy costs on the rise and the tax environment likely to turn less friendly. Cap rates paid (the ratio of income to price) declined from a more reasonable 6.9% in 2003 to 5.3% thus far this year.
With bank loans becoming more expensive, the implication is that any of these transactions entered into on a leveraged basis also generate initial negative returns to equity. Translated this means that you are borrowing at 6% plus and investing in an asset throwing off 5.3% or so and it actually costs you out of pocket money to hold the asset (note that this has not been lost on banks and lately the amount of leverage available has plummeted - maybe too late). Spending money each month to hold a real estate asset can all be fine when you expect rents to double and expenses to stay flat or fall. The calculus gets a lot tougher when these factors go upside down on you. As in any overheated market, transaction activity went crazy in the last few years, with 293 transactions in 2005, up 357% from 2003 and 89 year to date (for a run rate of 133), still on pace to exceed the slower 2006 period (when a big run up in rates clipped demand).
A significant setback for multifamily investors in New York City does not bode well for quality of life. Building owners in financial straits tend to let maintenance problems build up. At the same time it becomes harder for landlords to push up rents when living conditions are deteriorating.
Note that according to The Real Deal, complaints to the Division of Housing and Community Renewal alleging that landlords are overcharging for rents or not renewing leases as required have climbed 37% over the last 18 months. In some neighborhoods this situation can actually result in a significant backslide in quality of life and crime.
Washington Mutual (NYSE:WM), Sovereign (SOV) (and was Independence) and Capital One (NYSE:COF) (was NorthFork) are the three horsemen of New York multi-family lending and have potential exposure to the problematic multi-family environment. Signature Bank (NASDAQ:SBNY) has recently recruited away a lending team from NorthFork and may be able to cherry pick better margin and more tightly underwritten new loans to buyers of multi-family properties in NYC.
From the Blogosphere: