Procter & Gamble (NYSE:PG) reports fiscal first quarter financial results Thursday morning, before the opening bell. Analyst consensus is calling for $0.96 in earnings per share on $20.778 billion in revenue for year-over-year declines of 5% and 7% respectively.
Operationally PG is still a mess, with the brand portfolio priced 20% over their category and with 35% higher margins. For the last 5 quarters, here is how PG's organic revenue and organic volume growth has tracked:
6/30/12 +3% and 0%
3/31/12 +3% and 0%
12/31/11 +4% and 1%
9/30/11 +4% and 1%
6/30/11 +5% and 3%
PG is basically a premium brand strategy in a discount world, and the only tool they have right now to combat earnings and revenue shortfalls is "price," which further compounds their dilemma.
Per Deutsche Bank, PG's average price premium to its leading categories is 22.6%, and it is seeing "trade-down" in its leading categories, which is 60% of its operating profit.
The presence of Pershing and Ackman as an activist investor however, changes the game somewhat since it puts CEO Bob McDonald on the hot seat and will force the company to make changes. Gross margin was increased 10 bp's in PG's fiscal 4th quarter (June 30) and in addition, $1 billion of expense cuts have already been made.
Technically, the stock got a lift when Ackman and Pershing announced their stake in the consumer brand giant, but is it trading at enough of a discount to warrant a significant piece of our portfolio here? And I'm not sure about that.
Our internal model values PG in the mid $80s, while Morningstar has a fair value on PG of $64. Most analysts seem to have a price targets in the low $70s, which is just a 5% - 7% premium to PG's current price.
Technically, PG isn't all that compelling either. We'd prefer to wait until $60 or $61 to buy the stock.
Ultimately, Ackman and Pershing create a "tension" at PG that is hard to ignore. I would imagine the hedge fund will push for expense savings and a change to PG's strategy to start generating the mid-single-digit volume and revenue growth PG is capable of generating. But PG is in a tough spot here - this kind of branded consumer-products giant where marketing and "process" are king, can't change easily overnight.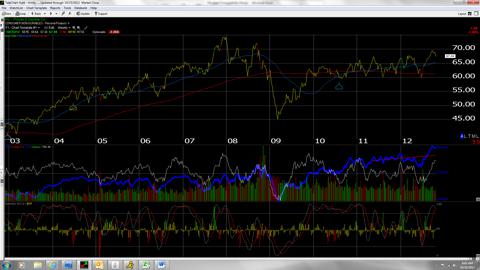 Disclosure: I have no positions in any stocks mentioned, and no plans to initiate any positions within the next 72 hours. I wrote this article myself, and it expresses my own opinions. I am not receiving compensation for it (other than from Seeking Alpha). I have no business relationship with any company whose stock is mentioned in this article.