On October 21st, Annaly Capital Management (NYSE:NLY) regretfully announced the passing of its long-time Chairman, Co-CEO and Co-Founder Michael A.J. Farrell. Farrell had announced that he was diagnosed with cancer earlier this year and we were surprised that he passed away because we thought it was in remission. Farrell started Annaly in 1997 and it has increased its asset base from $400M in 1997 to $128.3B as of Q2 2012. While it is most certainly a sad day for Farrell and Annaly, we believe that the company will still continue to serve as the bellwether of the Mortgage Real Estate Investment Trust Industry due to its size and scale. We also believe that it will remain the industry's bellwether because it is one of the oldest and most respected mREITs and Annaly's Co-Founder, Co-CEO and Chief Investment Officer Wellington J. Denahan-Norris and Mike Farrell shared a similar, conservative risk management oriented investment philosophy.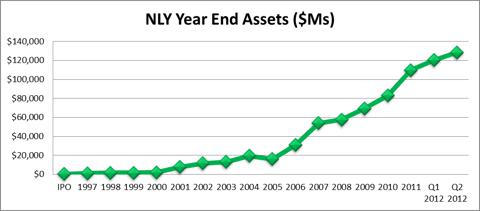 Source: Annaly's 1997-2011 Annual Reports
On October 10th, Annaly appointed Denahan-Norris as Co-CEO in order to allow Farrell to focus on his on-going cancer treatment. We also felt that Annaly was one of the most defensive-oriented Agency mREITs and Denahan-Norris concedes that the Fed's open-ended easing program will make it more difficult for mREITs to enjoy the strong yields that these companies have been able to generate for shareholders. Annaly also announced on October 16th that the company will repurchase $1.5B worth of its shares over the next 12 months. This represents 9.7% of Annaly's market cap as of October 19th and in light of the mREIT Massacre that took place from October 5th to the 15th, we think it is apropos. We estimated that the company's shares are trading at a 7% discount to its book value and we believe that even with the narrowing of spreads that mREITs are facing, the company should still provide a 9-11% median dividend yield. We especially like this buyback because Annaly is buying back shares that are trading at a 7% discount to book value and will be selling off bonds that are trading at a sharp premium to face value in order to do so.
We would not be surprised if other mREITs imitate Annaly and announce buyback programs. On one hand, it is good to grow the asset book in order to spread its fixed costs across a wider asset base. On the other hand, getting big forces the investment managers of these companies to potentially alter their investment strategy in order to build book and may not necessarily be able to achieve the returns that were previously enjoyed under a "boutique size level strategy". Considering that Annaly's per share quarterly dividend distribution has steadily declined since the end of 2009 and is now 33% off its $.75/share peak that was achieved in Q4 2009, we believe that this repurchase program will help put a floor on Annaly's shares and enable Annaly's investors reinforce a proper perspective with regards to investing in mREITs in general and Annaly in particular.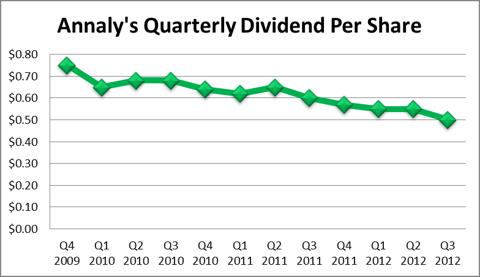 Source: Annaly's Dividend History
It was not surprising that Annaly decided to circle the wagons with regards to its buyback. The company has cut its dividend fives times in the last six quarters. We were not concerned that Annaly reduced its dividends because we are more than aware that the mREIT industry is facing significant headwinds due to the Federal Reserve's Quantitative Easing and Zero-Interest-Rate Policy. Annaly's per share spread income declined rapidly from Q2 2011 to Q4 2011 but has leveled in H1 2012. We are not as critical about this dividend cut as one would expect because we are aware of the macroeconomic environment Annaly is facing plus we expect Annaly's spread income per share to steadily drift downwards due to the continued low interest rate environment. We think Annaly's stakeholders should be concerned that although Annaly has provided returns in line with the S&P 500 since the market bottomed out in March 2009 and it slightly outperformed the iShares FTSE NAREIT mREIT ETF (BATS:REM), Gary Kain's American Capital Agency (NASDAQ:AGNC) significantly outperformed it.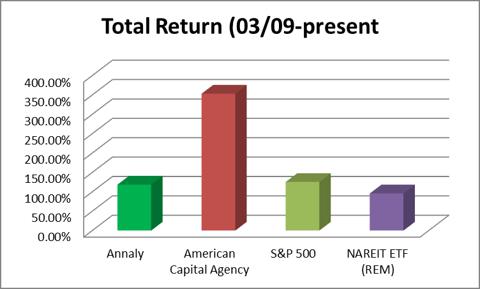 Source: Morningstar Direct
In conclusion, we still have a strong level of respect for Annaly. While we believe that Gary Kain was a more proactive and confident investment manager than Mike Farrell and Wellington Denahan-Norris, we acknowledged that Annaly's business model was a more defensive-oriented model than Gary Kain and American Capital Agency. Because of Annaly's size and operating history, it is obvious that it is still the bellwether for the mREIT industry and that investors in mREITs should also keep a close eye on the actions of Annaly. Because Denahan-Norris has a similar defensive-oriented mindset with Mike Farrell, we don't expect to see significant changes now that Farrell has passed on.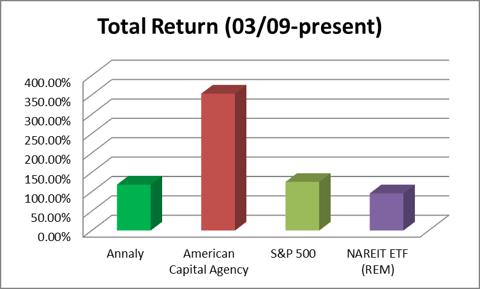 Source: CYS Investments's Q3 report and Our Estimates
Disclosure: I have no positions in any stocks mentioned, and no plans to initiate any positions within the next 72 hours. I wrote this article myself, and it expresses my own opinions. I am not receiving compensation for it (other than from Seeking Alpha). I have no business relationship with any company whose stock is mentioned in this article.
Additional disclosure: This article was written by an analyst at Saibus Research. Saibus Research has not received compensation directly or indirectly for expressing the recommendation in this article. We have no business relationship with any company whose stock is mentioned in this article. Under no circumstances must this report be considered an offer to buy, sell, subscribe for or trade securities or other instruments.