I believe that the most successful investors on the planet buy shares in companies that are solid, large cap, dividend paying, blue chip stocks. It could even be the "Holy Grail" of the investing world.
Some believe it might be the ONLY grail for the long term. Our "Team Alpha" portfolio has mostly the kinds of stocks that are proclaimed to be dividend winners. They have very long track records of not only paying the dividends, but increasing them year after year. We also add a few dividend "opportunity" stocks, such as the BDCs we recently added, as well as a few stocks that could offer a pinch of capital appreciation as well, such as Bank of America (NYSE:BAC).
Our portfolio now consists of Exxon Mobil (NYSE:XOM), Johnson & Johnson (NYSE:JNJ), AT&T (NYSE:T), General Electric (NYSE:GE), Blackrock Capital (NASDAQ:BKCC) , KKR Financial (KFN) , Procter & Gamble (NYSE:PG), Intel (NASDAQ:INTC), Realty Income (NYSE:O), Coca-Cola (NYSE:KO), Bank of America , Wal-Mart (NYSE:WMT), Cisco (NASDAQ:CSCO), Bristol-Myers Squibb (NYSE:BMY), Healthcare Select Sector SPDR (NYSEARCA:XLV), and General Dynamics (NYSE:GD).
Right now, the dividend yield of this portfolio, based on our costs, sits at 4.28%. That is regardless of whatever capital appreciation we gain from here on, or depreciation for that matter, in a down market.
If dividends are reinvested, it becomes a form of dollar cost averaging and the yield increases in a down market. If the dividends are required for income, as many retirees require, that yield beats just about any fixed income investment, with reduced risk, anywhere in the world.
Recently we have been reading some rather interesting articles that not only support our opinion, but encourage other investors to follow suit. The featured names within the articles are not who you might expect them to be, and that should give everyone another reason to consider this path that we have chosen.
Some Background First
Many times, we focus on the investors who might have a short-term time horizon of let's say 5-10 years or so, prior to retirement. These types of investors are either wondering how to invest their savings, trying to play catch up, or most importantly, how can they get the most from what they already have.
Unfortunately, recent surveys have shown that the most susceptible segment of investors who are worried about their future financial security are those with time horizons of 20 years or longer.
Younger folks, in their mid to late 30s and early 40s, are becoming so anxious about their financial future, that they are surpassing the "boomer" group in the age of "worry"! This article states that "younger Americans in their late 30s are now the group most likely to doubt they will be financially secure after retirement, a major shift from three years ago when baby boomers nearing retirement age expressed the greatest worry."
This is troublesome for many reasons, but the one that stands out to me, is that this group is also the group that tends to save less. The family is growing, financial obligations are mounting, and for many, careers have changed.
Look at this chart from Pew Research. It shows the increase in the lack of confidence about the financial future begins to rise significantly from age 32, peaking at around 40, but still double that of those who are either close to, or already retired.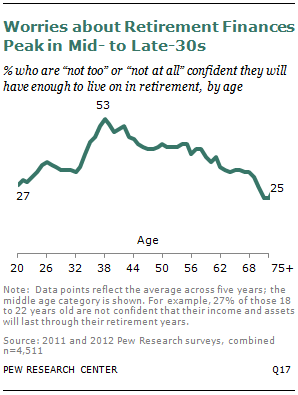 Here is another chart from Pew Research: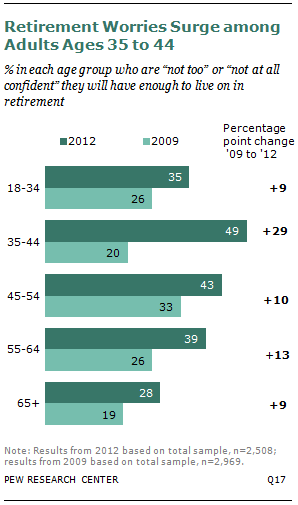 It is fairly clear that while everyone is worrying more, that the 35-44 age group has seen the largest increase since 2009.
The Pew Research Center also reports that the net worth in this age group has dropped more than other age groups. Lack of savings, lost home equity, and lower portfolio values have eaten away at their entire net worth.
"Expressed in dollars, the median wealth of those in the 35-to-44 age group in 2010 was $56,029 less than the median wealth that their same-aged counterparts had in 2000. In contrast, those ages 45 to 54 and 55 to 64 have lost about $50,000. With fewer assets to begin with, the median wealth of adults younger than 35 fell by a total of $5,270 between 2001 and 2010. The median wealth of those 65 and older increased slightly - making them the only age group whose net worth grew over what it had been for their same-aged counterparts a decade ago."
All is not gloom and doom though.
Could DGI Actually Be The "Holy Grail" Or "Alpha" Of Long-Term Investing?
Let's be crystal clear about this. There are no free rides, nothing is risk free, and even socking cash in your pillow can destroy a financial future. With some very basic goals in mind, we CAN give ourselves a very good shot at a more secure financial future, no matter what age we might be.
Save more, spend less.
Invest in dividend-paying stocks that can fill income needs.
Keep a well balanced portfolio up to date and monitored.
With these reminders in hand, take a look at what several brilliant industry leaders have just said:
"I think ultimately, over time, that stocks - that high quality stocks, which return 2 to 3 percent, in terms of a dividend yield - are certainly a more attractive alternative relative to a 10-Year Treasury at 1.7 percent."
Have any idea who said this just a week ago?
Bill Gross, Pimco's founder and leader, to CNBC on one of its televised segments. Does this surprise you? It shouldn't because he is very correct. Gross manages nearly $2 trillion in his BOND fund, and he is saying that dividend investing in high quality EQUITIES are better over time.
Here is one more statement to ponder from yesterday;
"There's a lot of savings sitting on the sidelines, and at today's interest rates, those savings are not going to last until retirement, there's a cost to cash."
He likes large-cap companies with good products that are paying good dividends and buying back stock. He pointed to telecoms Verizon (NYSE:VZ) and AT&T (T) that have dividend yields of 4 percent to 5 percent.
Blackrock's founder and leader Robert Kapito, one of the worlds largest hedge funds, advocates dividend-paying, super rich companies for the long haul (among other things) as well. You can read his statements right here, in full.
Is This "Alpha"?
With so many investment strategies available to just about every type of investor or trader, how could any one strategy be the "Alpha" we all seek? It simply cannot.
There are too many variables in every strategy that keeps us seeking alpha. While dividend growth investing seems to be OUR Holy Grail, it just might be wrong for other investors.
Know who you are and why you are investing. Understand what your goals are and what you would like your future to look like. Evaluate your current situation and make any changes that might need to be made.
You still might not find "Alpha," but "Alpha" just might find you.
Disclosure: I am long XOM, JNJ, T, GE, KFN, BKCC, O, XLV, INTC, CSCO, WMT, GD, KO. I wrote this article myself, and it expresses my own opinions. I am not receiving compensation for it (other than from Seeking Alpha). I have no business relationship with any company whose stock is mentioned in this article.