According to global brand consultant Interbrand, IBM (NYSE:IBM) is the third most valuable brand in the world, after Coca-Cola (NYSE:KO) and Apple (NASDAQ:AAPL). According to brand equity database BrandZ, IBM is the second most valuable brand after Apple. Either way, for a company that does not necessarily make consumer products, its contribution and reputation are well known and recognized.
For those who don't already know, Warren Buffett himself invested around $10.7 billion dollars for 64 million shares of IBM last year -- which works out to an average price of about $167 a share. When questioned about the rationale behind his investment, he basically implied that it was, in part, IBM's brand and image that attracted him, and he was betting these would continue:
If you're in some country around the world and you're developing your IT department, you're probably going to feel more comfortable with IBM than with many companies," he said. "They've done a terrific job of developing that." (Emphasis added; Source: Bloomberg)
Its reputation, its impressive 100-year history (see excellent propaganda about that here), and its guidance laid out in its 2010 and 2011 shareholder letters make IBM quite attractive as a long-term investment. I specifically noted those two reports because, given that Mr. Buffett has read IBM's annual report for over 50 years, it must have been the 2010 report, conjoined with all the other present and obtainable information, that changed his attitude toward the company. Therefore, the reports are well worth the read.
Coat Tail Riding
Copying good ideas should probably be at the heart of every investment strategy. Ought we to copy Buffett, even at this (much) later stage? At Tuesday's close, IBM's shares were trading at about $191.25 -- or about 14% above the reported average share price of Berkshire's purchases. While we might sleep better knowing we purchased shares at a lower or equal price to Buffett, such thinking is irrational if the stock can be expected to appreciate in the long term. Not to mention we should avoid "anchoring" -- or relying too heavily on the first piece of information given -- to Buffett's price. Buffett, by the way, frequently speaks about staying within his circle of competence -- a saying that perhaps holds an exception for IBM. And I suppose it is a bit ironic that IBM is the exception to the "circle of competence" rule specifically, because Buffett sometimes quotes IBM founder Thomas Watson to illustrate the principle:
I'm no genius. I'm smart in spots--but I stay around those spots.[1]
Anyway, is IBM a buy today? Let us first take a brief tour of its revenue generating capacity.
Sources of Revenue
Below are the different operating segments of IBM:
(Source: IBM 2011 Annual Report, p. 27)
As I highlighted above, software is increasing in its proportion of revenue (while its share of pre-tax income is down slightly). External software revenue grew about 10.9% from about $22.4 billion in 2010 to $24.9 billion in 2011. IBM states in its most recent annual report that:
Approximately two-thirds of external software segment revenue is annuity based, coming from recurring license charges and ongoing subscription and support. (IBM 2011 Annual Report, p. 23)
Annuity based recurring revenue means predictability -- an infrequent but very attractive feature for a tech company. In the most recent conference call on October 17 2012, IBM CEO Mark Loughridge stated:
First, we continue to drive very good results in our solutions offerings across software and services that address key demand areas like Smarter Planet, business analytics and cloud. Second, our annuity businesses which represent about half of our annual revenue and 60% of our profit provided a solid base of revenue and profit." (Transcript)
Being able to classify half of its profit as "annuity based," i.e., contractual and recurring, is quite the perk. In addition, IBM has the advantage of having forward visibility through its backlog. As put in the recent annual report:
A very high percentage of annual services revenue, approximately 70 percent, comes from the run out of the opening backlog. (IBM 2011 Annual Report, p. 28)
Further, IBM continues to report competitive displacements. The 2011 annual report states:
…this was the second consecutive year that the company had over 1,000 competitive displacements, which this year generated over $1 billion of business; approximately 50 percent of this business was from Hewlett Packard [(NYSE:HPQ)], with most of the balance from Oracle/Sun [(NYSE:ORCL)]. (Emphasis Added; IBM 2011 Annual Report, p. 31)
On the most recent conference call, Loughridge stated:
This quarter we had over 260 competitive displacements, which resulted in over $200 million of business which came almost equally from HP and Oracle Sun. This initiative helped drive our 18th consecutive quarter of share gains in Power. (Emphasis Added; Transcript)
Recent History
On Tuesday of last week, IBM reported its third quarter numbers. While reporting a decline in revenue year-over-year, it still maintained its guidance, as put by Loughridge:
For the year, we're maintaining our full year 2012 expectation for operating EPS of at least $15.10, that's up 12% over last year. (Third Quarter 2012 Conference Call)
The company has itself repurchased about $9 billion of its own shares over the last nine months, at an average price of $195 a share. With the current share price of about $191 a share, at least one can take solace in the fact that management themselves paid about the same price.
Having reported a 5% revenue decline (2% adjusting for currency), specifically with decreased revenue from North America (down 4%), the shares of IBM have fallen about 10% since the company reported its third quarter earnings:
(click image to enlarge)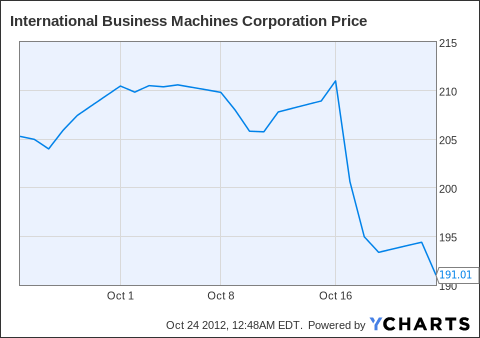 To further soften the story of the revenue decline, Loughridge stated that two points of the revenue decline are due to contracts that IBM thought would make it into the third quarter numbers. However, these were not consummated in time for GAAP inclusion.
Also, while revenue as a whole was down, the backlog from which it has driven almost 70% of its revenue was up 1% year-over-year. On the third quarter conference call, Loughridge recapped the quarter in a more optimistic light than most commentary:
So let me just take a moment now to wrap up the call. Despite facing challenges we did deliver a 7% growth in profit, 10% growth in our operating EPS and I think consistent with the last conversation that performance reflects our disciplined approach to delivering profit growth. For the quarter we had 10% growth in our software profit, 9% from our services businesses, both of which benefit from a large annuity base. We are continuing to move up the value chain shifting our portfolio to more strategic areas. Now we had continued momentum in our growth initiatives both Smarter Planet, Business Analytics as well as our Cloud, were all up strong double digits and this quarter we completed the divestiture of our retail store solutions business.
Conclusion
IBM is striving to achieve non-GAAP operating EPS of $15.10 this year, and EPS of $20.00 a share in fiscal 2015. If IBM is able to achieve 9% EPS growth through 2015 -- implied by suggesting it can grow EPS to $20.00 -- the ability to predict and achieve such targets is impressive in itself. Since we have no goals to look out beyond the 2015 time horizon, if the company was able to achieve half or a third of that growth rate beyond 2015 -- conceivable, I suppose, since it is driving more and more revenue from software and services that will continue to be needed in the future -- then the shares would definitely be undervalued. Just take a look the operating trend on the far right, which the company believes it can continue:
(click image to enlarge)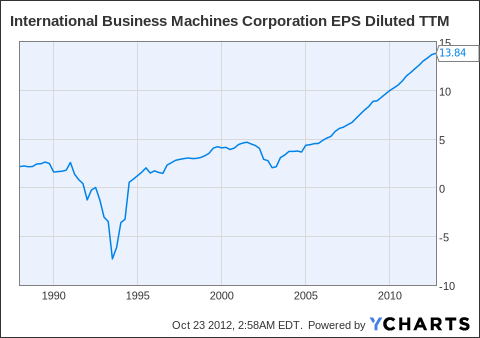 IBM EPS Diluted TTM data by YCharts
And consider that there are not many companies with the contract based visibility of IBM, nor many with IBM's brand recognition, nor many with its historical track record -- and not that many companies projecting three years of 9%+ EPS growth.
The current pessimism in the shares could get worse, and prices could become more affordable, but for the long-term investor, the current pessimism offers opportunity. Hopefully, the share price gets more attractive.
Notes:
The quote is actually from Thomas Watson Jr.'s mother quoting his father. From Watson, Thomas J., and Peter Petre. "19." Father, Son & Co.: My Life at IBM and Beyond. New York: Bantam Books, 1990. 218.
Disclosure: I have no positions in any stocks mentioned, and no plans to initiate any positions within the next 72 hours. I wrote this article myself, and it expresses my own opinions. I am not receiving compensation for it (other than from Seeking Alpha). I have no business relationship with any company whose stock is mentioned in this article.