By Dee Gill
McDonald's Corp (NYSE:MCD) is not in the habit of making its Wall Street followers look foolish, so when it does, perhaps we should all pay attention. The recent McDonald's earnings miss and subsequent sell-off may be saying a lot about what to expect from other multinational corporations in the near future.
McDonald's reported Friday that third quarter net income was down about 3.5% to $1.46 billion, and sales slipped slightly too, to $7.15 billion. Same store sales were up a paltry 1.9%, and it reported the worst quarterly sales growth in nine years.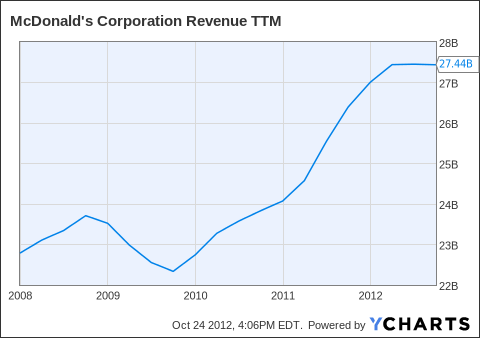 MCD Revenue TTM data by YCharts
Those numbers were off enough from analyst estimates to spark a sizable sell-off in the shares. Paired with the sell-off from the earnings miss in the previous quarter, McDonald's share price is down more than 10% so far this year.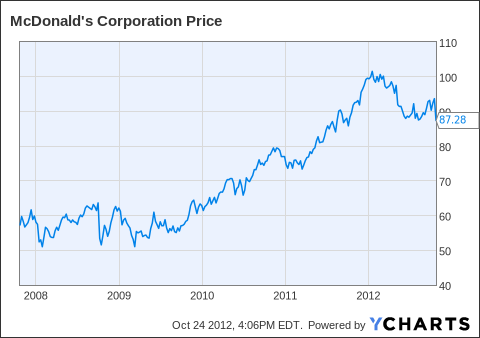 These are notable misses, considering McDonald's reputation as one of the best-run corporations in the country. Until this year, McDonald's has executed a turnaround that's driven profits and shares up for about a decade. Despite weakness in the latest financials, McDonald's said its market share either held or increased in all of its major markets. So if this company is having trouble making its numbers, what does that mean for others?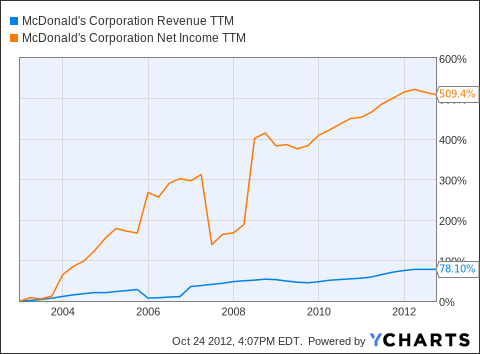 MCD Revenue TTM data by YCharts
McDonald's take home message wasn't encouraging. Sales in emerging markets like Asia, Africa and the Middle East -- the parts of the world largely responsible for U.S. corporate growth in recent years -- were generally flat. Operating income from those regions and from Europe declined. China was of particular concern, as growth there slowed further than expected. Growth was strongest in the U.S., but still below 2011 levels. The company warns that these numbers are not likely to get better in the coming months.
While weakness in international markets wasn't a surprise to anyone, the extent of it apparently was, even though other multi-nationals like Coca-Cola (NYSE:KO), 3M (NYSE:MMM) and E.I. du Pont de Nemours and Co. (DD) also reported global economic weakness beyond what analysts had forecast. Share prices suffered accordingly.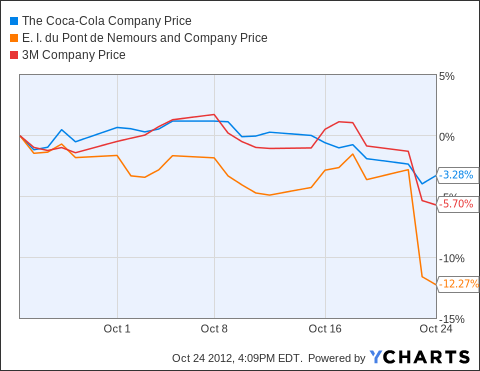 It makes one wonder about third quarter forecasts for other big international companies, particularly those with a lot of revenue from Asia. Of particular interest for world economy watchers will be upcoming reports from General Dynamics (NYSE:GD) (Oct. 24), Proctor & Gamble (NYSE:PG) (Oct. 25), General Motors (NYSE:GM) (Oct. 31), and Dell (DELL) (Nov. 16). Perhaps we'll be less surprised by then.
Dee Gill is a contributing editor at YCharts.
Disclosure: I have no positions in any stocks mentioned, and no plans to initiate any positions within the next 72 hours. I wrote this article myself, and it expresses my own opinions. I am not receiving compensation for it (other than from Seeking Alpha). I have no business relationship with any company whose stock is mentioned in this article.