Shares of General Electric (NYSE:GE) fell last week after the $224 billion conglomerate reported an increase of just 2.8% in sales over the quarter and warned of a week macroeconomic picture next year. While net income increased 50% to $0.33 over the same period last year, the company fell short on the consensus for revenue. CEO Jeff Immelt was quick to point to weak economic growth and the coming fiscal cliff when addressing shareholders. Management is worried about its prospects as the fiscal cliff approaches, so much so that Immelt warned Washington of a debilitating mix of tax hikes and spending cuts if the issue was not resolved quickly.
Besides the company's risk related to the general economy, its financing arm may soon be designated as too-big-to-fail by the Financial Stability Oversight Council. The designation would bring with it higher regulatory burdens and a larger capital reserve that could impact profitability.
Weak fundamentals and an expensive price tag
The shares trade at 16.9 times trailing earnings, relatively expensive for a diversified conglomerate and well above the price multiple of 14 times for companies in the S&P500. While the company scores highly on the corporate governance scale by Institutional Shareholder Services, performance and efficiency metrics leave something to be desired. Return on equity is 11.5%, average for other conglomerates, while the operating margin of 11.3% is lower than peers.
Revenues are fairly well-diversified with 2011 total sales coming from energy infrastructure (31%), aviation (13%), healthcare (13%), transportation (4%) and GE Capital (33%). The diversification in revenue is enviable when one segment disappoints but means that overall growth tracks the general economy fairly closely. The 3.1% dividend yield is what attracts many investors to the shares but an investment in the stock has only returned 1.4% on an annualized basis over the last ten years, well below the 7% return on the S&P500 over the same period.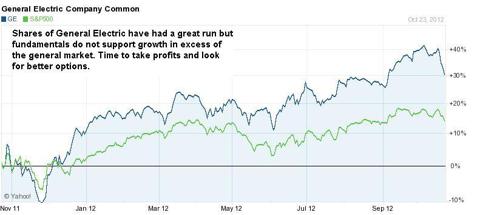 Limited upside potential
While the dividend yield is attractive compared to the 2% yield for the broader market and 1.6% treasury yield, the 50% payout ratio limits the company's ability to grow. The low return on equity of 11.5% means the company's sustainable growth rate is just 5.75%. With $12.75 per share in cash and a stellar credit rating, the company should have no problem investing funds or paying dividends, but the lack of growth means limited upside for shareholders. Six percent sustainable growth will support the shares in the long-run but may not be able to justify the 30% run in the stock price over the last year.
Reported revenue has fallen every year since 2008 and could have a difficult time meeting expectations for $146.5 billion in sales this year. The shares currently trade for 1.6 times sales against the five-year average of 1.3 times. With expectations for economic growth of 1.5% next year, any headwinds by the fiscal cliff could put the U.S. closer to recession. This would make management's expectations for 3% sales growth extremely difficult.
Assuming the company can meet sales of $146.5 billion this year and increase them by 3% next year, an average price-to-sales multiple only yields a price of $18.59 per share. While sentiment for the company and the general economy may boost the price multiple, the possibility of a 15% drop in shares and limited growth may have investors looking for better options.
Stronger names with better upside
While the weak economic outlook and possible fiscal cliff will hold back the market in general, investors can still see reasonable returns from dividend payers with higher growth potential.
Dividend investors looking for diversified revenues may look to Johnson & Johnson (NYSE:JNJ). The company pays a 3.6% yield and has increased the dividend every year since 1980. The company has a diversified revenue stream with strong demographic trends to support future growth. Pharmaceutical sales accounted for 37% of total revenue in 2011 while the Medical Devices and Diagnostics segment accounted for another 40% of revenue. The consumer division, holding strong brand names like Neutrogena and Tylenol, makes up the other 23% of company sales. Margins are higher than peers with an operating margin of 17.7% and a return on equity of 14.3%.
United Technologies (NYSE:UTX) reported strong third-quarter earnings on Tuesday with an adjusted profit of $1.37 per share against expectations for $1.19 per share. Management has had the foresight to divest weaker segments like rocket engines, wind turbines and industrial pumps to grow total sales by 5.7% over the same period last year. The company's operating margin of 14.3% is above 86% of its peers in the Aerospace & Defense industry. Shares are relatively cheaper at 13.2 times trailing earnings pay a 2.7% dividend yield.
Boeing (NYSE:BA) is the world's second largest maker of commercial jets and the third largest military weapons maker. The commercial segment accounts for 49% of revenues, while military funding makes up 50% of revenues. Though the economy is not exactly driving commercial sales, the obvious weakness here is in revenue from military spending. Next year's proposed cuts to defense are still on the table though I believe Congress will reach an eleventh-hour accord to defer the bulk of the cuts. The company recently announced a 20% increase in its production rate for its 777 jets. This drive for efficiency and a backlog of 335 planes should help to moderate any effects of a slowdown in defense spending. The shares are priced relatively cheaply at 12.8 times trailing earnings and pay a 2.4% dividend.
Disclosure: I have no positions in any stocks mentioned, and no plans to initiate any positions within the next 72 hours. I wrote this article myself, and it expresses my own opinions. I am not receiving compensation for it (other than from Seeking Alpha). I have no business relationship with any company whose stock is mentioned in this article.