The Lark Research Homebuilder Stock Index, a composite of 13 publicly traded homebuilders, rose 10.72% in the week ended October 19, 2012. This compares with a gain of 0.32% in the S&P 500, and a loss of 0.25% in the Russell 2000.
Since breaking out of a wide trading range in mid-June, the Index has surged higher at an accelerated rate to reach a new five-year high.
At the same time, volatility in the index is also markedly higher. Since mid-September, the index has been trading in a very wide range. Weekly gains and losses have exceeded 3.3% in absolute magnitude in each of the past six weeks. Two of those weeks saw gains in excess of 10%. The Index also posted weekly losses of 8.6% on September 28 and 6% on October 12.
Year-to-date (to 10/19), the Index is now up 112.31%, much better than the gains of 13.96% in the S&P 500 and 10.81% in the Russell 2000.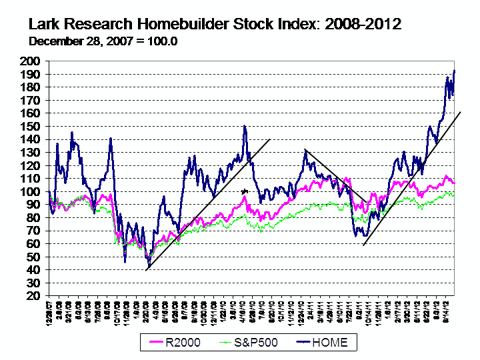 Even though earnings estimates for the group have come up, the average 2012 forward P/E multiple for the group has risen back to 42 (from 35 at the beginning of September). Likewise, the average 2013 P/E multiple has risen from 21 to 24.
The catalyst for the September to October surge in homebuilder stock prices has apparently been improving sentiment about the housing market. Single-family permits were up 6.7% in September (from August) and 27.3% year-to-date. Single-family housing starts were similarly up 11% and 42.9%, respectively. House prices increased in all 20 cities covered by the S&P/Case-Shiller Index for the third consecutive month. The NAHB/Wells Fargo Housing Market Index advanced to 41 in October -- the strongest showing since June 2006.
At the same time, strong housing data has run squarely up against concerns about global economic growth. Weakness in Europe has spilled over to global trade, which has caused slowdowns in both Asia and the U.S. Since the IMF lowered its global economic forecast two weeks ago, sentiment has improved somewhat, with interest rates on sovereign debt falling in Europe, and a decent third quarter GDP growth in China. Even so, fears over a potential global growth slowdown are largely responsible for the big weekly declines in two out of the past six weeks.
We are cautious in our outlook for the homebuilders at this juncture. Valuations are high, and the increases in earnings estimates have not kept pace with the increases in stock prices. Although demand for housing has improved, there is still a large shadow inventory of homes that will eventually come back on the market, especially if house prices continue to rise. As a result, we think that the increases in new home sales will probably continue at a measured pace (as long as there are no external shocks to the economy that derail growth or cause interest rates to spike higher).
With the Index up 190% from the September 2011 lows, a correction is long overdue. At this point, a drop of 25%-40% in the Index would be considered a normal correction, after such a significant run-up. It would be positive, from a technical perspective, we believe, if the stocks paused here to establish a new and higher support level and allowed earnings to "catch up" some to the recent stock price surge.
In the very near term, besides the usual economic and financial market data points, the performance of homebuilder stocks will depend upon third quarter earnings results. Many builders are scheduled to report their earnings this week. While further improvement in earnings is expected, we hope to see revenues begin to catch up more meaningfully to the surge in orders and backlogs that has been evident over the past few quarters.
Housing News

The Wells Fargo/NAHB Housing Market Index, a measure of homebuilder sentiment, rose one point in September to 41. This is the highest reading for the Index since June 2006. Current sales conditions and sales expectations for the next six months were unchanged at 42 and 51, respectively. Traffic of prospective buyers rose five points to 35. (October 16, 2012)
September housing starts surged 15.0% from August to a seasonally-adjusted annual rate (SAAR) of 872,000 units. Single-family starts increased 11.0% to 603,000 units and multi-family starts rose 25.1% to an estimated 269,000 units. Year-over-year, the pace of housing starts was up 19.6% for multi-family, and up 14.7% for single-family. (October 17, 2012)
September housing permits rose 11.6% from August to a SAAR of 894,000 units. Multi-family permits rose 20.3% to 349,000 units, while single-family permits rose 6.7% to 545,000 units. Year-over-year, building permits were up 85.6% for multi-family, and 27.3% for single-family. (October 17, 2012)
September new home sales rose 5.7% to a SAAR of 389,000 units from a downwardly revised estimate of 368,000 units in August. Year-on-year, new home sales were up 27.1%. The median home price was down 3.2% (from August) to $242,400, but up 11.7% vs. the prior year. The estimated number of homes for sale increased to 145,000 from 143,000. At the September sales level, this inventory represents a 4.5 months supply, down from 4.7 months in August. (October 24, 2012)
September existing home sales (closings) fell 1.7% from August to a SAAR of 4.75 million, and were 11.0% above the September 2011 level, according to the National Association of Realtors. The Association said that many buyers are having difficulty qualifying for mortgages, and inventory shortages are limiting sales, especially in the West.
The median home price was up 11.3% to $183,900 in September from the year-ago level. Inventories declined 3.3% to 2.32 million units, representing a 5.9 month supply, down from 6.0 in August. (October 19, 2012)
The August pending sales index (contract signings) for existing homes declined 2.6% to 99.2, according to the National Association of Retailers. Year-over-year, pending sales were up 10.7%. September pending home sales will be reported on October 25. (September 27, 2012)
The S&P/Case-Shiller Home Price Indices. House prices increased 1.5% in July from June in the 10-City Composite, and 1.6% in the 20-City Composite. On a seasonally-adjusted basis, the gains were 0.4% for both. Year-over-year, the 10-City Composite is up 0.6%, while the 20-City Composite is up 1.2%. Prices rose in all metropolitan areas for the third consecutive month. Over the four months ended July 2012, the 20-City Composite rose 7.7%. The rise in prices is due both to a modest increase in demand and a decline in distressed sales. The August 2012 S&P/Case-Shiller Indices will be released on October 30, 2012. (September 25, 2012)
Homebuilder News

Beazer Homes USA (NYSE:BZH)
The company announced a 1-for-5 reverse split of its common stock, effective October 12, 2012. (October 11, 2012)
Hovnanian Enterprises (NYSE:HOV)
EPS
Revenues
GM
Closings
ASP
New Orders
$ Backlog
$0.25 vs. ($0.47)
up 35.5%
14.4%,
up 420 bp
up 22.1%
up 10.1%
up 18.2%
up 44.2%
Hovnanian Enterprises reported a fiscal third quarter profit of $0.25 per share, compared with last year's loss of $0.47. Most of the swing in profit was due to a $37.0 million reversal of state tax reserves. Even so, the company's pre-tax loss was reduced from $55.6 million last year to $1.8 million this year. Revenues increased 35.5% to $387 million, due to a 22.1% increase in closings to 1,212 units, and a 10.1% rise in the average selling price to $306,500. Gross margin rose 430 basis points to 14.4%, the bulk of which was due to a sharp reduction in impairment charges (from $11.4 million to $0.7 million). HOV's SG&A expense ratio fell 390 basis points to 12.4%, helped in large part by higher sales volume, but also benefiting from recent cost cutting efforts.
Management said that the market for new homes has been resilient even after the spring selling season, which suggests that the recovery should be sustainable but gradual. Orders were up 18% in units during the quarter, and the ending dollar backlog was up 44%. The company has significantly reduced outstanding debt since 2008, and will continue to look for opportunities to strengthen its balance sheet in the weeks and months ahead. (September 6, 2012)
With that in mind, the company has entered into several agreements to repay its existing 10.625% Senior Secured Notes due 2016 and issue new notes with a maturity of 2020. First, it has privately placed $577 million of 7.25% Senior Secured First Lien Notes, due 2020; and $220 million of 9.125% Senior Secured Notes, due 2020. It has also commenced a tender offer to repay any and all of its $797 million outstanding 10.625% Senior Notes at a price of $1,085.00 per note (for those who tender by the early deadline), or $1,035.00 (for those who tendered by the expiration of the tender offer at midnight on October 16). To finance the additional cash payment to the 10.625% Note holders and professional fees associated with the tender offer, the company also issued (on September 19) $90 million of its 6.00% Senior Exchangeable Note Units, which consist of a zero coupon bond, due 2017, with an initial face value of $768.51 that is exchangeable into HOV common shares, and a senior amortizing note due 2017, with an initial face value of $231.49, that receives semi-annual payments of $30 that equate to a 6.00% yield on the entire unit.
KB Home (NYSE:KBH)
EPS
Revenues
GM
Closings
ASP
New Orders
$ Backlog
$0.04 vs. ($0.13)
up 15.6%
17.5%,
up 60 bp
up 7.3%
up 7.8%
up 3.4%
up 33.2%
KB Home reported a fiscal third quarter profit of $0.04 per share, compared with a loss last year of $0.13. This year's profit was aided by a $16.5 million ($0.21 per share) insurance recovery, and a $10.7 million ($0.14 per share) benefit from the favorable resolution of a federal tax audit, partially offset by an $8.3 million ($0.11) charge related to the early extinguishment of debt.
Homebuilding revenues increased 15.6% to $421.6 million. Closings increased 7.3% to 1,720 units, while the average selling price was up 7.8% to $245,100. The increase in the average selling price was due to the company's focus on higher priced homes in key markets, especially California.
Gross margin, including the insurance recovery, improved by 60 basis points to 17.5%. Also included in that calculation were impairment and option write-off charges, which totaled $6.4 million in the quarter, compared with $1.2 million last year. The company's SG&A expense ratio declined by 160 basis points to 14.9%.
Unit orders were up just 3.4% in the quarter, due to fewer active communities, but the dollar value of those orders was up 16%. At quarter's end, the company's dollar backlog was up 33%.
During the quarter, KBH issued $350 million of its 7.5% senior notes, due 2022. Proceeds were used to purchase $245 million of notes, due in 2014 and 2015; and the balance will be used for general corporate purposes. With this latest round of debt reduction, the company's next scheduled debt maturity is for $76 million of bonds due in 2014.
Management was pleased at the improvement in several key financial and operating metrics, especially given its smaller footprint with fewer active communities. It also said that the housing recovery is gaining momentum across the country -- especially in California, KBH's largest market. The company's community count will bottom in the fourth quarter, so assuming that the recovery in housing continues, KBH's revenues should grow at an accelerated pace in 2013. (September 21, 2012)
Lennar Corporation (NYSE:LEN)
| | | | | | | |
| --- | --- | --- | --- | --- | --- | --- |
| EPS | HB Rev. | HB GM | Closings | ASP | New Orders | $ Backlog |
| $0.40 vs. $0.11 | up 34.3% | 22.8%, up 180 bp | up 27.7% | up 4.2% | up 44.3% | up 95.0% |
Lennar reported a fiscal third quarter profit of $0.40 per share, better than $0.11 in the prior year. Homebuilding revenues increased 34.3% to $955.8 million. The company closed 3,617 units in the quarter, up 27.7%, at an average selling price of $257,900, up 4.2%. Gross margin (including land transactions) increased 180 basis points to 22.8%. Lennar's SG&A expense ratio improved by 240 basis points to 11.7%. Orders surged 44.3% to 4,198 units. At the end of the quarter, the dollar value of its consolidated backlog was up 95.0%.
Lennar's Financial Services unit, primarily mortgage underwriting and title insurance, saw its operating earnings rise three-fold from $8.0 million to $25.3 million, due to the increased activity of the homebuilder, plus higher refinancing volumes.
Rialto, Lennar's real estate investment arm, had an operating profit of $7.7 million in the quarter (before a net loss of $13.4 million attributable to noncontrolling interests). This compares with last year's operating earnings of $5.7 million (before a net profit of $6.1 million of earnings from noncontrolling interests). Rialto benefited in the quarter from the winding down of Alliance Bernstein's Public-Private Investment Program (PPIP), a program set up by the Federal Reserve to take toxic assets off the balance sheets of banks, for which Lennar is a sub-advisor.
Lennar issued $400 million of its 4.75% senior notes, due 2017, on July 17. About half of the proceeds were used to tender for $204.7 million of its 5.85% senior notes, due 2013. This resulted in a $6.5 million loss on debt retirement. On October 18, the company issued $350 million of its 4.75% senior notes, due 2022
Management said that the housing market has stabilized, and a recovery is well underway. Higher sales activity is driving higher revenues and expanding margins. Although materials and labor costs are increasing, they will be offset by price increases and reductions in discounts and sales incentives. Management also sees continued opportunity in land acquisitions, driven in part by Rialto. (September 24, 2012)
M/I Homes (NYSE:MHO)
M/I Homes announced that it had entered the Austin, Texas market. The entry into Austin represents a continuing expansion of M/I's operations in the state. The company entered the Houston market in March 2010 on a de novo basis. It acquired San Antonio builder, TriStone Homes, in April 2011. (October 4, 2012).
Meritage Homes (NYSE:MTH)
On September 18, Meritage issued $126.5 million of its 1.875% Convertible Senior Notes due 2032. The Notes are convertible at a rate of 17.1985 share of MTH's common stock per $1,000 principal amount of Notes or $58.14 per share. Proceeds will be used for general corporate purposes.
NVR, Inc. (NYSE:NVR)
EPS
Revenues
GM
Closings
ASP
New Orders
$ Backlog
$10.33 vs. $7.98
up 22.6%
17.8%,
down 10 bp
up 17.8%
up 4.1%
up 15.3%
up 37.7%
NVR reported third quarter earnings of $10.33, up from $7.98 last year. Homebuilding revenues increased 22.6% to $854.6 millions. Closings increased 17.8% to 2,656 units; while the average closing price was up 4.1% to $321,700. NVR's gross margin slipped 10 basis points to 17.8%, compared with the year ago quarter, and its SG&A expense ratio declined by 30 basis points to 9.0%. New orders increased 15% to 2,558 units, while the dollar value of its backlog at quarter's end was up 37.7% to $1.67 billion. NVR's mortgage banking operations reported a 21% increase in loan production. Its operating income was up 123% to $9.5 million. (October 18, 2012)
On September 5, NVR issued $600 million of its 3.95% Senior Notes due 2022. Proceeds will be used for general corporate purposes, including the repurchase of outstanding common shares.
Ryland Group (NYSE:RYL)
On September 18, Ryland issued $250 million of its 5.375% Senior Notes due 2022. The Notes will be used for general corporate purposes, including possibly the repayment or repurchase of outstanding indebtedness.
Standard Pacific (SPF)
On October 22, Standard Pacific announced that it had amended its existing revolving credit facility to increase the total commitment to $350 million (from $210 million). The facility also has an accordion feature, under which it could be expanded to as much as $550 million. $320 million of the amended facility matures in October 2014, and the remaining $30 million matures in February 2014.
Toll Brothers (NYSE:TOL)
On September 5, Toll Brothers, through its wholly-owned subsidiary Toll Brothers Finance Corp., completed a private placement of $250 million aggregate principal amount of 0.50% Exchangeable Senior Notes, due 2032. The Notes are exchangeable into common stock at a rate of 20.3749 per $1,000 principal amount, or $49.08 per common share, which was a 50% premium to its closing price of $32.72 on September 4, 2012. Holders will have the right put the bonds back to the company in 2017, 2022, and 2028. Toll has the right to redeem the Notes at their par value beginning on September 15, 2017. The Notes are guaranteed on a senior unsecured basis by Toll Brothers, Inc. and those subsidiaries which also guarantee its revolving credit facility. Proceeds will be used for general corporate purposes.
Upcoming Quarterly Reports
| | |
| --- | --- |
| Meritage | 10/25/12 |
| M/I Homes | 10/25/12 |
| Ryland | 10/25/12 |
| PulteGroup | 10/25/12 |
| Standard Pacific | 10/25/12 |
| MDC Holdings | 10/30/12 |
| D.R. Horton | 10/12/12 |
Seeking Alpha has conference call transcripts available for those companies -- Hovnanian, KB Home and Lennar -- whose quarterly results were summarized in this article.
Disclosure: I have no positions in any stocks mentioned, and no plans to initiate any positions within the next 72 hours. I wrote this article myself, and it expresses my own opinions. I am not receiving compensation for it. I have no business relationship with any company whose stock is mentioned in this article.