The recent rout of commodity stocks has uncovered some real gems for investors to consider, such as Cleveland-based OM Group, Inc. (NYSE:OMG), which Ockham Research rates a Strong Buy at present. OM Group produces hundreds of metal-based specialty chemicals and powders from such elements as copper, nickel and cobalt. Their products are used in the manufacture of auto catalysts, stainless steel, rubber, jewelry, rechargeable batteries and alloy metal plating applications. OMG stock has pulled back dramatically from its high of $62.73 in June of last year to $30.55 in Tuesday's trading. Much of the share price decline can be attributed to the sell-off in commodity prices and fears that a slowing economy will dampen manufacturing demand around the world.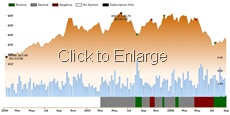 Up until recently, OMG had been able to pass rising commodity prices on to its customers and was thus relatively unaffected by the inflationary spike in commodity prices. However, the fear is growing that a faltering global economy will pinch the company's ability to mitigate raw material inflation and that the company's earnings in the coming quarters will take a big hit. This concern touched off a steep decline in the shares which has made them a Strong Buy to us.
Be advised that OMG is a small cap stock (its market cap is just at $1 billion) and its earnings are quite volatile. With a Beta of 1.80, the stock is almost twice as volatile as the average stock. It also pays no dividend, so the rationale for purchasing these shares is purely for capital appreciation. As such, only patient investors with a high risk tolerance should consider OMG for their portfolio. However, from a valuation standpoint, the sell-off in these shares has brought them to a level that we find quite compelling.
OMG's ten year Price-to-Sales range is .58x – 1.37x. The stock's current Price-to-Sales ration is 1.05x. This level is a bit above the mid-point of the range and would suggest a neutral stance. However, OMG's historic Price-to-Cash Flow range is 10.02x – 19.18x and the stock's current Price-to-Cash Flow is 4.10x, 72% below the midpoint of OMG's historic range for this metric and a traditionally very attractive entry point for value-oriented investors.
OM Group, Inc. is a company with broad and desirable exposure to manufacturers in many critical industries, both domestically and around the world. As such, it has great appeal in the years ahead. However, its volatile earnings track record, its relatively small market cap and its vulnerability to a long and painful global recession make it far from a sure thing as an investment. However, if you believe that booming emerging economies will be the driver for international economic expansion in the years ahead and that the U.S. will be a critical supplier to those economies, then OMG shares at current depressed levels might be worthy of a closer look.