Ever since the 2009 government bailout, stock of General Motors (NYSE:GM) has been unfairly shunned and stigmatized. The notion of losing money from manufacturing locally made cars in the face of strong emerging market competition seems a foregone conclusion. In fact, since its emergence from bankruptcy and relisting on the New York Stock Exchange, the company's stock price has fallen almost 30% from its IPO price of $33.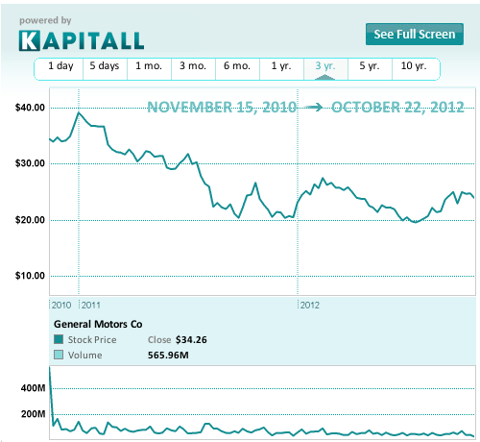 However, despite the negativity surrounding the company, some of the world's most prominent value investors, such as Greenlight Capital's David Einhorn, have staked their money on this storied American corporation.
According to Greenlight's latest 13F filings, it currently owns $344 million worth of General Motors shares - taking up a sizable 5.4% of its total portfolio and ranking third in its long equity positions only after Apple Inc (NASDAQ:AAPL) and Seagate Technology (NASDAQ:STX). Other famous investors with a sizable long position of the company include Frank Brosens' event-driven hedge fund (Taconic Capital Advisors) and Fir Tree Partners.
The main argument some bullish investors are making is that General Motors has actually emerged from bankruptcy a stronger and healthier company. Compared to other legacy American car manufacturers, General Motors has had the opportunity to restructure its pension liabilities and negotiate better terms with union workers during the bankruptcy proceedings. General Motors will also be allowed to use its historical loss of $18 billion as a tax credit - essentially avoiding paying federal taxes for the next ten years.
Products-wise, General Motors has a strong lineup of vehicles that is doing extremely well in terms of market share in many important markets. It has the number one market share in China and is ranked third in Brazil with the same metric. Both emerging markets are expected to drive automobile consumption in the world and GM's resurgence in these markets is poised to not only sustain the company in the long-run, but also to re-establish itself as a true American manufacturing legend.
Written by Kapitall's SiHien Goh
Disclosure: I have no positions in any stocks mentioned, and no plans to initiate any positions within the next 72 hours.
Business relationship disclosure: Business relationship disclosure: Kapitall is a team of analysts. This article was written by SiHien Goh, one of our writers. We did not receive compensation for this article (other than from Seeking Alpha), and we have no business relationship with any company whose stock is mentioned in this article.