According to a recent article from Bloomberg, Caterpillar (NYSE:CAT) is one of the top securities in the S&P 500's index to have the greatest variance between their current market value per share versus analysts approximated price targets. Out of curiosity, I decided to evaluate which serves as a more accurate representation of CAT's fair value; analysts high price targets or the current value reflected by the market price. In this article, I will introduce CAT's business model as well as a brief overview capturing CAT's relative performance. Next, the core of this article will reveal the magnitude of the corporate valuation model, walk you through a two case scenario in determining the intrinsic value of CAT's operations, and conclude with an intrinsic share value that makes CAT an extremely nice value play.
Overview
CAT is a company focused on designing, manufacturing, as well as marketing construction, mining, and outdoor machinery to a wide range of customers. In addition, CAT manufactures engines and specialty equipment items. CAT is currently trading at roughly $85 per share, with approximately 653.3 million they are sitting at a market cap of $54.6 billion, which is significantly larger than direct competitors. Looking at figure 1, below you will see CAT's performance relative to three direct competitors as well as two index funds, both of which I feel serve as adequate benchmark for comparison.
Figure 1: CAT's Relative Performance

Above in figure 1, you will see CAT's three direct competitors are Joy Global Inc (NYSE:JOY), Deere & Company (NYSE:DE), and AGCO Corporation (NYSE:AGCO). JOY competes with CAT directly in the manufacturing and sale of high commercial grade equipment for the industrial purposes such as mining and construction. DE and AGCO serve as competitors in the line of manufacturing equipment that is widely utilized across the agriculture industry; both by individual consumers as well as companies. CAT in comparison to their peers has a significantly larger market cap and provides investors with a higher dividend yield, which you will see is currently 2.49%. Although, CAT's YTD return is -5.76%, do not let this turn you away. Based on the value of their current operations and expected growth (which is depicted in the models I discuss below), this is solely a representation of a recent decline in market value over the past couple of months and rather an indication of the fact that CAT is trading at a discount of fair valuation.
If you look at the far right of the figure above, you will see the two index funds I used from comparison were SPDR S&P 500 Trust (NYSEARCA:SPY) and SPDR Dow Jones Industrial Average ETF (NYSEARCA:DIA). Both SPY and DIA clearly outperformed CAT over this same period, but the question is are investors really compensated through these alternatives. While, both have provided a higher YTD return, there is much more to consider. They both provide lower dividend yields and looking at the larger picture over a three year investment horizon you would been compensated with a 55.86% return by taking a position in CAT, while over the same period SPY and DIA would have only returned you 39.01% and 41.03%, respectively. Also, CAT engages in an industry that tends to be cyclical in nature, proving they have a greater probability of withstanding recessions through the fact that with their negatively correlated holding period returns signals that global and us macro issues that tend to have an adverse affect on index funds such as SPY and DIA, have little effect on CAT. Alternatives through index funds, ETF's, and even CAT's competitors are available, but in your final decision everything lies at the principles of current valuation and what is the expectation of that current value projected to be. This is where the corporate valuation model comes into play.
Before I jump into the valuation computations, I wanted to provide additional evidence to support my findings from the Bloomberg article I extracted from Bloomberg. Below are a few sample estimates computed from a sample of 19 observations. I collected the data of 19 different analyst's price targets specifically for CAT and randomly selected 19.
Figure 2: Analysts Price Targets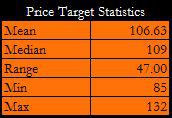 As you will see above in figure 2, the actual range in analysts price targets is in fact large. Given the lowest price target of $85 and the highest extending to $132, this allows for significant variation. To exclude discrepancies I only extracted analysts price targets that based their projections on the basis of value and growth.
CAT's Intrinsic Valuation
In determining the intrinsic value of CAT, I used the corporate valuation model. For those who are unfamiliar with the model, with the exception of the data displayed out on the chart below the model relies on three inputs including CAT's weighted average costs of capital, expected growth rate (a firm specific growth rate in this case), and the current free cash flows. These three inputs are used in the constant growth model, which first projects the free cash flows forward and then discounting them back with dividing the projected free cash flows by the difference between the firms weighted average cost of capital and the expected growth rate. In this model, the free cash flow estimates for 2012 FY was $4,319 million and for 2013 FY was $5,462 million. The weighted average cost of capital used for discounting purposes was 8.4%. Below I have provided two scenarios, where holding all else constant the only variable I altered was the growth rate. Both scenarios as you will see are favorable, and both growth rates are more than conservative making these estimates highly probable.
Figure 3: Corporate Valuation Model, Scenario 1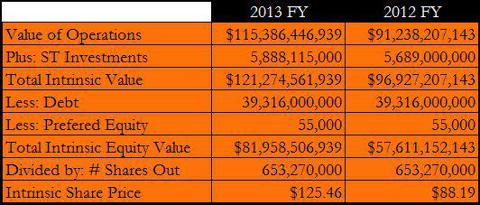 Scenario 1 depicted in the figure above represents what most people like to call "the worst case scenario", however with a 2013 FY intrinsic share price estimate $125.46. Not the average investor will consider roughly a 50% upside a "worst case scenario". The expected growth rate was the only factor that was changed from scenario to scenario and in this model the expected growth rate was 2.75%.
Figure 4: Corporate Valuation Model, Scenario 2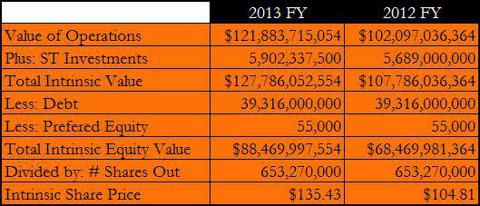 Scenario 2 above, my personal favorite and I am sure many investors will have the same thing to say. One thing I will point out is that nothing in this model has changed except for the expected growth rate, which for this scenario was 3.5%. With such a small level of growth to operations, CAT's intrinsic share value becomes highly attractive with roughly a 27% upside by 2012 FY and an extremely high upside of 65% for 2013 FY.
Conclusion
Analysts obviously have varying view points as to when CAT's operations are going to expand. But the question at stake is when. CAT is a strong company with solid business model, the probability of growth is high and from a value standpoint operations will increase fast in value with growth. In conclusion, CAT's intrinsic value is in support of a high potential upside. An upside that every investor may want to consider.
Sources: All information was retrieved from TD Ameritrade, Google Finance, Yahoo Finance, and Bloomberg.
Disclosure: I have no positions in any stocks mentioned, and no plans to initiate any positions within the next 72 hours. I wrote this article myself, and it expresses my own opinions. I am not receiving compensation for it (other than from Seeking Alpha). I have no business relationship with any company whose stock is mentioned in this article.