For years, I have been a fan of Intel (NASDAQ:INTC). I used it as a model of innovative company in my Business Strategy seminars. I raved about the stellar performance of its stock in my investment classes. I traded its shares on the long side of the market.
Recently, however, I have been disenchanted with the company and its equity performance. Though it continues to be an innovative powerhouse, it seems to have missed out on the transition from a PC to a mobile devices world. Perhaps, Intel has been too busy following its long partner Microsoft (MSFT), which has also missed out this transition.
Last week, Intel beat analysts' estimates. The trouble, however, is that last month, the company had already prompted analysts to lower their estimates, as the company lowered its guidance, citing a "challenging macroeconomic environment." Does this statement ring any bells?
If my memory is correct, that's the statement Cisco's (NASDAQ:CSCO) CEO John Chambers used in the early 2000s to describe a slow-down in the company's growth in the aftermath of the Dot.com crash. The trouble, however, is that ten years later the Dot.com crash is distant memory, but Cisco has yet to regain its growth momentum. This confirms that Cisco's problem wasn't macroeconomic but microeconomic. The company failed to catch up the next technological wave, the mobile Internet; its revenue growth stalled and its margins were squeezed by Asian competitors.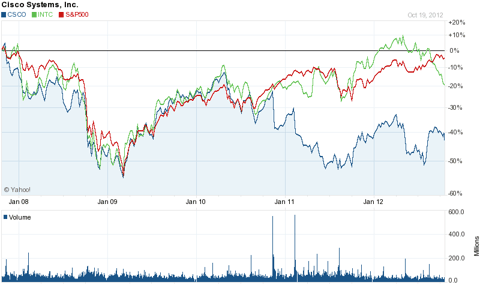 In fact, Intel and Cisco's financials look very much alike in two respects, a low PE and sluggish growth-that's where the problem for the two companies is. As was the case with Cisco, Intel's problem is microeconmic--failure to make the transition from a PC to a mobile world.
| | | |
| --- | --- | --- |
| Company | Intel | Cisco |
| PE | 10.73* | 8.70** |
| Operating Margins | 29.92% | 23.47% |
| Qtrly Revenue Growth | -5.5% | 4.4% |
| Qtrly Earnings Growth | -14.3 | 55.6 |
*Fye Dec 31, 2013
**July 28, 2014
To be fair, Intel, is, indeed, facing a sluggish world market environment at this point, especially in Europe, which is in a recession. The same is true, however, for Apple (NASDAQ:AAPL) and Qualcomm (NASDAQ:QCOM). Yet the two companies are thriving, especially Qualcomm that cannot produce fast enough because they ride the right trend-they are in the right business at the right time. Intel has been trying to catch up, as is Texas Instruments (NYSE:TXN), but not fast enough. As was the case with Cisco, Intel's growth has stalled and margins squeezed. What should investors do?
| | | | | |
| --- | --- | --- | --- | --- |
| Company | Intel | Texas Instruments | Qualcomm | Broadcom |
| Forward PE | 10.11* | 13.90* | 14.43** | 10.72* |
| Operating Margins | 31.23% | 22.47% | 31.77% | 11.38% |
| Qrtly Revenue Growth (yoy) | 3.60% | -3.60% | 27.70% | 10.30% |
| Qrtly Earnings Growth | -4.30% | -33.60% | 16.60% | -8.60% |
*Fye Dec 31, 2013
*Fye Sep 25, 2013)
Stay away from the stock until there is a better visibility about the company's transition from PCs to mobile devices; and about the success of its long-time partner Microsoft with the rolling out of Windows 8.
Disclosure: I am long QCOM. I wrote this article myself, and it expresses my own opinions. I am not receiving compensation for it (other than from Seeking Alpha). I have no business relationship with any company whose stock is mentioned in this article.