Company background
Ecolab (NYSE:ECL) was founded in 1923, starting out in Chicago as an 'on site' carpet cleaning business, with a new device, the Absorbit. After being successfully established, the company's founder M.J. Osborn turned to cleaning products to make new labour saving machinery (dishwashers) work more efficiently.
Employing a global workforce of more than 40,000 employees, Ecolab now delivers comprehensive programs and services to meet the unique needs of customers in the food, energy, healthcare, industrial and hospitality markets.
The company serves customers in more than 160 countries across North America, Europe, Asia Pacific, Latin America, the Middle East and Africa. In 2011, Ecolab expanded its customer solutions by merging with Nalco Holding Company, the world's leading water treatment and process improvement company. By joining forces, the company has become the global leader in water, hygiene and energy technologies and services.
Financials
Some financial highlights
Financial results for Ecolab have been good, with sales growth averaging some 6% over the past 5 years and earnings up by 8%. Earnings per share rose as much as 15%.
Second results 2012
Second quarter results were strong, with EPS up 13% to $0.72. Guidance for 2012 has been narrowed down to $2.95 - $3.02. Sales were up 74% to $3 billion, but this is largely due to the inclusion of Nalco. Excluding Nalco, sales rose 6% year-on-year. Ecolab could show several new business successes in the first half of 2012. New business was up 26%, driven by product innovation, investments in sale productivity tools and market share gains. Business in Latin America for example grew more than 10% in H1.
The segment Energy Services is a high growth business with 10 to 12% expansion anticipated annually for the next five years, as deeper and more complex wells require the use of even more chemicals. Sales synergies through the Nalco acquisition could reach $500 million in the next 4 to 5 years. The acquisition of Nalco last year gives the company a much broader client base and a real opportunity to continue expanding its margins.
Nalco
Nalco is the world's leading water treatment and process improvement company. As mentioned before, the merger with Nalco positioned Ecolab as the global leader in water, hygiene and energy technologies and services, and enhances the company to deliver a broader range of solutions to customers.
Ecolab customers will benefit by the broader product offering Nalco can provide to solve their boiler and cooling water treatment, waste water treatment, pollution control and energy conservation needs.
ECL reiterated long-term growth targets of 15% EPS growth, 20% return on equity, 2012 EPS of $2.95 to $3.05, as well as Nalco deal synergies (2012 $75 million cost/$0 revenue synergies; 2013 $135 million cost/$75 million revenue synergies).
The ECL/Nalco product value propositions are similar, premium-priced products that help customers expand margin like 3D Trasar (boiler/cooling systems) and Apex (warewashing). ECL still sees cost synergies of $250 million by 2015 and sales synergies of $500 million by 2016.
European restructuring is expected to yield 2% margin expansion in 2012, but dependent on at least 2% top-line growth.
Another acquisition
The latest news came on October 12. Ecolab announced that it agreed to buy Champion Technologies Inc. for about $2.2 billion in cash ($1.7 billion) and stock (8 million shares) - this is very positive. With the acquisition Ecolab will become the largest oil-field chemicals supplier in North America. The transaction should close at year end and Champion should add to earnings starting in 2013, Ecolab said. In the statement Ecolab also said that third quarter EPS was $0.87, up 16% and higher than expectations of $0.86.
Shale production, which uses water, sand and chemicals to free oil and natural gas from rock formations, has quadrupled in the U.S. during the past four years. The acquisition strengthens Ecolab's global energy services business, particularly in onshore North America shale plays. As said before it will make Ecolab the largest producer of North American oilfield chemicals, with about a 40 percent market share.
Final Note
Ecolab's involvement in global growth areas, which are related to issues that come with the rapid growth of the world population and the increase in global trade makes the company a very interesting investment. Food safety, clean water, ecological solutions to otherwise environmentally damaging processes, the prevention of viruses spreading globally are pressing issues.
As a global leader, the company is perfectly positioned to make a positive difference in the world. From reducing product packaging to helping customers conserve resources and cut costs, the company is driving ways to reduce environmental impact throughout their own company and beyond.
Ecolab ranked 26th on Newsweek's Greenest Companies in America. The rankings graded America's 500 largest publicly traded companies, as measured by revenue, market capitalization and number of employees, on their environmental performance, policies and reputation as environmentally responsible companies.
The current valuation is not cheap but Ecolab is a defensive, sustainable cash accumulating business with exposure to very interesting and much needed investment areas.
Analyst P/E Ratio Growth Rates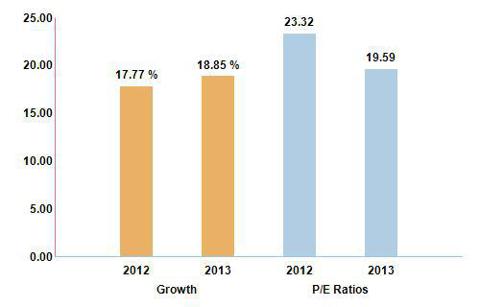 Source: Nasdaq
A higher valuation is certainly justified, a P/E around 23 gives us a target price around $82 (EPS consensus 2013 $3.56) for the coming twelve months. The potential gain of $13.00 is of course attractive, but I would recommend to buy Ecolab in the $60-$65 range. The volatility in the current market sometimes gives us chances to buy the dips.
Disclosure: I have no positions in any stocks mentioned, and no plans to initiate any positions within the next 72 hours. I wrote this article myself, and it expresses my own opinions. I am not receiving compensation for it (other than from Seeking Alpha). I have no business relationship with any company whose stock is mentioned in this article.