Brocade Communications Systems, Inc. (NASDAQ:BRCD), leading supplier of data center networking products, is expected to benefit from the strong growth opportunities in data center server virtualization, increasing adoption of private clouds, and its innovative product pipeline.
Moreover, this Zacks #2 Rank (Buy) remains significantly undervalued, with a forward price-to-earnings (P/E) multiple of just 10.9 and low price-to-book (P/B) multiple of 1.12. A P/E below 15.0 and a P/B ratio under 3.0 generally suggest a value stock.
Brocade Reports Strong Q3
On August 16, Brocade announced third-quarter earnings of 13 cents per share, easily exceeded the Zacks Consensus Estimate by 62.5%. The better-than-expected growth was driven by a 10% annual increase in revenue and margin expansion.
The gross margin expanded 190 basis points, primarily attributable to higher revenue, a favorable product mix and lower fixed costs. Lower operating expenses, coupled with the improving gross margin, helped the operating margin expand 550 basis points over the year-ago quarter.
The strong operating results led to a positive fourth quarter outlook. Revenue is expected between $555.0 million and $575.0 million (up 1% to 4% year over year). Earnings are seen at 13 cents to 14 cents per share (up 26% to 28%).
Brocade management also announced that CEO Mike Klayko will step down from the post as soon as a new candidate is selected by the search committee formed by the board of directors.
Positive Long-Term Outlook
Brocade provided a positive long-term operating outlook at its Analyst and Technology Day, held on September 12, 2012. Gross margin is expected between 63.0% and 64.0%, operating expense at 42.0% to 43.5% and operating margin in the range of 19.5% to 22.0% over the 2013-2014 period.
Operating cash flow is expected to exceed $500.0 million at the beginning of fiscal 2013 and is likely to reach $565.0 million by the end of 2014.
Earnings Estimates Moving Higher
The Zacks Consensus Estimate for 2012 jumped 11.11% over the last 90 days to 50 cents, representing 60.9% year-over-year growth. The Zacks Consensus Estimate for 2013 improved 11.3% to 49 cents in that time.
Impressive Valuation
In addition to low P/E and P/B multiples, the stock looks attractive even on a price-to-sales (P/S) basis. Its P/S multiple is just 1.12, much lower than the industry average of 2.42.
Historically, declining earnings have significantly impacted prices. The uptrend in 2012 and 2013 earnings estimates should encourage investors as the stock is likely to follow the trend.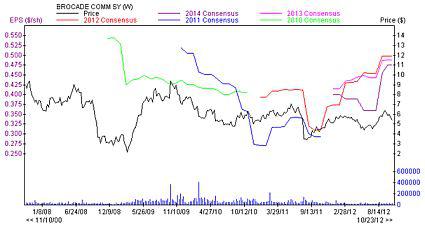 Brocade Communications is a leading supplier of networking equipment that includes Ethernet Solutions and Storage Area Networking Solutions ("SAN"). EMC Corp. (EMC), Hewlett-Packard (NYSE:HPQ) and IBM (NYSE:IBM) are its largest customers, contributing 43% of total revenue in fiscal 2011.
Read the full analyst report on BRCD (email registration required)