In a nutshell, the oil and gas industry has outsmarted itself. Domestic gas rigs are near a 13 year low. The overall rig count in North America for the week ending October 19, 2012 was 2,194, down 12% from 2,510 recorded the week ending October 21, 2011. Horizontal drilling and hydraulic fracturing have proven too effective. On the demand side, a global economic slowdown led by a Chinese slowdown and a perpetually weak Euro Zone aren't helping matters any.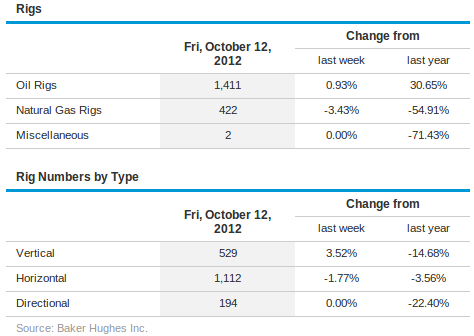 Depressed rig counts are decimating the equipment & services industry.
I don't believe that rig counts can stay this low for much longer. Natural gas exports are unlikely to drive US demand any time soon, but a colder winter than last year's should give the industry a sorely needed bump. If you believe that oil and gas prices will soon rise to breakeven levels, then you know there is value to be found all over the industry. Here are four undervalued companies from the oil and gas equipment and services industry that deserve a closer look.
Baker Hughes Incorporated (BHI)
Baker Hughes Incorporated has taken a hit after a lackluster 3rd quarter. Since the October 19th earnings call share prices have slipped about 4.5%. Net earnings per share figures were the company's lowest since Q3 2010, and 61% lower than Q3 2011.
At a glance things seem dismal for Baker Hughes, but a closer look reveals that it isn't doing so poorly. Most of the steep drop in earnings year on year can be attributed to a tax benefit the company received in Q3 2011. Operating margins for its high pressure pumping services are getting tighter as overall rig counts continue to decline in North America where the company is most exposed.
Depressed oil and gas prices coupled with non repeating expenses have left Baker Hughes undervalued. The company is currently trading just slightly above book value. Should they shutter operations tomorrow and sell off all their assets to pay down liabilities you would theoretically break even. At Wednesday's close, Baker Hughes was trading at a 0.88 price to sales ratio. Multiplying their 3 year average price to sales ratio of 1.44 by TTM sales per share of $48.29 puts the company's value at $69.48. That's an upside of about 63%.
C&J Energy Services (CJES)
C&J Energy Services is a much smaller provider of hydraulic fracturing, coiled tubing and pressure pumping services. Third quarter numbers aren't in yet, but as of Q2 2012 its return on assets numbers are second only to Core Laboratories (NYSE:CLB). C&J has been surprisingly resilient in this difficult market. The company's impressive profit margins took a slight hit in Q2 of 2012, but remained high. The company is too young to value based on past performance, but I don't expect its TTM PE to remain at 5.1 for very much longer.
Halliburton Company (NYSE:HAL)
Oilfield services giant Halliburton Company has also fallen on hard times due to less drilling and decreasing margins. The high price of industrial guar gum, a natural substance that facilitates the hydraulic fracturing process, has been eating away at profit margins. Lower demand for services and equipment related to fracking in the US isn't helping either. International operating income was up for Q3 2012, but overall net margins have taken a huge hit.
Like Baker Hughes, Halliburton's price to sales ratio has been hovering near 1. At the close on Wednesday the shareholders were paying only $1.07 for every dollar of revenue. Based on its 3 year price to sales average of 1.77 multiplied by an average sales per share of $30.41, Halliburton should be trading at $53.68. That's an increase of about 60%.
Schlumberger Limited (NYSE:SLB)
Schlumberger has been spared the wrath of investors wary of lower oil and gas pricing. Like the above equipment and services companies, Schlumberger has been having trouble with their product division. Luckily, the company's deepwater and exploration divisions are still posting gains. Across all divisions the company's Q3 2012 profit margins of 13.37% were flat compared to Q2 2012, and slightly higher than the 12.68% posted in Q3 2011.
Schlumberger is not trading at the deep discounts that Baker Hughes and Halliburton are, but I believe that there is still a great deal of upside. The reason Schlumberger made it to this value list is its steady sales growth despite the North American gas glut. Schlumberger's trailing twelve month revenues are the strongest in the industry. They haven't slipped since Q1 2010, although they are beginning to level off.
Based on Schlumberger's 3 year price to sales average of 3.139 multiplied by an average sales per share of $32.40, Schlumberger should be trading at $101.68. That's an upside of about 45%.
| | | | | |
| --- | --- | --- | --- | --- |
| | P/E TTM | Price / Book | Price / Sales TTM | Operating Earnings Yield |
| Baker Hughes | 13.30 | 1.10 | 0.88 | 12.01% |
| C&J Energy | 5.10 | 2.00 | 1.046 | 30.79% |
| Halliburton | 10.55 | 2.00 | 1.07 | 15.18% |
| Schlumberger | 16.98 | 2.71 | 2.14 | 8.23% |
Fundamentally all four companies are standing on solid ground. C&G Energy is much younger and smaller than the other three big players. Its numbers are the most exciting, but given their size and limited scope of operations they are also the most likely to sink like a drill bit should North American natural gas and oil prices weaken further. If you're confident, as I am, that natural gas prices are likely to rise this winter and steadily increase through 2013, you can't go wrong with any of these four companies.
Disclosure: I have no positions in any stocks mentioned, but may initiate a long position in CJES over the next 72 hours. I wrote this article myself, and it expresses my own opinions. I am not receiving compensation for it (other than from Seeking Alpha). I have no business relationship with any company whose stock is mentioned in this article.