Berry Plastics (NYSE:BERY) reminds me of Aptar Group (NYSE:ATR), which was the first IPO roadshow presentation I ever attended back in 1993. I'll never forget that one because it was my first, but also because I was sitting next to investing legend Mario Gabelli. I can tell you that Mario did lots of work on these things. His prospectus was dog-eared and marked up in red pen. During the Q&A period he worked the management team over while the rest of the room watched and drank coffee.
images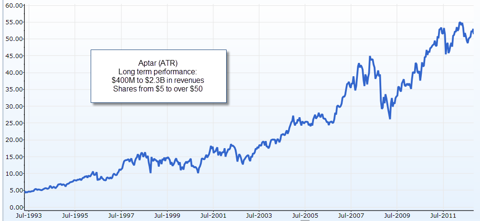 Aptar was another basic business kind of company. They focus on fancy plastic caps. Thirty years ago everything was a screw off lid. Now containers feature all types of flip up and engineered lids. Aptar has been a home run over these nearly 20 years. The stock has split a couple of times and on a split adjusted basis it's gone from around $4 to the current $52 with increasing dividends along the way.
Berry Plastics Products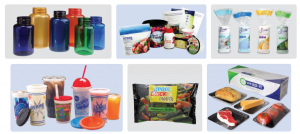 Berry is very analogous but is all about the plastic package. Many things that used to come in glass now come in plastic. Paper has also become plastic in many applications as well. Plastic for food applications needs special properties to act as a barrier but in some cases also needs to be permeable in one direction for microwaving. Shape and structural properties are also important and Berry works on finding ways to extend the limits.
What we have here is a stable and attractive business and a well-defined group of comparable companies like Aptar, Sealed Air (NYSE:SEE), Crown Holdings (NYSE:CCK), Silgan (NASDAQ:SLGN), and Ball Corporation (NYSE:BLL). These companies have substantial assets and tend to have debt. Berry is no exception with over $4B of debt on the balance sheet. Hence managements present metrics like cash flow and adjusted EBITDA as the important metrics. Generally we disagree with this approach but since it's common across all these companies we can simply look at P/S as a summary valuation measure and index that to margins.
As a group, these companies trade in a tight band that averages 1.1x revenues. Aptar sits at the high end at 1.5x but also has the best margins. At the low end, Bemis margins are about 1/2 those of Aptar and it trades at 0.9x. At some point yield does enter into the equation for this group but we'll keep it simple for now.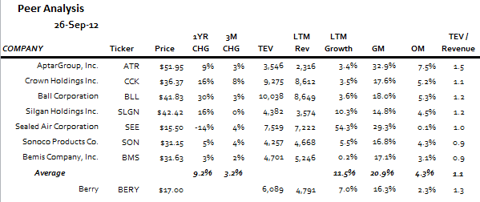 Comparable Comapanies & Valuation
So where should BERY trade? As usual, their "CAGR of 24%" is totally meaningless. During the last few years the company has grown the top line at around 7-10%. Overall, the Berry numbers are in the middle of the range and slightly below the average. If we give the management team a little extra credit we could go so far as to put a 1.1x multiple on it.
The initially proposed price range of $16 to $17 puts the shares at 1.3x which was certainly too high. The shares were priced at the bottom of the range at $16 but that wasn't enough of a discount. Over the past few weeks the stock price has drifted lower and now trades at $14.27.
For the shares to be interesting on a valuation basis this deal should be priced closer to $12. There's a plenty of leverage in the equity price because improvements in the business and reductions of debt will accrue to the small slice of public equity.
The underwriters were also under some duress as some of the related companies have recently lowered their outlook based on some slowing of global end-market demand.
Conclusion
At just over $14 the shares are getting more interesting but still not quite there yet. There are a few near-term catalysts to watch for: analyst coverage is scheduled for November 13th and the company is scheduled to report their first quarter as a public company on December 17.
The company announced that they will be at a major industry show from October 28 - 31 with some new products but these things typically don't directly impact the stock price.
Based on our brief analysis of the company we'd be inclined to start "nibbling" on this stock at these prices. This is a $4.8B company generating nearly $800M of EBITDA that is growing in a stable market. Further improvements in the US economy will certainly help as well.
The only troubling thing about the company is what looks like an "asset heavy" model and the rather large debt outstanding. The company isn't going to get an Aptar multiple until the business model improves. Then the shares could get interesting.
Disclosure: I have no positions in any stocks mentioned, and no plans to initiate any positions within the next 72 hours. I wrote this article myself, and it expresses my own opinions. I am not receiving compensation for it (other than from Seeking Alpha). I have no business relationship with any company whose stock is mentioned in this article.