While enjoying a nice slice of pizza I realized that something good can come from that ghastly scandal which tore apart Rupert Murdoch's British publishing empire. Of course I'm talking about the best possible outcome: a profit!
Pearls From Swine
The shock waves from the phone-hacking scandal are still rocking Rupert Murdoch's media empire.
More than $315 million dollars have been paid out to victims on both sides of the Atlantic. Eighty people have been jailed. And one of Rupert Murdoch's most profitable newspapers has been shut down. The fallout will continue to be felt for years.
But, News Corp. (NASDAQ:NWSA) stock is still in a strong uptrend.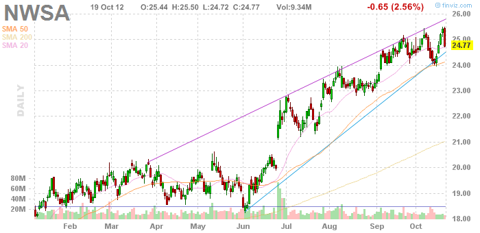 Why? It turns out that investors are actually piling in. They are anticipating the break-up of the company.
It seems there's a lot of money to be made from picking up the pieces.
Cutting off a Bad Arm
Anybody who reads a newspaper knows that the worldwide publishing business is in decline. Mass advertising and the flow of information have, of course, migrated to the Internet.
News Corp.'s British papers did manage to stay afloat longer than most with a continuous flow of shocking stories. Now we know how they got them.
But News Corp. has five revenue-producing arms. Its publishing arm is but one of them and it is almost time to chop it off.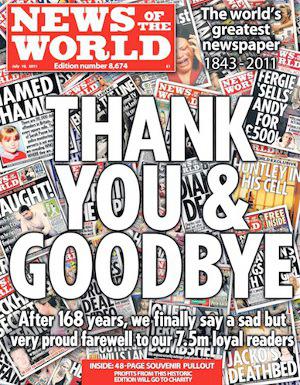 The real money is in the remaining four arms of News Corp.
Cable networks like Fox News generate 24% of the company's revenue. Filmed entertainment (the movie division) delivers 21% of News Corp.'s cash flow. Television produces another 14% of revenues and satellite television (like BSkyB in Britain) delivers another 11% of sales.
Fox says all of these business segments are generating more and more cash every year. Yet the true value of the stock is still being held back by the cloud hanging over News Corp.'s publishing arm.
I believe that breaking up the company and selling the publishing business as a separate stock will unlock the real value of the firm's remaining and very profitable film and TV businesses.
That's where we can all make some money.
What Is It Worth?
There's a lot of guessing going on right now about the real value of the total News Corp. business. Some say that shares of the publishing arm will sell for a paltry $3 when they are split off from the rest of the company.
Shares representing the remainder of the company were thought to be worth $22 last summer, but a lot has happened since then. In its most recent report, News Corp. declared a staggering $2.85 billion impairment charge related to what it called "the British investigation". That's got to be hurting share prices now, but it is a temporary problem.

Cash is still pouring from the company's thriving cable segment. Would you believe that cable ad revenue was up an eye-popping 18% over the past year.
There is so much cash in News Corp. coffers that the company has embarked on a massive $10 billion share buyback program.
I know, a lot of investors scoff at share buybacks as an artificial way to create value. But $10 billion in hard cash is nothing to scoff at, or to ignore in corporate valuation.
The New Fox Franchise
Weak performance from some programming like American Idol hurt past television revenues. But hit shows like Glee and NFL Football could beef up the bottom line in the next quarter.
On the film side I see that Fox Studios won the weekend sweeps with an action sequel called "Taken 2". Looking to the future, sequels to the Avatar franchise are expected to generate reliable triple digit box office returns…that's hundreds of millions and perhaps billions.
Calculating the value of the new News Corp. is a bit like trying to shoot a moving target. There are many, many parts and all of them are changing. Still, it's worth noting that the major analysts are bullish on News Corp. The company had its "buy" rating reaffirmed by Needham & Company in a research note issued last week. They currently have a $27.00 price target on the stock.
Investment analysts at Nomura boosted their target price on News Corp. to $28.00 in late September. And, analysts at Atlantic Securities also have a $28.00 target on the stock.
A Much Bigger Target
Short term targets may not capture the full breakup value of the company. I want to squeeze out every dollar.
The most exciting analysis was produced a year ago by the respected researchers at Gabelli & Company. They say the presence of Rupert Murdoch and his tainted publishing empire has imposed a huge tax on share prices. Using plain vanilla valuation measures, Gabelli says the company's cable business is worth $35 billion. Film, TV and satellites are worth $20 billion. The company's own investments are worth $13 billion.
The total value was calculated at $79 billion (including the soon-to-be-sold publishing arm). But keep in mind- those Gabelli figures do not include this year's earnings gains. And they don't figure in the share buyback program. A scandal-free News Corp could be worth much more Right now, the company is valued at just $57 billion on the stock market. So, even using Gabelli's past calculations, News Corp. stock should reap a 38% premium upon the break up.
I suspect it will be much more, especially if Murdoch is ousted. The only good thing to emerge from the News Corp. scandal is the unleashing of the company's real value for shareholders. That's a scandal I plan to take advantage of.
Action to Take: Buy at 25.50 or less. Target: $36.00. Sell-stop limit $22.50
We think this is an opportunity along the lines of (NYSE:DPZ); which has delivered a great pop.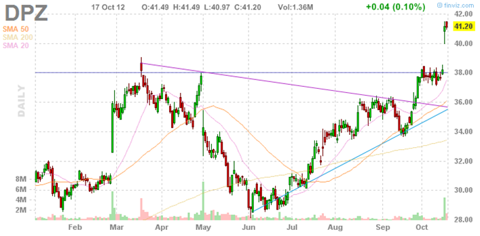 Shares leaped from $38 on Monday to more than $41 currently. That's a delicious take-home gain of 7.77%.
Happy Trading!
Disclosure: I have no positions in any stocks mentioned, and no plans to initiate any positions within the next 72 hours. I wrote this article myself, and it expresses my own opinions. I am not receiving compensation for it. I have no business relationship with any company whose stock is mentioned in this article.