After the close on Tuesday, Facebook (NASDAQ:FB) reported earnings for Q3 2012 that generally beat the reduced expectations of the market. Investors though need to be careful, the company still focused on monthly active users (MAU) and not total usage. The real story isn't the monetization of active users, but rather the ability to keep those users active on the platform.
As discussed back in September, the continued decline of Zynga (NASDAQ:ZNGA) is hurting the established Payments business and leading to a dramatic increase in costs to add new products to make up for this shortfall.
The social media giant can add the next billion users, but if the first billion users drop off as comScore suggested, the stock will not maintain this lofty valuation. See more details below and the original analysis from last month.
Q3 2012 Highlights
Below are the highlights for the Q3 earnings report:
MAUs were 1.01 billion as of September 30, 2012, an increase of 26% year-over-year
Daily active users (DAUs) were 584 million on average for September 2012, an increase of 28% year-over-year
Mobile MAUs were 604 million as of September 30, 2012, an increase of 61% year-over-year
Revenue for the third quarter totaled $1.26 billion, an increase of 32%, compared with $954 million in the third quarter of 2011. Excluding the impact of year-over-year changes in foreign exchange rates, revenue would have increased by 38%.
Revenue from advertising was $1.09 billion, representing 86% of total revenue and a 36% increase from the same quarter last year.
Generated 14% of advertising revenue during the third quarter from mobile
Non-GAAP operating margin was 42% for the third quarter of 2012, compared to 51% for the third quarter of 2011.
Another key metric not highlighted in the earnings report and conference call was the large drop in operating margins to 42% from 51% last year. All of the new products such as mobile, Gifts, and the Facebook Ad Exchange are driving up costs faster than the new products can be monetized.
Soaring Costs
While analysts and the media obsessed about mobile revenue growth, a big issue that has popped up is the huge increase in costs. While revenue only increased 32%, non-GAAP expenses increased by 57% over last year to $737M. The company grew headcount by 9%, but the real increase supposedly came from infrastructure spending.
Including stock based compensation; research and development expenses were up nearly 150%. Also, general and admin costs nearly doubled. As noted above, these massive increases in costs led to the greatly reduced margins.
Also, the Instagram deal closed at the end of Q3 so the CFO guided towards higher costs in Q4 from this company. After all, those 100M users don't use the service without costing Facebook money.
The below Bloomberg TV chart provides a great example of why the increased revenue isn't leading to higher earnings. The amount of revenue per user remains virtually flat over the last four quarters. Basically adding a user leads to more money yet it also adds more costs. In the end, Facebook doesn't gain.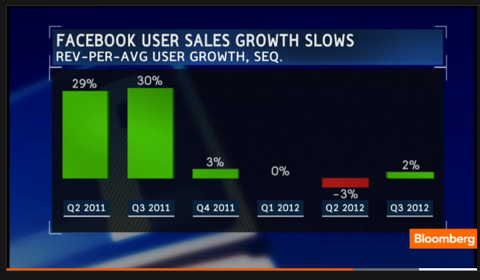 ComScore
ComScore reported last month that Facebook again saw declining usage of its service in August. Forbes provided the following summary on the ComScore data:
Mobile users rose 4% sequentially to 90M in August.
Mobile average daily visitors were up 6% sequentially to 52M, while average minutes per user rose to 3% to 517.
Total minutes fell by 5% from July to 108B.
Desktop minutes dropped 13% to 61B.
Mobile usage now accounts for 43% of total minutes or 47B.
Desktop unique users were up 9% year-over-year, but down 2% sequentially.
The total minutes declining should be very alarming. The fact that the analysts didn't address this issue was disappointing. In fact the CFO made the following statement on the earnings call:
Let's start with users. We ended September with 1.007 billion people using Facebook, up 26% from a year ago. 584 million people accessed Facebook each day on average in September, up 28% from the prior year. We grew monthly and daily users in all geographic regions, led by Brazil, India, and Japan. Mobile continues to drive our user growth, and we ended Q3 with 604 million monthly mobile users, up 61% versus last year. None of the user numbers include Instagram, which as Mark mentioned passed 100 million registered users and continues to grow.
All of these data points on users and yet nothing showing not only the quarterly sequential numbers nor the usage in minutes was very disappointing. The amount of time a user stays on the Facebook platform is as important as the amount of users now.
Conclusion
Facebook has a huge valuation issue that should continue to crumble after this initial pop. The stock that hit $45 on the first day of trading back in May has already collapsed 50%. The current valuation of $46B remains lofty for a company losing usage and spending faster than revenue is growing.
Though the company provided a dizzying amount of data regarding monetization rates and ad successes, it never addressed the issue with declining usage reported by comScore. In fact, usage wasn't part of the discussion at all.
As mentioned in the previous articles, Facebook remains the ultimate short as a lot of investors and the media continue to focus on the growth of the user base and mobile. When will it hit 2B users? How about 5B users? The real question is whether it can keep the first billion users that are already abandoning the social network.
On top of all these negative trends, the huge lockup expiration of 243M shares on October 29th should hit the stock even if the earnings report doesn't.
Disclosure: I have no positions in any stocks mentioned, but may initiate a short position in FB over the next 72 hours. I wrote this article myself, and it expresses my own opinions. I am not receiving compensation for it (other than from Seeking Alpha). I have no business relationship with any company whose stock is mentioned in this article.
Additional disclosure: Please consult your financial advisor before making any investment decisions.