American Electric Power (NYSE:AEP) reported its earnings for the third quarter. The company's performance was adversely affected by sluggish electricity demand, storm related costs and consumer switch. Despite the fact that AEP experienced negative top and bottom line growth rates in 3Q2012, the stock remains attractive on its valuations and dividend yield (4.3%). Moreover, earnings for the company are expected to grow in the range of 4%-to-6% in future. We reaffirm our buy rating on the stock.
American Electric is one of the largest electric companies in the U.S. It has a power capacity of more than 38,000MW. Most of the earnings, approximately 86%, are dependent on regulated services. Utility operations contribute almost 93% to total revenues and are the company's core business.
American Electric reported its third quarter results yesterday. The company reported revenues of $4.2 billion, down 2.3%. Adjusted earnings per share reported by the company were $1.02, down 12% as compared to 3Q2011. Earnings for the quarter missed analyst expectations by 1 cent. Top and bottom lines for the company were adversely affected by storm cleanup costs, low electricity demand and customer switching. American Electric spent $230 million restoring power that was affected by storms in June. Customer switching had a negative impact of $0.06 on earnings per share this quarter, while the weather affected EPS by $0.03 as compared to 3Q2011.
Total KWHs sales for the company were down by 2.5% in the quarter, as compared 3Q2011. Retail electric sales to residential and industrial customers were down 3.1% each; whereas sales to commercial customers were down 1.3% for the quarter. Wholesale electric sales experienced a decline of 2.2% for the quarter.
As in the recent year, natural gas prices declined, which motivated utility companies to switch to natural gas from coal. American Electric also followed the industry footprints and increased its overall natural gas generation capacity by 50% YTD. However, the recent increase in natural gas prices has forced the company to reverse the coal to gas switching. The company's CEO stated that as natural gas prices rise in a range of $3-to-$3.25mmBtu, the company had started shifting back to coal. Despite the increase in natural gas capacity, the company still has two-third coal-fired generation capacity. As natural gas prices are expected to rise more and touch $4-to-$4.5mmBtu, we can expect AEP to use increase its reliance on coal for generation input.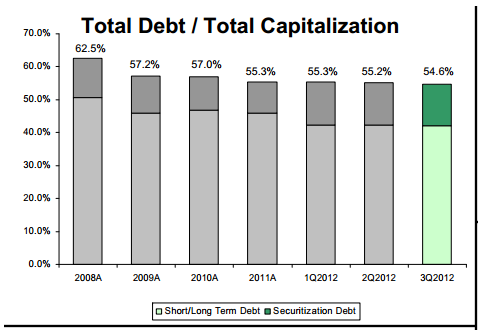 Source: from 62.5% in 2008 to 54.6% in 3Q2012
The company's balance sheet strength has improved in recent years, as seen in the graph above. Its total debt to total capitalization has improved from 62.5% in 2008 to 54.6% in 3Q2012. Moreover, the company has a good credit position, reflecting its ability to cover its finance charges. It has FFO interest coverage of 4.8x and FFO to total debt of 19.9%, above that of its target of 3.6x and 15%-20%, respectively.
The stock offers a high dividend yield of 4.3%, which is backed by an operating cash flow yield of 17.75%. Quarterly dividends for the company have increased at a rate of 4% per annum on average in the last five years.
The company is expected to improve upon its performance, as compared to the recent quarter. A favorable decision is expected on the Indiana rate case; an order on the rate case is expected by the end of 2012. It is expected to earn $3.05 per share in the full year 2012. Analysts are expecting a good performance by the company. 9 out of 21 analysts have buy ratings on the stock; 12 have hold ratings and none have a sell rating.
| | | | |
| --- | --- | --- | --- |
| | AEP | Duke Energy Corporation (NYSE:DUK) | Southern Company (NYSE:SO) |
| Forward P/E | 13.9 x | 14.5x | 16.3 x |
| PEG | 4.3 | 5 | 3.35 |
| Dividend Yield | 4.3 % | 4.7 % | 4.25 % |
| Gross Profit Margin | 36% | 41% | 40% |
Source: Yahoo Finance
AEP's forward P/E of 13.9x displays that the stock is trading at a discount as compared to its competitors, DUK and SO.
Disclosure: I have no positions in any stocks mentioned, and no plans to initiate any positions within the next 72 hours.
Business relationship disclosure: The article has been written by Qineqt's Utilities Analyst. Qineqt is not receiving compensation for it (other than from Seeking Alpha). Qineqt has no business relationship with any company whose stock is mentioned in this article.