No Attention Span Summary: A crude and refined products pipeline Master Limited Partnership ("MLP") that is a compelling MLP investment even at the high end of the indicative price range of $21 per unit.
MPLX, LP (NYSE:MPLX)
MPLX is currently on the road looking to price its IPO on the evening of October 25, 2012. The Company is looking to sell 15 million common units at a mid-point price of $20 per unit raising approximately $300 million of gross proceeds. I am going to assume readers are familiar with Master Limited Partnerships ("MLPs"); and the typical risks for pipeline assets, energy related concepts, general investment and valuation concepts and focus more on key Pros and Cons for MPLX and how it compares to its MLP peer group. Additionally this article uses some unique terms and ratios that are explained in an earlier article, "A Ranking Protocol for the MLP Space."
MPLX's Business
We are a fee-based, growth-oriented limited partnership recently formed by Marathon Petroleum Corporation (NYSE:MPC) to own, operate, develop and acquire crude oil, refined product and other hydrocarbon-based product pipelines and other midstream assets. Our assets primarily consist of a 51.0% indirect interest in a network of common carrier crude oil and product pipeline systems and associated storage assets in the Midwest and Gulf Coast regions of the United States. We believe our network of petroleum pipelines is one of the largest in the United States, based on total annual volumes delivered. MPC has retained a 49.0% interest in our network of pipeline systems and associated storage assets; however, we control and operate these assets and refer to them throughout this prospectus as our pipeline systems and our assets. We also own a 100.0% interest in a butane cavern in Neal, West Virginia with approximately 1.0 million barrels of storage capacity. Our assets are integral to the success of MPC's operations.

We generate revenue primarily by charging tariffs for transporting crude oil, refined products and other hydrocarbon-based products through our pipelines and at our barge dock and fees for storing crude oil and products at our storage facilities. We are also the operator of additional crude oil and product pipelines owned by MPC and third parties for which we are paid operating fees. We do not take ownership of the crude oil or products that we transport and store for our customers, and we do not engage in the trading of any commodities.

MPC historically has been the source of the substantial majority of our revenues. In connection with this offering, we have entered into multiple storage services agreements and, at the closing of this offering, we will enter into multiple transportation services agreements with MPC. These agreements, which we refer to in this prospectus as our transportation and storage services agreements, are long-term, fee-based agreements with minimum volume commitments under which MPC will continue to be the source of the substantial majority of our revenues for the foreseeable future. We believe these transportation and storage services agreements will promote stable and predictable cash flows.

MPC has stated that it intends for us to be the primary growth vehicle for its midstream business.
Asset Map
Source: S-1 filing.
Organization / Pro Forma Ownership Structure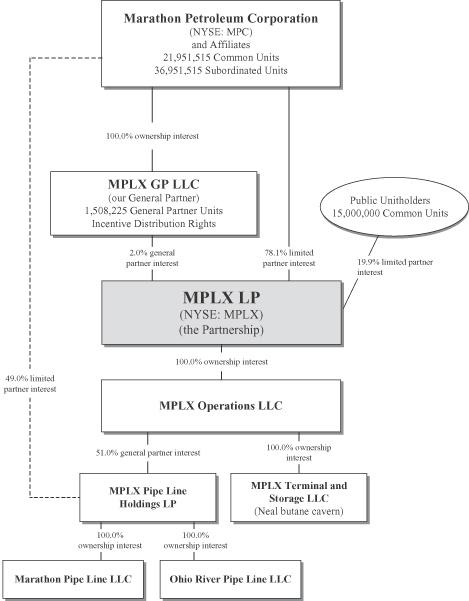 Source: S-1 filing, does not include the over allotment.
General Partner Economic Interest and Incentive Distribution Rights
The General Partner of MPLX will have the standard 2% economic interest in MPLX along with traditionally structured Incentive Distribution Rights.
Crude and Refined Products Pipelines Peer Group
The Crude and Refined Products Pipelines MLP segment includes the following partnerships: Buckeye Partners, L.P. (NYSE:BPL); Enbridge Energy Partners, L.P. (NYSE:EEP) / Enbridge Energy Management, LLC (NYSE:EEQ); Holly Energy Partners, L.P. (NYSE:HEP); Magellan Midstream Partners, L.P. (NYSE:MMP); NuStar Energy, L.P. (NYSE:NS); Plains All American Pipeline, L.P. (NYSE:PAA); and Sunoco Logistics Partners, L.P. (NYSE:SXL).
The closest peer to MPLX in the Crude and Refined Products Pipelines segment based on EBITDA is Holly Energy Partners, L.P. .
At the mid-point IPO price of $20 per unit, MPLX compares very favorably to its closest sized peer. MPLX's Enterprise Value to EBITDA multiple will be 12.4x which is lower/better than HEP's estimated multiple of 13.9x. MPLX will also have a much stronger balance sheet post IPO with negative Net Debt to EBITDA (i.e. ~$196 million more cash than debt on their pro forma balance sheet, which will also be improved by the selling of the over allotment units and any possible increase in the offering price), which is also compares very favorably to HEP's Net Debt to EBITDA of 3.4x. MPLX will also have the lowest leverage in its peer group, which positions them to be able to grow the MLP and the distributions at a comparatively faster rate. The cash has effectively "pre-funded" MPLX's $108.6 million of planned organic growth capital expenditures for 2013 plus an additional $83 million of capital expenditures.
Sensitivity Tables
Yield and Valuation
3 Year Forward Yield After Tax
3 Year Forward Yield After Tax / Valuation Coverage Ratio
Pros
High-Quality, Well Maintained Traditional MLP Asset Base with Stable Cash Flows: MPLX's will primarily consist of common carrier pipeline systems that generate stable revenue from FERC-based tariffs. MPLX will generate the substantial majority of its revenue under long-term, fee-based transportation and storage services agreements with MPC that include minimum volume commitments. On a pro forma basis, MPC's minimum volume commitment would have represented approximately 75% of total revenues for the six months ended June 30, 2012, had those agreements been in effect during those periods. Additionally MPLX will utilize MPC's patented integrity management program that employs state-of-the-art mechanical integrity inspection and repair programs to enhance the safety of its pipelines (helping to mitigate the distributed risk of having a pipeline leak).
Strong Balance Sheet with Substantial Liquidity Post IPO: Pro forma for the IPO, MPLX will have approximately $207 million of cash and $500 million of borrowing capacity available under its revolving credit facility. The only debt on the balance sheet will be from $11.6 million of leases, meaning MPLX will have at least $707 million of liquidity post IPO to use for growth. To put that into a little perspective, if MPLX units are at $21 the Enterprise Value is ~$1.4 billion so that initial liquidity is equal to an additional 50% of the Enterprise Value (that is pretty big relatively speaking).
Well Positioned for Substantial Distributable Cash Flow Growth: MPLX will have substantial liquidity available for its growth opportunities, numerous attractive organic growth opportunities, FERC regulated tariffs on its systems that will typically increase annually at the Producer Price Index plus 2.65%, and substantial future drop-down growth from the substantial pool of MLP qualifying assets that are owned by its General Partner.
Experienced Management Team: MPLX's executive management team has an average of 25 years of energy experience and a proven track record of successfully operating and growing these assets while a part of MPC.
Strong and Very Supportive General Partner / Sponsor: MPC will own the General Partner interest and approximately 78% Limited Partnership interest in MPLX, including owning all of the Subordinated Units which are half of the total Limited Partner units. MPC has committed to large minimum volume commitments to further support MPLX. MPC will be extremely incentivized to make MPLX successful.
Good Projected Distribution Coverage Ratio: MPLX projects a Distribution Coverage Ratio ("DCR") of 1.10x over the next twelve months, which is just slightly under the segment average trailing twelve month DCR of 1.29x. However, the Common Unit owners will also benefit from the Subordinated Units in the structure, which effectively double the Distribution Coverage Ratio for the Common Units to 2.20x since the Subordinated Units' distributions would be cut to zero before any reduction in Common Unit distributions.
Expected Tax Deferral of 80% of Distributions: MPLX estimates that approximately 80% or more of the estimated distributions through December 31, 2015 will be tax deferred with respect to federal income taxes, which is right in line with what is typical for this asset class in an MLP.
Cons
Customer Concentration: Marathon Petroleum accounts for approximately 80% of MPLX's revenues. Any substantive problem for Marathon Petroleum would be disruptive to MPLX's operations and could impair its ability to pay distributions. All of the typical risks for a large refining company apply to Marathon Petroleum: changes in the crack spread, effects of the global economy, refineries are dangerous assets and always trying to blow up, changes in environmental regulations, large acts of nature like hurricanes and tornadoes, etc., etc. However, Marathon Petroleum has a strong credit profile with investment grade debt ratings (BBB / Baa2) with stable outlooks, Debt / EBITDA of 0.7x and approximately $4.9 billion of liquidity so it's well positioned to weather any storms that come its way. Additionally MPLX will become viewed as a more independent entity which will make it easier for MPLX to gain additional third party customers/volumes etc. going forwards.
MLP Tax Considerations and IRA Disclaimer: Additionally MPLX is an MLP that sends a K-1 tax form instead of a 1099-DIV, so additional tax considerations and effort at tax time are required for investors, please consult with your tax advisor before making any investments into any asset class that you do not currently own. If you are your own tax advisor, nothing prevents you from investing in MLPs using IRA money; however, I recommend that you do not due to future UBTI issues. Any investment that I own that generates a K-1 is held in a taxable account. Please do not let me stop you though, it is after all, your money and your choice and nobody is more concerned about your money than you.
Some background on MLP tax considerations can be found here:
Conclusion
MPLX is an excellent example of a Crude and Refined Products Pipelines MLP that is incredibly well positioned for substantial ongoing growth after its IPO. Even at prices above $21 per unit the valuation and expected yield look attractive based on its potential growth rate. So I would not be surprised to see the underwriters try and push up the IPO price for MPLX above $20 and also to see it open above the IPO price once it starts trading. MPLX is also part of the crude oil value chain which I currently view as generally more favorable compared to the natural gas energy value chain. I may have varying open limit orders when MPLX begins trading and I will be watching very closely to try and gauge market reception and may change my possible limit orders at any time.
Sources
MPLX Roadshow <<The MPLX roadshow presentation will be removed on the night of pricing, but the website is great to bookmark for future IPOs.
Disclosure: I am long EEP, EEQ, PAA. I wrote this article myself, and it expresses my own opinions. I am not receiving compensation for it (other than from Seeking Alpha). I have no business relationship with any company whose stock is mentioned in this article.