In the biotechnology sector it is difficult to find companies that have substantial increases in their annual sales. For example, Pfizer (NYSE:PFE) has an estimated growth rate for this year of 9.08%. Then there's Novartis (NYSE:NVS), which estimated negative growth of 11.28%. However, there are some small capitalization companies that offer growth by leaps and bounds. This is the case with Array BioPharma (NASDAQ:ARRY), a company that focuses on the discovery, development, and commercialization of small molecule drugs to treat patients afflicted with cancer and inflammatory diseases.
With strong sales in its last annual report of $85.13 million, Array BioPharma is positioned as an attractive company to investors. The company announced revenue for the six months ended June 30 of $45.35 million. Array's estimated growth rate for this year is 67.13%. In the chart below we can see the company's growth in sales over the last five years.
Click to enlarge images.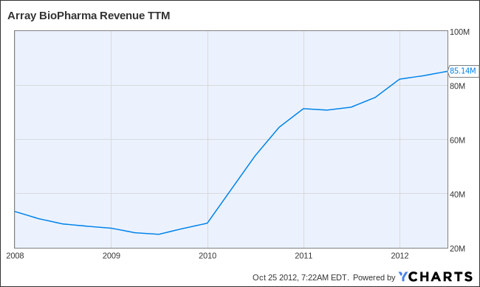 Array BioPharma has received a total of $577.9 million in research funding and in upfront and milestone payments from its collaboration partners from inception through June 30, 2012 -- including $174 million in initial payments from strategic collaborations with Amgen (NASDAQ:AMGN), Genentech and Novartis. These three collaborations entitle the company to receive up to over $2.2 billion in additional potential milestone payments, if all clinical and commercialization milestones under the agreements are achieved, double-digit royalties and/or commercial co-detailing rights.
With its other existing partnered programs, Array BioPharma is entitled to receive a total of over $3.6 billion in additional potential milestone payments if the company or its collaborators achieve the drug discovery, development objectives, and marketing objectives detailed in those agreements. It also has the potential to earn royalties on any resulting product sales or share in the proceeds from development or marketing arrangements resulting from 11 drug research and development programs. In the image below, we can see the collaboration agreements Array BioPharma currently has in progress.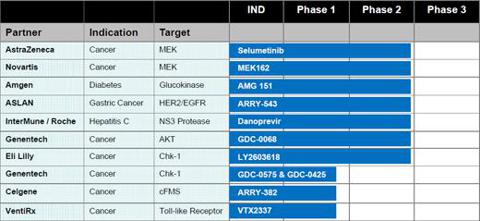 Source: Array BioPharma.
Selumetinib (AZD6244) is highly potent to inhibit MEK1 with IC50 of 14 nM and is the first MEK inhibitor to be evaluated in randomized Phase II studies. AstraZeneca (NYSE:AZN) is responsible for the development and marketing. The royalty potential for Array Biopharma is in the double digits. MEK162 (ARRY-162) is an oral, highly selective MEK inhibitor and is to be evaluated in randomized Phase II studies. Novartis and Array BioPharma are responsible for development and marketing. Novartis had a initial payment of $45 million and Array BioPharma has received a milestone of $10 million. The potential milestones for this development are $412 ,illion and the royalty potential is in the double digits.
The clinical results to date include current studies and ASCO 2012 results that showed the drug is well-tolerated with a growing clinical safety database, and it has good exposure with low interpatient variability. Array BioPharma granted Amgen the exclusive worldwide rights to its small molecule glucokinase activator "GKA" program, including AMG 151. AMG 151 represents a promising new class of drugs for the treatment of type 2 diabetes. Amgen had a initial payment of $60 million for the further development and marketing. In June 2012, Array BioPharma received an $8.5 million milestone payment, and the potential milestone for this development is $658 million. These three examples show the long-term potential of Array BioPharma.
We have known about the collaborative agreements of the company, but we must not forget that Array BioPharma has five of its own studies in progress. In the image below, you can see the ongoing studies of the company.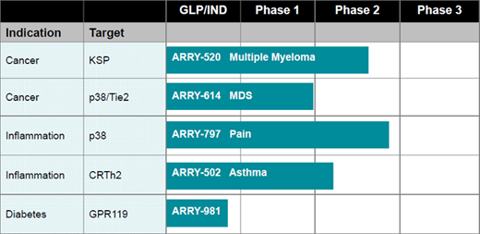 Source: Array BioPharma.
ARRY-520 is a new drug mechanism for multiple myeloma. This illness is the second most common hematologic cancer with 21,700 new cases annually in the United States. ARRY-520 is a unique mechanism of action not associated with neuropathy. ARRY-520 is the only new drug mechanism with compelling single-agent activity. But this is not the only development that Array BioPharma has intended to combat the cancer. The company is developing (in Phase I) ARRY-614, an orally bioavailable small-molecule inhibitor of p38 and Tie2 kinases with potential antineoplastic, anti-inflammatory, and antiangiogenic activities. This candidate is an optimized formulation in patients with myelodysplastic syndromes. The U.S. has 45,000 new cases annually of this illness. The estimated market potential of ARRY-614 could go over two digits.
Array BioPharma also has two candidates to treat inflammation. ARRY-797 is an oral p38 inhibitor for pain. This drug provided analgesic benefit in two small Phase I RA and AS studies. This study was well-tolerated in 450 subjects or patients treated. Another treatment is ARRY-502, a novel drug to treat asthma. This candidate is a selective oral CRTh2 receptor antagonist. The Phase I study showed that exposure increased with increasing dose and low inter-subject variability. The most important factor was that no food effect was observed and was well-tolerated.
Array BioPharma is experimenting with ARRY-981. This drug is currently in good laboratory practices (GLP) toxicology studies that target GPR119 for diabetes.
Risk
The most important risk for Array BioPharma is its debt, which amounts to $92.91 million. However, its investors must take into account that this company has seven Phase II drugs in development with collaborators and two Phase II drugs in own studies. These events favor a high probability of success in one of the previous studies. The approval of any study can mean more than $400 million in potential milestones for Array BioPharma.
The company has a total cash position on its balance sheet of just $89.18 million. Array BioPharma has a market cap of $414.36 million. Its trailing P/E is incalculable, and its forward P/E is just as incalculable as the majority of small-cap pharmaceutical companies.
Conclusion
Array BioPharma offers a very attractive risk/return for investors. The company has strong catalysts in 2013. I would also not rule out the company getting new partnership agreements during 2013.
Disclosure: I have no positions in any stocks mentioned, and no plans to initiate any positions within the next 72 hours. I wrote this article myself, and it expresses my own opinions. I am not receiving compensation for it (other than from Seeking Alpha). I have no business relationship with any company whose stock is mentioned in this article.