When I reviewed a wide swath of popular quick-service and casual dining chains, I came up with an amazing disparity in share price performance over the past 12 months. Their performance since last spring when the broad market peaked was especially company-specific rather than industry driven.
The chart below shows the share price movements (excluding dividends) from nine well-known companies from their first half 2012 high through their October 24th closing prices.
Dine Equity (NYSE:DIN) and Cracker Barrel (NASDAQ:CBRL) posted the best recent-months' returns despite -- or perhaps because -- they have highly levered balance sheets.
Unusually low interest rates helped large-scale borrowers considerably while hindering the ability of debt-free companies like Panera Bread (NASDAQ:PNRA), Cheesecake Factory (NASDAQ:CAKE), Buffalo Wild Wings (BWLD), BJ's (NASDAQ:BJRI) and Chipotle Mexican (NYSE:CMG) to earn decent returns on their corporate cash hoards.
The one-year charts are worth perusing to illustrate the wildly disparate movements of this group. CBRL had the most consistent chart pattern, perhaps due to its ongoing proxy battle with Biglari Holdings (NYSE:BH-OLD). BH has been a large buyer of shares over an extended period, which put a form of price support under CBRL.
Dine Equity, owner of Applebee's and IHOP, was all over the map before showing a modest gain since early March. DIN did well, as its EPS hit record levels, but it is extremely vulnerable to an economic slowdown due to its very high debt to equity ratio.
Panera Bread shares were so hot early this year that they have barely risen since despite the company turning in excellent corporate results. PNRA shares have failed to advance much over the past six months simply due to a too-high valuation back in March and April.
In a statistical quirk, Cheesecake Factory ended exactly flat with its earlier peak. It exhibited moderate volatility in both directions along the way. CAKE is now selling at what I would consider a fair value.
Brinker International (NYSE:EAT), the owner of the Chili's, Maggiano's, and On The Border brand names saw pretty hefty September gains morph into a 9% pullback from its springtime high. It fell about 10% yesterday after posting less than expected earnings.
See my earlier SA article on EAT by clicking here: Wall Street Research Can Drive You Crazy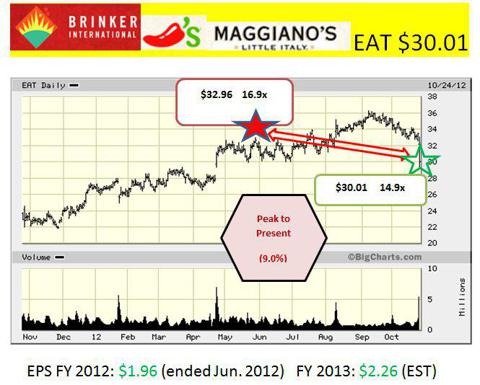 Long-term winner Buffalo Wild Wings surged to all-time highs in February and March before crashing back to earth on higher wholesale chicken prices, which threaten profit margins on its namesake menu item.
BWLD faced a tough job of moving up from almost 33x trailing earnings back in March. Multiple compression was the main culprit, along with the large increase in raw material (food) costs.
Food cost inflation also seems to be hurting Famous Dave's (NASDAQ:DAVE), as the shares declined by almost 28% from their April top. The company reported disappointing Q3 earnings ($0.11 vs. $0.19) after the close yesterday (10/24/12).
The stock is down another 5.68% to $8.25 today after investors got the bad quarterly news.
Regionally popular BJ's Restaurants is a long-term winner that's had a bad year. It was the second-worst performer since last spring with a 30.7% decline. The drop looks a bit worse than that from 2011's all-time high of $56.60, which was set 15 months ago.
BJRI was yet another example of a stock that was doomed to fail due to an excessive valuation. At the 2011 top, it traded for more than 51x that year's final EPS.
Chipotle Mexican Grill proves the old adage that no trend lasts forever in the stock market. After a tremendous run from late 2008 through April 2012, these shares have been a disaster for those late to the fiesta.
As of Wednesday afternoon's close, CMG had given back 44.1% from this year's print of $442.40 at a priced-for-perfection P/E of 50x.
Industry Headwinds
This industry faces big headwinds right now. Food costs are rising faster than menu price increases may bear without chasing customers away.
Persistently high unemployment makes these mid-priced venues vulnerable to family budget cuts when money is tight.
Additionally, the great unknown for this labor-intensive industry is the prospects regarding Obamacare (The Affordable Health Care Act).
The final effects, timing and costs are yet to be known, but it is almost certain to put pressure on profits if and when it is implemented.
Many firms that do not now provide health care benefits would be forced to offer approved insurance, or face penalties as high as $3,000 per employee.
A little-talked-about provision of the ACA also reclassifies part-time workers to full-time status using up to 12-month look-back periods. This would negate one of the biggest cost savings, using part-time workers, for restaurant owners.
I'd advise waiting to purchase any of these stocks without a major pullback. Share prices may not yet have fully discounted the coming bad news.
Disclosure: I have no positions in any stocks mentioned, and no plans to initiate any positions within the next 72 hours. I wrote this article myself, and it expresses my own opinions. I am not receiving compensation for it (other than from Seeking Alpha). I have no business relationship with any company whose stock is mentioned in this article.