I run various portfolios for a variety of clients - from those wanting short-term small cap swing-trades to a slow and steady utilities strategy that incorporates market-timing. This article is going to be focused on the Dogs of the Dividend Aristocrat portfolio which may appeal to investors wanting the following:
High liquidity
Blue chip status
Low turnover
Cash conservation
Market-timing
Dividend growth
Deep value
This is a strategy well-suited for the investors with large amounts of capital that need to stick to big names with lots of daily volume and good analyst coverage, but they also want some exposure to market-timing and value. Let me explain how this portfolio works.
Dogs of the Dividend Aristocrats Portfolio
Stats-junkies can read all the performance and risk ratios on the Dogs of the DA here. But back to the portfolio construction...
First, we use the S&P 500 Dividend Aristocrats universe. Why? One reason is that these companies are well-established blue chips with long track records. This means decent liquidity and analyst coverage. As well, these stocks have a minimum of 25 years of annual dividend increases - which classifies these as 'dividend growth stocks'. I like using dividend growth stocks as a starting point or universe for a couple of reasons:
Dividend growth investors. I don't know what percentage of these investors make up the total since the S&P 500 Dividend Aristocrats are highly visible and widely traded stocks, but it doesn't hurt to have this type of investor on board either. Dividend growth investors often buy heavy in bear markets with good reason as listed in point 2. This can give share price support in falling markets.
Growing dividends. While many investors are focused on falling capital prices, you can more readily focus on dividends when the company is committed to a policy of raising dividends annually. If yields are at 6 - 7% in a bear market, you are liable to increase your position instead of selling out. If you own a stock with fluctuating dividends, you might not risk buying more since there is a higher chance of shrinking dividends or a complete suspension.
This chart is taken off the S&P website and compares the total return of the Dividend Aristocrats vs. the S&P 500 (NYSEARCA:SPY) vs. the High Yield Dividend Aristocrats (NYSEARCA:SDY) which requires 20 years of increase and is based on the S&P Composite 1500: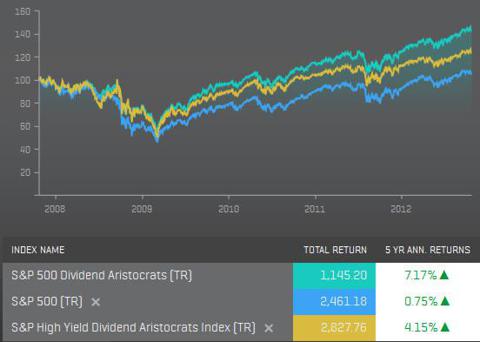 Building Strategy
These indices provide a decent investable universe of stocks, but I am usually left wanting as regards any strategy contained therein. But with a couple simple strategic additions we can enhance returns and lower downside greatly. Here are the two simple rules to add:
Only buy from the highest half of dividend yields. This fits in well with the Tweedy Browne paper, The High-Dividend Yield Return Advantage. Keep that list of 25 stocks.
Re-examine the 50 holdings and take the top half of stocks that have the biggest yields compared to their own 5-year average (divide current yield by 5-year average yield). This could be when a stock has a 5 year average yield of 5% but it is now at 7%. If yields are higher than average, this might suggest under-valuation (but it makes no judgment as to whether this is a 'risk premium' or simply a better buy).
Simply buy any stock that makes both lists and re-balance every 3 months.
Next we test out the theory of higher dividends and bigger than average yield. Stacked side by side is the 50 stocks currently in the Dividend Aristocrat index over the last 10 years (equal weight strategy) and we compare this with a 3-month rebalance strategy using only the two above rules.

If this was where the strategy ended, you'd probably do better than the Dividend Aristocrat index going forward. The portfolio holds an average of 14 stocks and you typically need to replace 3 to 4 stocks quarterly. This is a fairly simple strategy that you can do on your own using free data found on Yahoo. The current list of stocks based on these two rules are:
| | | | |
| --- | --- | --- | --- |
| Ticker | Name | Industry | Yield |
| (NYSE:AFL) | AFLAC Inc | Insurance | 2.83 |
| (NYSE:APD) | Air Products and Chemicals Inc. | Chemicals | 3.32 |
| (NYSE:CLX) | Clorox Co (The) | Household Products | 3.52 |
| (NYSE:EMR) | Emerson Electric Co. | Electrical Equipment | 3.38 |
| (NYSE:JNJ) | Johnson & Johnson | Pharmaceuticals | 3.45 |
| (NYSE:MCD) | McDonald's Corp | Hotels, Restaurants & Leisure | 3.53 |
| (NYSE:MMM) | 3M Co | Industrial Conglomerates | 2.67 |
| (NYSE:NUE) | Nucor Corp | Metals & Mining | 3.61 |
| (NYSE:PBI) | Pitney Bowes Inc. | Commercial Services & Supplies | 10.67 |
| (NYSE:PEP) | PepsiCo Inc | Beverages | 3.14 |
| (NYSE:PG) | Procter & Gamble Co (The) | Household Products | 3.3 |
| (NYSE:SWK) | Stanley Black & Decker Inc | Machinery | 2.84 |
| (NYSE:SYY) | Sysco Corp | Food & Staples Retailing | 3.55 |
| (WAG) | Walgreen Co | Food & Staples Retailing | 3.1 |
The trailing 10-year compound annual growth rate (including dividends) with this strategy is 16%.
Advanced Strategy
This next step often requires assistance from software since it involves many more calculations and it lowers your typical portfolio size to around 7 or 8 stocks instead of 14. First, you want to have some sort of market-timing. This is not to say you go to cash based on these signals…instead it dictates which holdings are more suitable for a bull and bear market.
In bull markets you give a slight advantage to growth, analyst recommendation and value.
In bear markets you give a slight edge to companies with fundamental strength, low debt, higher liquidity, price stability and earnings forecasts with a tight range and few revisions.
The bull/bear sentiment is determined by analyzing the S&P 500 earnings forecast. When the forecast earnings are revised downward and it becomes a trend we switch gears and look for stability instead of growth.
We also throw in a minimum ranking threshold so that if the market turns really ugly and stocks are struggling to meet basic volatility and earnings revision requirements, we start to liquidate stocks. One last item (and this is important), we do not have a set re-balance date. If a stock violates the portfolio rules it can be cut at any time. We do not wait for months to pass if something like a dividend cut should take place. This portfolio will hold varying degrees of cash while the simple version with 3 month re-balance points is always 100% invested.
The blue line is the dynamic Dogs of the Dividend Aristocrats strategy, the green line is the simplified strategy mentioned above, and the red line is all 50 Dividend Aristocrats equal-weighted.
Disclosure: I have no positions in any stocks mentioned, and no plans to initiate any positions within the next 72 hours. I wrote this article myself, and it expresses my own opinions. I am not receiving compensation for it (other than from Seeking Alpha). I have no business relationship with any company whose stock is mentioned in this article.