Facebook (FB - my FB Charts and Graphs) gained 19% yesterday (Wednesday, October 24, 2012) after an earnings release on Tuesday Oct. 23 highlighted by good earnings growth from mobile. In fact, Facebook said in the third quarter it generated 14% of its $1,262 billion in revenue from mobile. Facebook's founder and CEO Mark Zuckerberg said,
"As proud as I am that a billion people use Facebook each month, I'm also really happy that over 600 million people now share and connect on Facebook every month using mobile devices. People who use our mobile products are more engaged, and we believe we can increase engagement even further as we continue to introduce new products and improve our platform. At the same time, we are deeply integrating monetization into our product teams in order to build a stronger, more valuable company."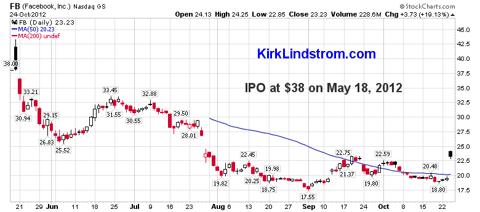 Is Facebook a Good Value Now?
In my June 1, 2012, article "Facebook's Valuation Vs. Proven Internet Companies," I used PE and PEG to show why I liked and owned GOOG at $581 rather than FB at $27.25.
FB didn't make money in the last quarter so I will use price-to-sales to evaluate the stock again now that it is down about half from its peak.
Analysts who were short have covered and some are buyers
Yesterday on CNBC Maria Bartiromo interviewed Dan Niles, a technology analyst I respect. (Niles is currently a "Sr. Portfolio Manager" at Alpha Capital Partners.) Niles said Facebook has changed from a "dud to a stud." I remember Niles warned of Facebook before the IPO and said he was short the stock after the IPO at $38.
Niles said he didn't like Facebook at the IPO in large part because they didn't have a mobile ad strategy. Now he says this has changed in a big way because they have large growth in their mobile advertising and the fundamentals overall have turned positive. Niles said:
"We bought it yesterday."
"It came public at $38. Obviously, it was just completely mispriced for the fundamentals at the time."
Niles thinks FB can get back to its IPO level in the next year or two.
Niles gave his targets for Facebook mobile advertisements:
In the March quarter (Q1-2012) they had $1M in mobile ads
This quarter $150 million on mobile ads
Next quarter looking for $300 million
Next year, Niles thinks they can do close to $1.7B to $2.

0B
Niles says the risks are "mis-execution" where they turn off users leading them to go elsewhere or stop using Facebook all together. Niles says the good news is there isn't much competition right now for users to go to. I disagree because Yahoo (YHOO), Microsoft (NASDAQ:MSFT) and Google+ (NASDAQ:GOOG) have active user communities but they are not nearly as good as Facebook for finding and interacting with old and new friends. I think they all have potential for with mobile and tablets.
Niles says other favorite names in the technology space that will benefit from tablets and other mobile devices are:
eBay

(NASDAQ:EBAY): "My favorite. You can now buy whatever you want sitting at the airport or on your lunch break."
Lions Gate Entertainment (LGF): "You can watch content on your smartphone or tablet."
Niles said they were short Google but didn't say if he went long Google like he did with Facebook.
This excitement by Niles for Facebook's mobile results seems echoed by many articles on Seeking Alpha since Tuesday's earnings release.
Who is to say Dan Niles isn't using the news now to pump the stock up after buying to sell for a nice gain and then go short again when shares come off lock-up? At $23.25 FB has a market cap of roughly $50B with a price to sales of 9.6 if you multiply the recent revenue of $1.3B (SEC 10Q) by four.
With $1.7B in incremental sales from mobile added to $1.3B in Q3 sales, you get total POTENTIAL sales in a year of roughly $3.0B.
Multiply again by four for $12B and you get a price to sales of 4.2. If Niles is correct that FB will return to $38, a gain of 65% from today's close of $23, then the market cap would be about $83B with a price to sales ratio of 6.9. That is very high compared to proven companies with good current earnings.
Let's again look at FB vs. the competition (data from Yahoo Finance as of Oct. 24, 2012 3:15PM PST):
Company

Price $

Market Cap

FWD
PE

PEG

Price to Sales Ratio

Facebook

23.23

$49.8B

37.47

1.50

9.65

Amazon (NASDAQ:AMZN)

228.49

$103B

99.3

9.23

1.95

EBAY

48.88

$62.3B

17.8

1.51

4.74

Google ,

677.30

$222B

14.6

1.25

4.69

Yahoo!

16.55

$19.61B

14.3

1.37

3.97

Microsoft

27.90

$235B

8.61

1.09

3.26

Lions Gate

15.98

$2.13B

12.3

1.24

1.20
From the above list, MSFT has the lowest PE and PEG, hence the best valuation based on simple metrics I start with. Thus, I still like and own MSFT even though it is above where I told my subscribers to take profits, just in case. Google at $677.30 is up 17% since my article recommending GOOG at $581 rather than FB at $27.25 and I still hold all my shares and may add if this pullback goes lower.
The above analysis does not even consider the tremendous selling pressure that could occur as shares come off the IPO lock-up. The Facebook Stock Share Lock-up Expiration Timetable calculates:
Only

31% of the 2.44 billion FB shares available in the first year have hit the market so far.
Next month over 1.4 BILLION more shares will be available for sale.
My guess is Dan Niles is playing a bounce in stock price and will be out before the date showing 54.9% of the shares hit the market. If he wanted to buy more shares for his hedge fund right after it jumped 20%, then why would he tell a large audience it was a good value?
Personally, I would not touch the stock with Dan's ten foot pole until after 95% of the shares are released for sale.
Disclosure: I am long GOOG, MSFT. I wrote this article myself, and it expresses my own opinions. I am not receiving compensation for it (other than from Seeking Alpha). I have no business relationship with any company whose stock is mentioned in this article.