A family member recently had her right hip replaced with a Strkyer Corp. (NYSE:SYK) ball-n-socket device. This device comes in two pieces. The first piece is a cup that is press fit into the hip bone. The second piece is a ball on the end of a wedge that is inserted into the drilled femur bone. The ball is pressed into the socket and the patient is sewn up and starts down the road of physical therapy.
Here are pictures of typical ball-n-socket devices: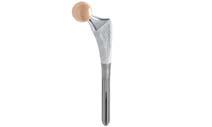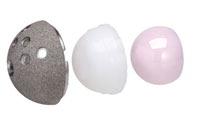 My regular readers know I usually stick to oil stocks and energy related issues. That said, some of the advances in medical technology fascinate me. The technology behind a total hip replacement - in terms of the medical devices themselves, the surgical procedure, recovery treatments and physical therapy are all very impressive. I decided to take a look at Stryker. And SYK is more than a hip company. They also manufacture reconstructive knee and spine devices.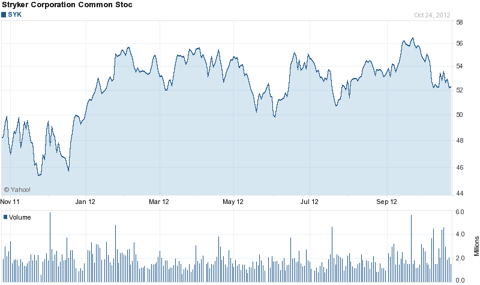 SYK = $52.28
Mkt Cap = $19.88 billion
P/E = 14.4
EPS = $3.72
Div Yield = 1.6%
Stryker operates in three business segments: reconstructive, medical surgery, and neurotechnology and spine. The company has made several recent acquisitions including Orthovita, Inc (June 2011), Memometal Technologies (July 2011), Concentric Medical (Oct 2011). In January 2011, the company acquired assets of the Neurovascular division of Boston Scientific Corp.
Hip replacement surgery typically requires a 3-day hospital stay following by a stint in skilled nursing (a week to 20 days) and then months of physical therapy. To my surprise, hip-replacement procedures are routinely performed on patients in their 80's and 90's. My family member is 87 and she was up and walking (with a walker) the day after the surgery. It is now one month since the surgery and she is walking well without even a cane. Best yet - she has none of the severe pain she had prior to the operation. I had no idea how prevalent these procedures were until I began discussing this operation with other residents of her retirement community. It seemed almost everyone there had either a hip and/or a knee replacement. Most of these procedures were done by the same surgeon - and he uses only Stryker devices.
Demographics are certainly in Stryker's favor. As the baby boomers age, and as life expectancy rates continue to rise, tens of millions of possible Stryker clients will be approaching the age when hip, knee, and spinal procedures will be considered.
Stryker Corp. recently announced Q3 earnings. While sales were essentially flat, earnings were $0.97/share - up 6.6%. Net earnings were $353 million. The company is predicting 2012 adjusted and diluted earnings to be in the range of $4.04 to $4.07, and increase of 9% year-over-year. Gross profit margins in Q3 were 68.1%. Operating income margin was 21.9%.
One concern might be the new health care regulations coming into affect. Apparently, there will be a new tax placed on the profits of medical devices such as the ball-n-socket. As it was explained to me, manufacturers of high cost, low margin products will be hit hardest. A ball-n-socket device is in the neighborhood of $5,000. At a reported gross profit margin of 68.1% for Q3, it would appear as though SYK has healthy margins (and net profit) on this device.
Another concern are past problems with the medical devices including a recall of some metal-on-metal hip replacement components due to suspicion they caused significant medical problems. There have also been some lawsuits. I sympathize with anyone who may have been affected by any of these issues. That said, the outcome of these problems has been an evolutionary progression of both the medical devices as well as the performance and techniques of the surgery itself. Today, these procedures are apparently considered routine and safe to perform on patients in decent health.
Stryker doesn't appear to be a particular value at this point. I'd rate it a "hold". Its price, P/E, and dividend yield seem to be inline with the market and the company's sales and earnings growth rate. That said, should SYK's stock price fall during any market correction, it should be on a "potential buy list" for those investors looking to diversify into the medical device and health care sector.
Disclosure: I have no positions in any stocks mentioned, and no plans to initiate any positions within the next 72 hours. I wrote this article myself, and it expresses my own opinions. I am not receiving compensation for it (other than from Seeking Alpha). I have no business relationship with any company whose stock is mentioned in this article.