Altria Group (NYSE:MO) stock has pulled back nicely from its peak in July, and the stock is attempting to put in a bottom. Historically, all strong pullbacks have proven to be good long term buying opportunities. The company sports a healthy quarterly revenue growth rate of 14% and strong profit margins of almost 26%. It is a true dividend champion having consecutively raised its dividend for over 40 years. While many might focus on the fact that profits in the 3rd quarter dropped by 44%, attention should be paid to the fact that the company repurchased $2 billion in debt. This plan to buy back this debt resulted in a charge of $874 million in the third quarter. This is a good long-term strategy in our opinion as it lowers its future interest expenses. The company increased the dividend by 7.3% and purchased over $260 million in stock in the 3rd quarter. Management also expanded the current share repurchase program by $1 billion to $1.5 billion. EPS grew by 3.6% in the 3rd quarter and by 7.8% for the first nine months of the year.
In addition, the factors listed above, the company makes for a good long-term investment as it has a 3-5 year EPS projected EPS growth of 6.4%, a good interest coverage ratio of 4.5, it continues to raise its dividend at a healthy rate, and the top-selling Marlboro brand increased its market share in the quarter by one percent to 42.7%. The current conditions make the stock a good candidate for selling puts on. One of the best times to sell puts is when a stock is trading in the oversold ranges and your overall long-term outlook on the stock is bullish.
Before we get into the strategy, we are quickly going to outline some of the benefits associated with selling puts for the novice investor.
Benefits associated with selling puts
1. In essence, you get paid for entering a "limit order" for a stock or stocks you would not mind owning.
2. It allows one to generate income in a neutral or rising market.
3. When you sell a naked put you are in a way acting like an insurance agent. The seller of the option agrees to buy the stock in the future if it drops to a certain level before the option expires. For this, you (the seller) are paid a premium upfront. If this strategy is repeated over and over again these premiums can really help boost your returns over time.
4. Acquiring stocks via short puts is a widely used strategy by many retail traders and is considered to be one of the most conservative option strategies. This strategy is very similar to the covered call strategy.
5. The safest option is to make sure the put is "cash secured." This simply means that you have enough cash in the account to purchase that specific stock if it trades below the strike price. Your final price would be a bit lower when you add the premium you were paid up front into the equation.
6. Time is on your side. Every day, you profit via time decay as long as the stock price does not drop significantly. In the event it does drop below the strike you get to buy a stock you like at the price you wanted. Time decay is the greatest in the front month.
Technical outlook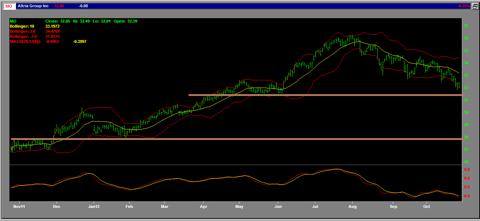 The stock has shed roughly 11% from its highs back July. Historically pull backs in excess of 10% have proven to be good long term buying opportunities. The stock has a pretty strong support in the $31.00$- $32.00 ranges. A weekly close below $31.00 could take the stock down to the $28 ranges where it has an incredible amount of support. If it happens to pull back to these levels, it would make for a very good long term entry point. Consider dividing your money into two portions. Use one portion now and commit the other portion if the stock happens to trade down to the $28.00 ranges. If the stock drops down to the $28.00-$29.00 ranges, you can sell some more puts that are either in the money or slightly out of the money, depending on how badly you want to get into the stock.
An ideal pattern would be for the stock to rally from the current levels and then pull back and retest these levels and in doing so put in a double bottom formation. Double bottom formations are usually bullish in nature and the stock usually tends to rally after such a formation is in place. A recent example is Energy Transfer Partners (NYSE:ETP). It completed a double bottom formation on the 4th of October and rallied from $41 to almost $45 before pulling back.
The competition
Altria Group is going to be compared to its peers using several key metrics such as P/E, quarterly revenue growth, operating margins, PEG, etc. With this data investors can get a better view of the company and its competition. If you find one of its competitors to be a better play, you could implement a similar strategy.
| | | | | | |
| --- | --- | --- | --- | --- | --- |
| | MO | (NYSE:PM) | (NYSE:LO) | (NYSE:RAI) | Industry |
| Quarterly revenue growth | 0.14 | -0.05 | 0.04 | -0.04 | 0.06 |
| Revenue | 17.25B | 31.6B | 4.50B | 8.31B | 8.39B |
| Gross Margin | 0.55 | 0.67 | 0.52 | 0.48 | 0.52 |
| EBITDA | 7.53B | 14.58B | 2.04B | 2.95B | 2.90B |
| Operating Margin | 0.42 | 0.44 | 0.45 | 0.34 | 0.38 |
| Net Income | 4.41B | 8.5B | 1.08B | 1.44B | N/A |
| EPS | 2.16 | 5.00 | 8.13 | 2.50 | 2.43 |
| P/E | 14.80 | 17.55 | 14.02 | 16.42 | 17.25 |
| PEG (5 yr expected): | 2.26 | 1.67 | 1.45 | 2.31 | 1.50 |
| P/S | 3.78 | 4.74 | 3.24 | 2.78 | 3.80 |
M= Million B= Billion
Charts and tables of Interest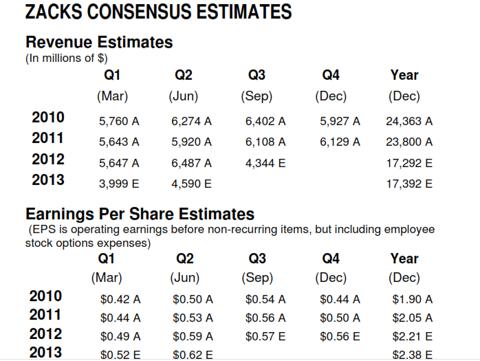 Zacks' projections show that EPS will continue to maintain its upward trend for the next 4 years. 2012 EPS is projected to come in at $2.21 and rise to $2.38 for 202, which would represent an increase of 7.9%.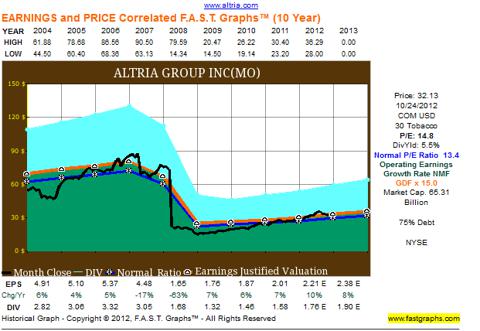 The blue shaded area represents the dividends. The orange line represents the valuation growth rate line. Generally, when the stock is trading below this line and in the shaded green area, it represents a good long term entry point. Based on this relationship, the stock is currently roughly at fair value. The strategy we are going to cover today could provide you with the opportunity of getting into this stock at a price that would correspond to an entry that is below the valuation growth line. Fastgraphs has an estimated earnings growth rate of 8.00 % for Southern Company.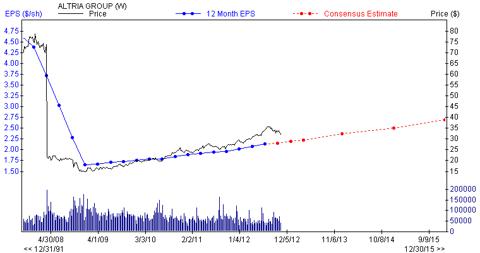 After plunging in 2008, the stock is in a nice uptrend and trading above the consensus EPS line. In general, stocks tend to perform better when they are trading above this line.
Suggested Put Strategy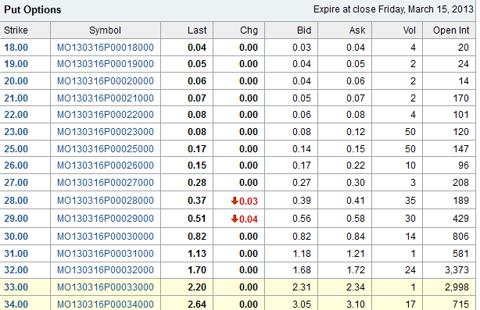 We would wait for the stock to trade down to the $31.00-$31.50 ranges before selling any puts. The March 2013, 31 puts are trading in the $1.13-$1.18 ranges. If the stock pulls back to the stated ranges the puts should trade roughly in the $1.50-$1.65 ranges. We will assume that the puts can be sold at $1.55 or better. Note the trigger point for the trade is the suggested pull back targets of $31.50-$32.00. At that point, the options could trade slightly higher or lower than the suggested entry price. For each contract sold, $155 will be deposited into your account.
Transaction Details
After the sale of the put $155 will be deposited into your account.
Your maximum risk is $2945 (

monetary

requirement of $3100 minus the credit of $155)
Your maximum profit is $155 per contract for a possible return of 5.3%.
Your breakeven point is $29.45.
If the stock is assigned to your account, your cost per share will be $29.45.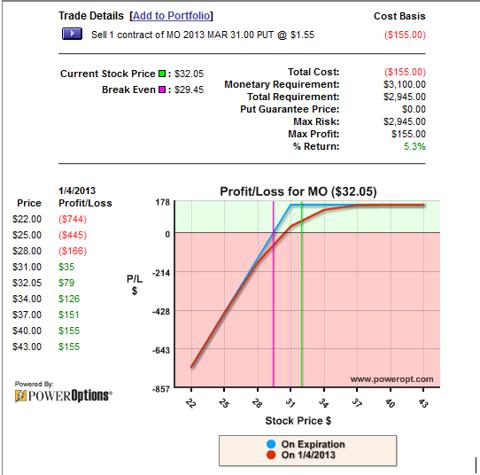 Risks associated with this strategy
If you are bullish on the long-term prospects of the stock and would not mind owning the shares at a lower price, then your risk is the same as buying the shares outright. If, on the other hand, you are just speculating, then the risks are higher. The shares could be put to your account and if the stock is trading well below the strike price, you could suffer a significant loss.
If you have a change of heart, and you feel that the stock is going to trade lower, you can always roll the put. Buy the put you sold back and sell new out of the money puts.

Conclusion
The long-term outlook for this company is still good and it is one of the few stocks out there that has consecutively raised its dividends for over 40 years. It is currently paying out a very nice dividend of 5.4% and appears to be on top of its game as it increased its market share by a full percentage point in the 3rd quarter. Volume of cigarettes shipped in the third quarter also rose by 1 percent to 2.89 billion cigarettes.
Historically strong pullbacks have provided investors with good long term entry points. The suggested strategy provides you with the chance to get into this stock at a great price. If the stock is not assigned to your account you at least get paid for your efforts. In this case, you walk away with a gain of 5.3% in roughly five months.
Options tables and competitors data sourced from yahoofinance.com. Option profit loss tables sourced from poweropt.com. EPS charts and consensus EPS estimates sourced from zacks.com.
Disclaimer
It is imperative that you do your due diligence and then determine if the above strategy meets with your risk tolerance levels. The Latin maxim caveat emptor applies-let the buyer beware.
Disclosure: I have no positions in any stocks mentioned, and no plans to initiate any positions within the next 72 hours.
Business relationship disclosure: This article was prepared for Tactical Investor by one of our analysts. We have not received any compensation for expressing the recommendations in this article. We have no business relationships with any of the companies mentioned in this article.