On July 16, Yahoo (YHOO) announced the hiring of Marissa Mayer as CEO to replace Scott Thompson. We were disappointed that Thompson had left the company because Dan Loeb of Third Point was tired of Thompson misrepresenting his educational background. Third Point had entered into its Yahoo position in Q2 2009 and, considering how Yahoo has been a dreadfully dead-money underperformer in that time period, we can see why every misstep on the part of Yahoo makes Dan Loeb cranky.
We think that Yahoo's founder Jerry Yang was a real yahoo for rejecting Microsoft's (NASDAQ:MSFT) willingness to acquire Yahoo for $33/share in early 2008. We think Yahoo's shareholders were blindsided at Jerry Yang and the Yahoo board's stubbornness in insisting on $37/share. We think that Dan Loeb and the rest of Yahoo's stakeholders are hoping that Marissa Mayer can turn Yahoo around.
Click to enlarge images.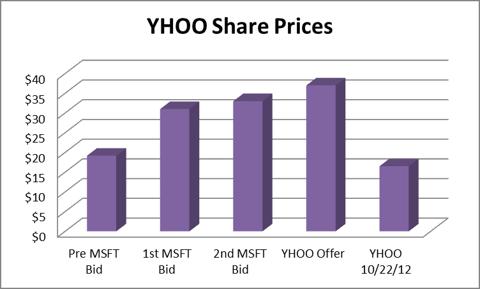 Source: Morningstar Direct.
We remember Mayer as a long-time engineer and executive with Google (NASDAQ:GOOG), who most recently served as vice president in charge of local and location services. Mayer has earned a significant level of respect from the business and technology community for her tenure at Google, and there are high expectations for her. However, she'll have to be more than pretty fair if she hopes to turn Yahoo into anything resembling a healthy technology company, since it has been meandering in a morass of mediocrity for the last five, going on six, years. Google had its IPO in 2004 and it's safe to say that it has significantly outperformed Yahoo during that time, even though it has seen its P/E compress over the last five years and it spent $12.5 billion to acquire the mobile phone has-been known as Motorola Mobility.
Source: Morningstar Direct.
Recently, Yahoo reported mixed results for its Q3 2012 period. The company reported flat revenue and operating income results relative to the Q3 2011 period. Search revenue grew by 1.4% on a reported basis and 11%, excluding traffic acquisition costs. By analyzing and evaluating Microsoft's recent results, we can see why Yahoo's search revenue is so weak as Yahoo's market share in the web search business has declined from 11.8% in Q3 2011 to 9% in Q2 2012. 120bp of that market share erosion has been captured by Microsoft's Bing search engine, and 160bp of that market share erosion has been picked up by Google. Yahoo also reported slight declines in its YTD 2012 revenues and adjusted operating income relative to YTD 2011 levels.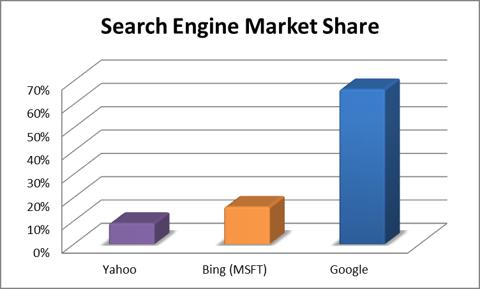 Source: Our October report on Microsoft.
We can see that Yahoo has a solid balance sheet position, with $12.8 billion in gross cash and investments offset by $127 million in outstanding capital lease indebtedness and a current tax liability of $1.8 billion for a net liquidity position of $10.9 billion. The company has spent $600 million on net share repurchases during the first nine months of 2012, and it is committing to return an additional $3 billion of its cash to shareholders. The company did not disclose whether it would be through dividends or share repurchases. The company has about $9/share in net liquidity, and this is over 56% of Yahoo's market capitalization.

Source: Yahoo's Q3 2012 report.

In addition to Third Point LLC, other notable boutique institutions with a significant position in Yahoo include Cramer Rosenthal McGlynn, LLC, Fir Tree Inc., Sound Shore Management, and Diamond Capital Management. CRM is a $12 billion New York City value shop that entered into an 8.55 million share position in Yahoo during the Q2 2012 period. Fir Tree has a 14.3 million share position as of Q2 2012, which represented 6.5% of its firm-wide assets. Sound Shore has just under 10 million shares as of Q2 2012, representing 3.18% of its assets. Diamond Capital Management has 8.77 million shares, representing 5.55% of its assets as of Q2 2012.
In conclusion, we see potential for Yahoo. We were pleased to see Yahoo sell part of its Alibaba stake and to harvest $5.8 billion in after-tax proceeds from the sales of its shares, as well as commit to returning $3 billion in capital to its long suffering shareholders. While a new executive team is not necessarily able to influence the results of a company in their first quarter, we can see that Marissa Mayer and her team has a long road ahead if they want to bring Yahoo back to the top tier of the technology industry. We think that investors had a bout of irrational exuberance with regard to Yahoo's recent results. While the company's adjusted EPS may have exceeded expectations, we have taken note of the fact that the company's revenue and adjusted operating income were flat vs. the prior year's period. However, we see a position change in tone out of Yahoo relative to the Carol Bartz era.
Disclosure: I have no positions in any stocks mentioned, and no plans to initiate any positions within the next 72 hours. I wrote this article myself, and it expresses my own opinions. I am not receiving compensation for it (other than from Seeking Alpha). I have no business relationship with any company whose stock is mentioned in this article.
Additional disclosure: This article was written by an analyst at Saibus Research. Saibus Research has not received compensation directly or indirectly for expressing the recommendation in this article. We have no business relationship with any company whose stock is mentioned in this article. Under no circumstances must this report be considered an offer to buy, sell, subscribe for or trade securities or other instruments.