For the past several years I have spent my time accumulating a portfolio of North American unconventional oil producers. I have intentionally avoided natural gas producers because of the regional nature of the commodity which I believe puts an undesirably low cap on prices and likely will for an extended period.
Recently though I have become intrigued by the massive need for natural gas resources that the proposed West Coast LNG terminals will create.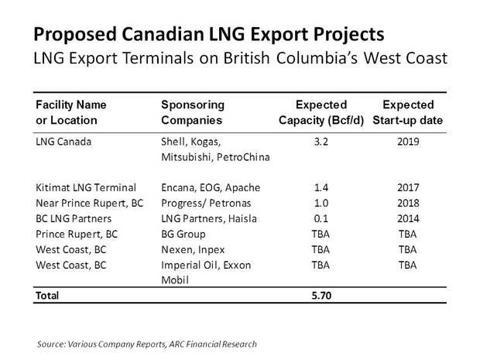 By the end of this decade, if these LNG facilities are up and running, it will create 5.6 billion cubic feet per day of additional demand for natural gas. Today, Western Canada only produces 14.3 bcf/d of natural gas, so we need a very significant increase in production (another 5.6 billion cubic feet per day) in order to supply the expected level of demand.
These LNG facilities (if they are built) are going to radically change the natural gas market in Western Canada and are going to require a huge amount of natural gas resource.
The Montney shale play is clearly source number one and has attracted considerable attention recently as LNG facility participant Petronas has tried to purchase Montney focused Progress Energy (OTC:PRQNF).
The Horn River shale play which is more remote and to the north of the Montney is the next best bet for providing feedstock to the LNG terminals.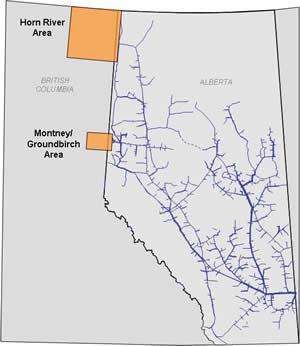 Horn River will also be a key source of feedstock for the LNG terminals, but since it lacks the infrastructure that surrounds the Montney it is clearly a second choice.
What you may not know is that there may also be a very significant third play that will be key to the LNG export game.
That play is the Liard Basin which Apache unveiled in June of this year calling it the most prolific natural gas reservoir on the continent.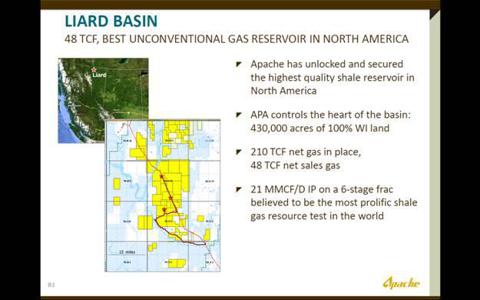 Apache (NYSE:APA) believes that it has 48 trillion cubic feet of natural gas that can be produced from its 430,000 acres of Liard Basin property. According to Apache's investor day presentation its test well drilled into the Liard which IP'd at 21 MMCF/D is believed to be the most prolific shale gas resource test in the world.
While the Liard basin is off the radar for investors which might present opportunity, Apache certainly isn't . One low profile company where Liard natural gas resource may be hidden is EFL Overseas Inc. (OTC:EFLOE).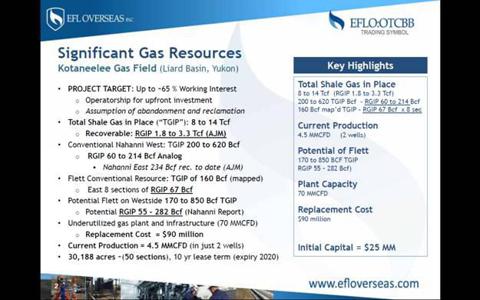 EFL is a very small company that is sitting on 8 to 14 trillion cubic feet of shale gas in the ground, 1.8 to 3.3 trillion cubic feet of which may be recoverable according to its third party reserve engineers.
There have been quite a few acquisitions made in the Montney shale play over the past few years. These generally seem to occur at about $0.20 per thousand cubic feet (MCF) of resource potential.
At the very low end of the estimates of recoverable gas for EFL that would add up to $0.20 x 1.8 trillion = $360,000,000 which today is many multiples of EFL's enterprise value.
These numbers are very rough obviously, and this play is still very speculative at this point but might warrant further investigation given the size of the prize relative to the size of the company.
Disclosure: I have no positions in any stocks mentioned, and no plans to initiate any positions within the next 72 hours.
Business relationship disclosure: I have a business relationship with EFL