The olympics are over China, you can start polluting again. It's time to kick up the manufacturing dragon again and start importing some copper. Copper prices have been diving since their peak of $4.00/lb from July, to just above $3.10/lb today.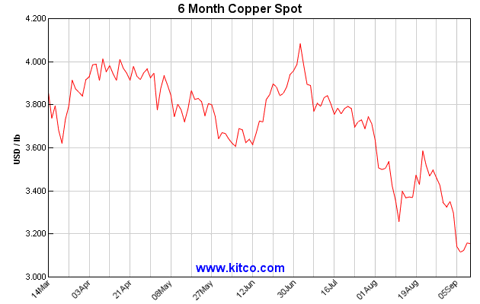 This hasn't been kind to shares of Southern Copper (PCU) which has seen their shares weaken over the same time period. What you'll often hear is that investors are dropping commodities, and any shares tied to them (FCX, PCU, RIO, etc.) in favor of the strengthening US Dollar. While this is partly true, in the case of copper there are also basic supply and demand fundamentals which have caused the price of copper to drop.
The latest ICSG report sheds a little light on the build up in seasonally adjusted copper reserves.
World refined copper production has accelerated at a faster rate than consumption over the first 5 months of this year compared to the same period a year ago. This has resulted in a seasonally adjusted surplus of 31,000 tonnes compared to -79,000 tones the same period a year ago.
Copper miners obviously chased the higher prices with higher production, but what has caused copper demand to slow down? Maybe a global economic flu? Maybe China just taking a break to watch their olympic hopeful Liu Xiang fall from grace? Maybe both? Whatever the case may be, I'll be keeping a closer eye on the trend to see if I am going to be adding to my Southern Copper position.
From the company's last quarterly report, they were still exhibiting some labor problems, but have also made continuous investments in their Tia Maria mining project and evaluating a power purchase agreement to build and operate a coal-fired power generation plant in Mexico for long term integration/cost efficiencies.
China's GDP for the first 2 quarters of 2008 is running at 10.4% growth compared the same period last year [1]. If they start picking up the pace, we can expect to see copper prices rise. The main challenge will be estimating how dramatic the global slowdown will be. Potential investors should also pay attention to the company's favorable dividend yield at these levels balanced against these risks.
Disclosure: Long PCU
References: