Dick's Sporting Goods (NYSE:DKS) stock is trading around $50.75 versus its 52-week range of $34.42, up 33% in the past 1-year. The stock trades with a P/E multiple of 20 times, and a forward multiple of 18 times. The company trades cheap in comparison to the industry average P/E multiple of 30 times. The company's peer, Lululemon (NASDAQ:LULU) trades at a P/E multiple of 38 times, and a forward P/E of 31 times. Under Armour (NYSE:UA), trades at a P/E multiple of 47 times, and a forward P/E of 36 times, and Hibbett Sports (NASDAQ:HIBB), trades at a P/E multiple of 22 times with a forward multiple of 18 times.
Fundamentals that make Dicks Sporting an attractive investment
The company has liquidity in the form of a cash balance of $350 million as of July 28th, 2012. Also, the company has a $500 million credit facility, which matures December 2016. As of July 28th, 2012, there were no outstanding borrowings under the credit facility.
Dick's Sporting has no public debt outstanding.
The company has continued to return cash to investors via its share buyback program. The Company completed its previously announced one-year $200 million share repurchase program on May 14, 2012, repurchasing approximately 1.9 million shares of its common stock for $94.9 million.
Dick's introduced a new assortment planning system last year. With most retailers, the benefit of such a system follows through in a 1 to 2 year time frame. Hence, an expansion in sales, and margins should be seen in 2013 and beyond. Operating margins should improve beyond the historical 7-8% experienced in the last 2 years.
The company has shown strong sales growth, increasing 10% in 2010, 7% in 2011, and 12% year-to-date.
EBITDA margins have shown a steady growth, up 9% in 2010, 10.4% in 2011, and 11.5% in Q2-2012. EBITDA margins in 2012 are expected to be in the range of 11-12%.
We conclude by saying that Dick's Sporting Goods looks attractive in terms of valuation, and fundamentals. The fundamentals present a conservative way to play the sporting goods space.
Click play to view the return of these companies since 2011. Kapitall's Compar-o-matic tool displays a maximum of 9 companies: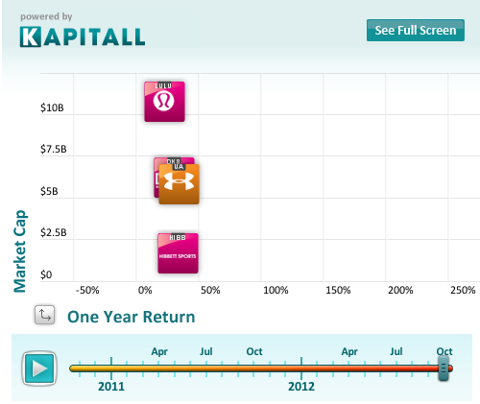 Written by Kapitall's Sabina Bhatia. Tool provided by Kapitall.
Disclosure: I have no positions in any stocks mentioned, and no plans to initiate any positions within the next 72 hours.
Business relationship disclosure: Business relationship disclosure: Kapitall is a team of analysts. This article was written by Sabina Bhatia, one of our writers. We did not receive compensation for this article (other than from Seeking Alpha), and we have no business relationship with any company whose stock is mentioned in this article.