Stocks To Trade
Today, we are looking at an earnings trade in Deere (NYSE:DE), longs in SPDR Gold (NYSEARCA:GLD) and ARM Holdings (ARM), and shorts in Morgan Stanley (NYSE:MS) and Hewlett-Packard (NYSE:HPQ).
For an earnings trade, we like the looks of Deere. The company has some definite potential moving forward into earnings, and it has shown recent relative strength in the market. Why do we like Deere? The company is expected to produce about 10% growth in earnings and revenue YOY, and it has shown some very nice strength while the market has been weak. What we see in DE is that it is benefiting from a general strength in the agriculture market in that higher prices mean more crop production. More crop production tends to mean more machines being used and bought, and that's where Deere comes in. The stock looks very good to hold the 80 level, as the 50-day and 200-day MA are sitting at that area, and we can make good money selling premiums below that level.
Trade: DE, Nov17, 80/77.50 Bull Put Spread
Max Gain: 11%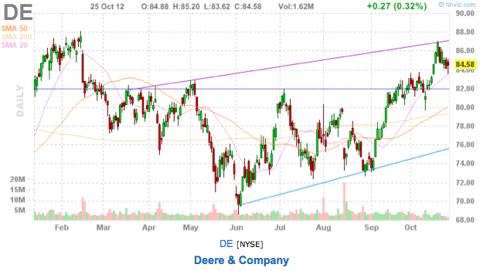 For longs, we like the looks of SPDR Gold Trust and ARM Holdings (NASDAQ:ARMH). Gold has been dogged as of late, but historically, it is very strong in November. The commodity has been suffering as the market has sputtered, but after a recent strong dip, the time to buy may now be approaching. Gold acted very well as a safe haven play before it became a currency play. That type of move to safety may start to become attractive again if the market continues to sputter, and gold showed a lot of strength, holding steady over the past two days. GLD is a great ETF to play gold, and we believe the historic strength, coupled with the safe haven move, means GLD would be a great buy on a break of the 50-day MA to the upside.
Further, we like ARM Holdings. Why? ARMH is one of the handful of companies to kill earnings. The stock really made quite a move post-earnings, and we believe it is looking very solid at this point. The company popped from 28-32 in two trading sessions. What we want to do is wait for ARMH to form a bull flag, where the stock moves back to the 10-day MA after a large gap up. That is usually a nice place for buying to begin again. If that happens, we like the 30/28 bull put spread.
Equity Trade: GLD, Long
Breakout Point: 50-day MA
Options Trade: ARMH, Nov17, 30/28 Bull Put Spread
Max Gain: 17%
For shorts, we like the looks of Morgan Stanley and Hewlett-Packard. MS is looking quite weak right now, and is breaking down with general market. The stock is getting close to testing its 50-day MA, which could be a sell point for many in this stock. The company had weak earnings, and it has been dropping since. The stock has not been able to retake its 20-day MA since that broke, and it is moving towards the 50-day. If that breaks, the stock could be in trouble. The company had a more troublesome report in that it is seeing limitations from Dodd-Frank, low M&A, and did not have a good trading quarter. The company seems to have given back all of its pre-earnings run-up, so the question is now where will it go? The stock looks weak, and we would short on that break.
HPQ is a mess. The PC market is dead. It's not coming back to where it was because by the time the world emerges from its current economic troubles, we believe PC/notebooks will be a thing of the past. HPQ has limited exposure in tablets, phones, and HTML, so where will it make money? Good question. We suggest the company move toward television-style computers that could be a new development in the next couple of years. At this point, though, things do not look good for HPQ. We recommend a bear call spread for the rest of the year, as it has no catalyst in site.
Stock Trade: MS, Short
Breakout point: Break of 50-day MA
Options Trade: HPQ, Dec22, 16/17 Bear Call Spread
Max Gain: 14%
Tomorrow's Outlook
The market was able to put together an up day, but it did not feel like it. After gapping up on good data and a decent round of earnings, the market dropped backwards after analysts cut GDP expectations and shorts showed up again. The bears continue to win the daily battles, as they have the confidence and upper hand right now. At the same time, durable goods were up 9%, and jobless claims came in under 370K -- both beating expectations. Further, Procter & Gamble (NYSE:PG) was one of the few blue chips this season to put together a very solid report for the market. Yet the market saw selling on the pop and ended up fairly flat, so it begs the question, can we move higher? Without a catalyst, nope. What could it be? We have Apple (NASDAQ:AAPL) earnings tonight, as well as Amazon (NASDAQ:AMZN). Further, the market will get GDP data tomorrow. The market is still waiting on something to happen in Europe, as it has been very quiet. And oh yeah, the election is just around the corner. The market seems to be bracing for the worst, so any shocks in any of those areas would go a long way.
Our Moves/Holdings:
We had a quiet day in the market, as we exited only a bull put spread in ExxonMobil (NYSE:XOM) for a small options loss of 7%. Other than that, we added a SPDR S&P (NYSEARCA:SPY) bear call spread to the mix, as well as a long in Cigna (NYSE:CI).
We have the following positions:
In our Short-Term Equity Portfolio, we are long Cigna, Cree (NASDAQ:CREE). We are short Estee Lauder (NYSE:EL) and Texas Instruments (NYSE:TXN).
In our Options Portfolio, we are long Capital One Financial (NYSE:COF), Intuitive Surgical (NASDAQ:ISRG), Urban Outfitters (NASDAQ:URBN), Discover (NYSE:DFS) and Wal-Mart (NYSE:WMT). We are short SPDR S&P 500.
In our Earnings Alpha Portfolio, we are long Allstate (NYSE:ALL), Michael Kors (NYSE:KORS), and Disney (NYSE:DIS). We are short SPDR S&P and Salesforce.com (NYSE:CRM). We have a reverse iron condor in Chipotle (NYSE:CMG) and Netflix (NASDAQ:NFLX).
In our Goldman Sachs Up/Down Paper Portfolio, we are long CSX (NYSE:CSX) and Teradata (NYSE:TDC).
Charts courtesy of finviz.com.
Disclosure: I have no positions in any stocks mentioned, and no plans to initiate any positions within the next 72 hours.
Business relationship disclosure: The Oxen Group is a team of analysts. This article was written by David Ristau, one of our writers. We did not receive compensation for this article (other than from Seeking Alpha), and we have no business relationship with any company whose stock is mentioned in this article.