By Paul Carton
The latest ChangeWave consumer survey points to still further declines in consumer spending going forward despite a slight improvement in consumer confidence. But how is the decline in spending affecting key sectors like consumer electronics and PCs?
To find out we looked at consumer electronics spending for the next 90 days – with a special focus on planned PC purchases – along with the stores consumers plan to shop at. The survey was conducted Aug 4-12, 2008, and 4,416 respondents participated.
Consumer Electronics Spending – Still Down. Going forward, planned consumer electronics spending is at near-record lows for a ChangeWave survey. Just 15% of respondents say they'll spend more on electronics over the next 90 days compared to 34% who say they'll spend less. The net difference between these numbers (-19-pts) is 13-pts lower than at the same time a year ago (Aug 2007).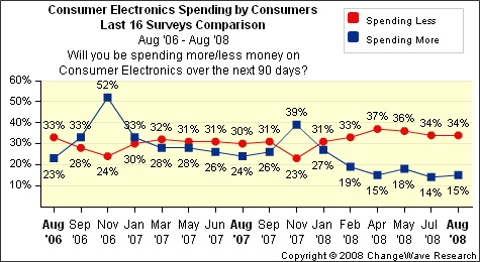 Online Back-to-School Shopping. We asked respondents doing back-to-school shopping to tell us which online stores they'll be spending more money at this year compared to last year.
Apple.com (NASDAQ:AAPL) was far and away the biggest winner, with 8% of respondents saying they'll spend "More Money" there than a year ago, while only 4% said they'll spend "Less Money" (Net Difference Score = +4).
Consumer PC Buying
Going forward, PC buying among consumers remains weak, with just 8% of respondents planning to buy a laptop in the next 90 days and 5% a desktop – down 2-pts from a year ago (August 2007).
But which computer manufacturers do consumers plan to buy from over the next 90 days?
Apple planned purchases for the next 90 days have hit a new all-time high for both Laptops (34%; up 2-pts) and Desktops (30%; up 3-pts).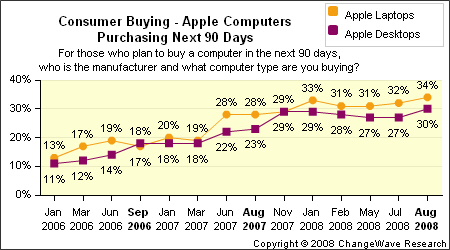 We also asked whether Apple's recent release of its 3G iPhone has made respondents more or less likely to buy an Apple Mac computer in the future. A total of 17% say they're now more likely to buy an Apple laptop or desktop in the future because of the 3G iPhone; only 1% said less likely. These highly positive findings point to the 3G iPhone having at least some "Halo" effect on Mac sales going forward.
When it comes to Apple's competition, Dell (DELL) PCs appear little changed from our July survey results – with planned purchases of Laptops (28%) down 4-pts and Desktops (28%) up 3-pts. Moreover, Hewlett-Packard (NYSE:HPQ) has also experienced a noticeable decline since July in planned Laptop purchases (20%; down 4-pts) and Desktop purchases (17%; down 3-pts).
We note that almost 70% of HP's sales come from outside the U.S. – whereas our ChangeWave surveys focus primarily on the U.S. market.
Electronics Retailers with Momentum
Although Best Buy (NYSE:BBY) (40%) remains the number one store respondents say they'll shop at over the next 90 days for home entertainment and networking products, it's showing a 3-pt decline from a year ago (Aug 2007).
Going forward, the stores with the most momentum in electronics are Costco (NASDAQ:COST) (26%; up 5-pts Year-Over-Year), Amazon (NASDAQ:AMZN) (20%; up 5-pts YOY), Wal-Mart (NYSE:WMT) (17%; up 6-pts YOY) and Sam's Club (10%; up 3-pts YOY).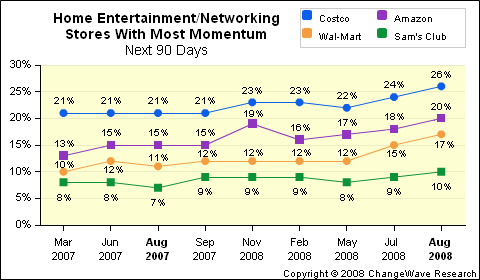 The key takeaway from these survey results is that consumer electronics spending will remain weak over the next 90 days. The one bright spot is Apple, whose Mac sales are outperforming and are poised to once again reach new all-time highs.
Discount retailers and wholesale clubs like Costco and Wal-Mart continue to pull market share from the established electronics leaders like Best Buy. Yet another example of the retail spending transformation we've been seeing in ChangeWave surveys all year.
Jim Woods co-wrote this article.
--------------------------------------------------------------------- 
This article summarizes the results of a recent ChangeWave Alliance survey. The Alliance is a research network of 15,000 business, technology and medical professionals who spend their everyday lives working on the front line of technological change. For more info on ChangeWave, or to sign up for real-time alerts email on the hottest technologies and companies, click here.